This post contains affiliate links, and I will be compensated if you make a purchase after clicking on my links. As an Amazon Associate I earn from qualifying purchases. Learn More
To help my readers find the best sweaters for their Chihuahuas, I searched through the available sweaters on Chewy, Etsy and Amazon. Also be sure to check out all our posts on
chihuahua sweaters
.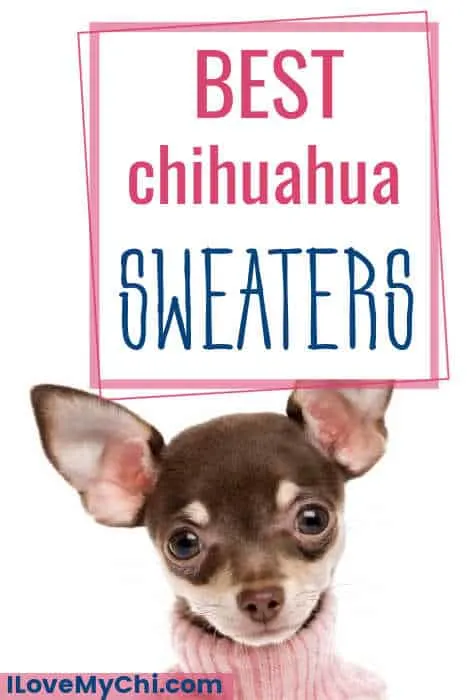 There were quite a few options available, so to help you narrow down your choices, I picked my favorite sweaters from each of my articles about Chihuahua sweaters:

My favorite sweater from the Teacup Chihuahua Sweater article was the Idepet Pet Dog Classic Knitwear Fleece Sweater. While there were a lot of cute sweaters listed in this article, this sweater was my favorite because is very practical for everyday wear.
It withstands a harness rubbing on it nicely; it would be perfect for walks and playing at a park. I also loved that it was available in so many colors to suit every taste, and that the sweater is made in so many sizes because for people with multiple dogs who might wear different sizes they could easily match their dogs of different breeds or statures.
This is the sweater my own dogs wear all winter.

My favorite Chihuahua sweater for humans is definitely the Custom Dog Portrait Sweater by Rizkie on Etsy! This sweater was simply cute and I just had to have one. Who doesn't love their dog's face on everything?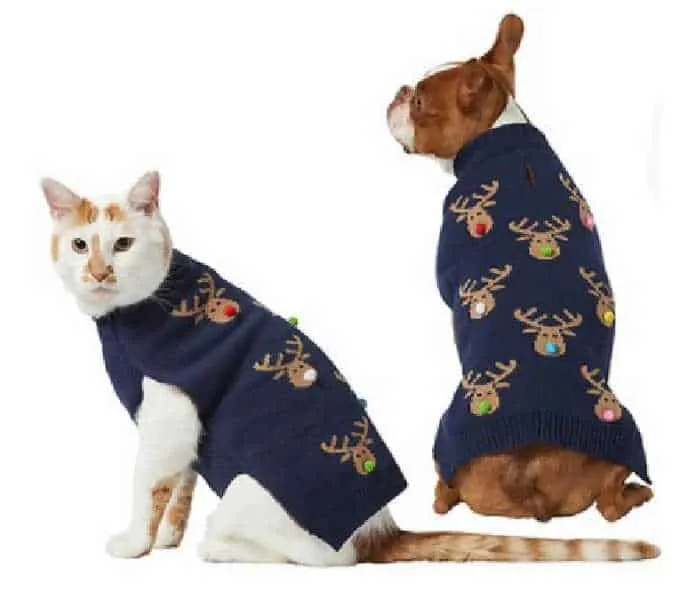 My favorite Christmas Chihuahua sweater is the Frisco Reindeers with Pom Pom Noses Dog Christmas Sweater. It could be worn to an ugly Christmas sweater party as a strong contender, but it is also cute enough that it could be worn anytime in December. I think it works well for both boy and girl dogs too.
My favorite Chihuahua Christmas Sweater for humans is the Chihuahua & Co Christmas Tree Delivery Sweater sold by Designs by Taffy on Etsy. The design is classic and festive, and a sweatshirt is always cozy in cold weather.
My favorite sweater from the Chihuahua Sweaters for Dogs article was the Fitwarm Knitted Turtle Neck Sweater Suit. This cozy sweater would become the favorite of a Chihuahua who gets cold easily; since it covers most of their body because it would help contain body heat, essential for staying toasty on chilly days.

My favorite Chihuahua sweater for dogs in the Chihuahua Sweaters on Amazon article was the Kyeese Small Dog Sweater with plaid trim available in red, pink and gray. There were several features about this sweater that made it my top pick: it is designed to be "slim fitting", which is ideal for the Chihuahua build; it has a leash hole so that a harness can be worn underneath the sweater, minimizing the wear and tear if it is worn often; and lastly the aesthetics, I just loved the look.
My favorite Chihuahua sweater for humans in the Chihuahua Sweaters on Amazon article was the Chihuahua in pocket sweatshirt. I found the design to be unique and fun; it is not something that is seen often, so it could be considered a statement piece in your wardrobe. Plus, the design could be a conversation starter, which is perfect for those involved in Chihuahua rescue to have an in to talk up adoptable Chihuahuas in their rescues.
How I selected sweaters for each article
As I browsed through sweaters on Chewy and Amazon for these articles, I had a strategy. I kept the following in mind to select fashionable and quality sweaters:
I sought out sweaters available in the small sizes that the average Chihuahuas would wear.
I selected sweaters that I have personally purchased for my own dogs, that I liked and that I would recommend to others.
I read reviews on sweaters that I had not personally purchased.
I looked for sweaters that I found to be aesthetically pleasing and stylish, that I would want my Chihuahua to wear, because who wants to wear an ugly sweater?
When shopping on Amazon, I searched for sweaters eligible for Prime Shipping.
How to make your own sweater shopping strategy
Chihuahua sweaters are probably the most manufactured in the dog clothing market, so your options are endless! While this can make shopping overwhelming, it can also make it possible to find exactly what you are looking for to fit your Chihuahua's specific needs.
To find the perfect sweaters, you need to form your own sweater shopping strategy. To do this, consider the following:
What size is my Chihuahua?
Searching by size can eliminate many choices from the running that would not fit. Also, nothing will ruin all of your sweater shopping efforts more swiftly than a bunch of sweaters arriving in the mail in the wrong size! Always measure your Chihuahua before ordering a sweater. Never rely upon guessing or your Chihuahua's weight alone.
What does my Chihuahua spend most of her time doing?
If she plays a lot, you would want a more durable cotton fabric sweater. If she is a lounge lizard who is all about being held, a more delicate knitted sweater would likely hold up well since it would be subject to less friction and wear.
What would my Chihuahua be comfortable wearing?
You will want to see your Chihuahua moving as naturally as possible to know that he or she is comfortable wearing a sweater.
You will notice that some dog sweaters have little sleeves and others have little arm holes. Some dogs prefer sweaters without sleeves, which you will discover quickly. If your Chihuahua moves around awkwardly in a sweater with sleeves, you will know not to purchase sweaters with sleeves in the future.
Some dogs also do not like their legs in pants like the Fitwarm Fuzzy Thermal Jump Suit has.
There may be some trial and error before you find sweaters that your Chihuahua wears comfortably. But do not worry, your dog will tell you or show you his or her preference quickly!
Closing Considerations
Dressing your Chihuahua in sweaters can be practical in cold weather, or just for fun during any season of the year. Practicality can also be fun; do not hesitate to be creative. Find unique outfits for your Chihuahua to wear that show off your signature style. Which sweaters were your favorite? Share your thoughts in the comments below.