This post contains affiliate links, and I will be compensated if you make a purchase after clicking on my links. As an Amazon Associate I earn from qualifying purchases. Learn More
When your Chihuahua is your best friend and partner in crime, there is only one way to let everyone know that you are a proud dog mom: "rock him on your walls, shirt and keys!"
Also be sure to check out all our posts on chihuahua sweaters.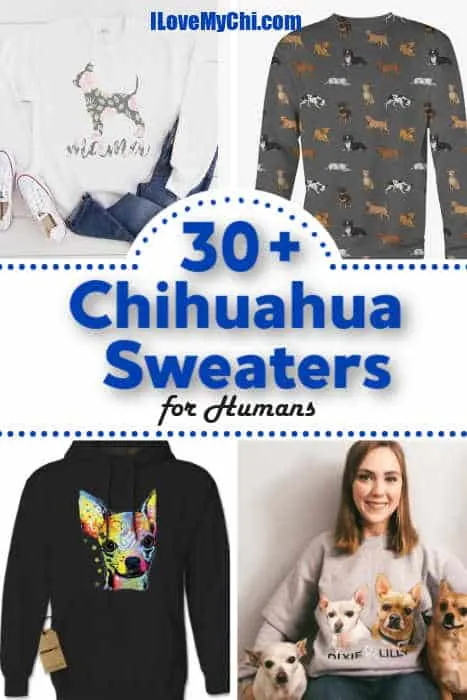 To help you show case your love for your Chihuahua via your wardrobe, here are some cute chihuahua sweaters for humans to make your couture quite canine (click on the photo or link to check them out):
Chihuahua Sweaters for Humans
If your heart is full of Chihuahuas, show the world with this sweater:

When you are obsessed with your dog is it only appropriate to put his sweet face everywhere:

If you love customization, you will want this sweater:

If you are a chi mom or chi dad proclaim what your favorite thing to be is with this sweater:

If you love to curl up with your Chihuahua, a good book and a cup of tea, cocoa or coffee, this cozy sweater is perfect for you:
You are sure to get compliments on this adorable sweater:

Be open about why you do not accept social invitations with this very honest hoodie sweater:

If you love all Chihuahuas, this sweater is perfect for you:

Motivate yourself to maintain your fitness goals with this sweater:

If your life revolves around your Chihuahua, the right sweater for you is this hoodie sweater designed for Chihuahua snuggles:
Pet Pouch Hoodie Sweater
For rock music fans, this KISS style Chihuahua sweater will suit you:

This sweater with a simple and stylish design tells people what your favorite things to do are:

If you love music, this DJ Chihuahua sweater will show others your passion for music and your furry friend:

If your Chihuahua is a queen, this sweater will show case her royalty:

This cozy sweater features a pretty and simple design of a Chihuahua and ivy, perfect for any occasion or season:

This sweater has a simple and attractive design that goes with virtually any pants. It will quickly become your go to for hanging out at home, working out, running errands, or walking your Chihuahua:

Unique, One Of A Kind Chihuahua Sweaters
You will want to move quickly because these sweaters are no longer made new:
Chihuahua Christmas Sweaters for Humans
This sweater is perfect for a Chihuahua adoption event held at Christmas time or a Christmas party with your dog crazy friends:

Win the next ugly Christmas sweater party you attend with this festive sweater:

With the 2020/21 touch of a face mask, this Christmas sweater is festive and funny:

This ugly Christmas sweater is perfect to wear all December long:

Drop the hint of what you really want for Christmas by wearing this sweater:

This Chihuahua and Christmas Fair Isle patterned sweater is a fun and festive way to celebrate Christmas:

Remind yourself and others the importance of kindness this Christmas season with this sassy Chihuahua sweater:

Simple and cute, this cartoon Chihuahua in a Santa hat is festive for the whole Christmas season:

Change the lyrics to a Christmas classic to celebrate your Chihuahua with this sweater:

Celebrate Christmas with a shout to your Chihuahua's Mexican roots with this festive sweater: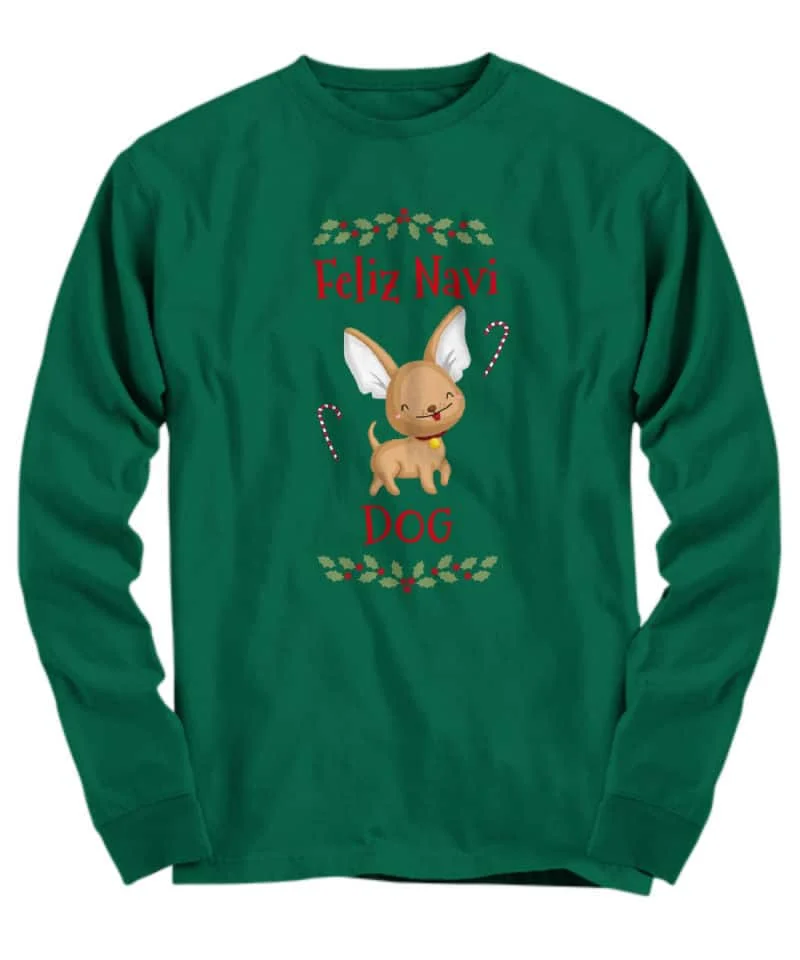 This sweater is sure to get some laughs at the next ugly Christmas sweater party you attend:

Closing Considerations
If you really love Chihuahuas, at least one of these sweaters will make its way into your wardrobe and become one of your go to sweaters. Another way to show your love for the breed is to participate in Chihuahua rescue by volunteering, fostering, or donating to help homeless Chihuahuas in need. If you are unsure which rescue to support consider National Mill Dog Rescue, as they help many Chihuahuas in need saved from puppy mills.