This post contains affiliate links, and I will be compensated if you make a purchase after clicking on my links. As an Amazon Associate I earn from qualifying purchases. Learn More
We all love pampering our pups. But dog moms need a little pampering too. That's why I went looking for a dog mom subscription box. I love chihuahua subscription boxes and dog subscriptions boxes and do subscribe to several. But I wanted one that included the dog mom (me) too!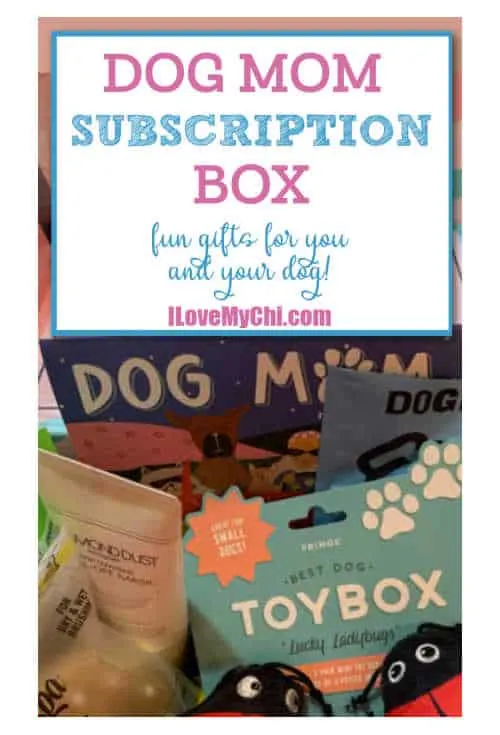 I soon found Pup Mom Crate and decided to give it a try. I was pleasantly surprised by both boxes I have received so far. There were toys and treats for the dogs and a few things for me too.

Here is the first box I got which was January's: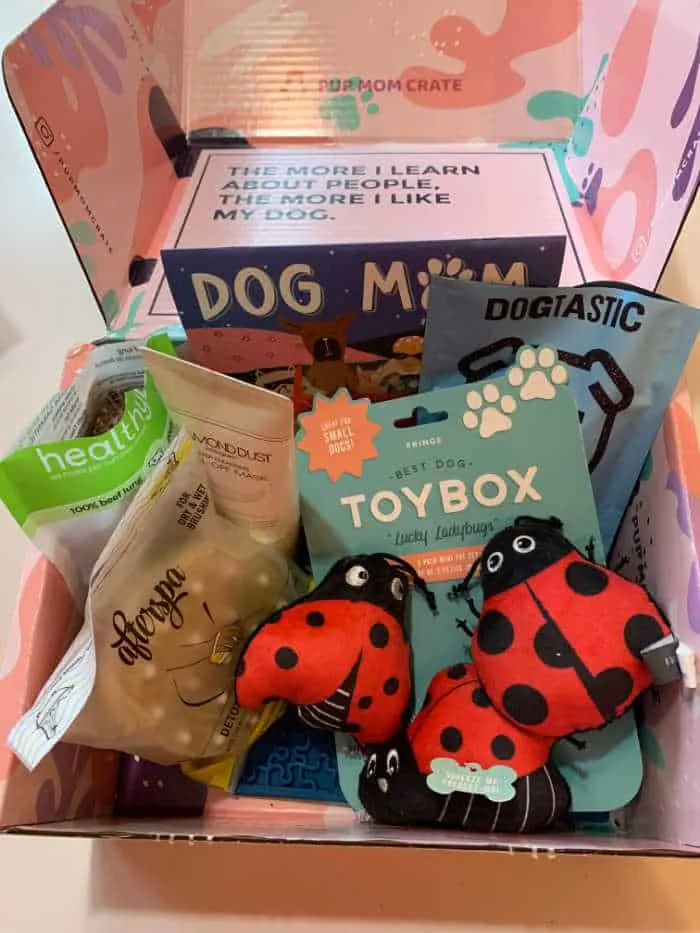 I forgot to take a photo of the second box (February's) but I do have a video (don't you just love the screenshot YouTube gave me here? UGH!) below that shows what was in both boxes:
The dogs have tried all the treats that were in both boxes and love them all. There were several toys in them too which Ziggy loves. Lucy likes chew toys.
Here's What We Got in Our Pup Mom Crate
What was in the box for the pups:
January's Crate:
3 ladybug squeaky toys. Ziggy loves these ladybugs.
Dog food puzzle mat toy. We haven't tried this yet.
Natural jerky treats. I cut these up in smaller pieces for the dogs.
Turkey and bacon training treats. These were tiny, perfect for chihuahuas.
Cheese treats. My dogs went crazy for these.
February's Crate:
Heart rope toy. Lucy loves this.
Ring toy. Lucy loves this one too and I've seen Ziggy carrying it around.
Dehydrated pork liver treats. Sounds totally gross to me but these wee the dogs' favorites.
Deli style cheddar treats. Another winner with the pups.
What was in the box for me:
January's Crate:
Cute dog mom calendar. This is an adorable calendar. I want to get one of these every year.
Massage brush. I have been using this in the shower but I'm not totally sure if it was meant for the shower or if it's a dry massage brush.
Diamond dust peel off mask. I've used this once so far and totally love it.
Hand lotion. I keep this in my purse and the smell is great.
February's Crate:
A package of 2 hanging car deodorizers. I have one hanging in my car right now and it works great.
Dog mom heart necklace. To tell you the truth, I haven't worn this yet. Not really my style.
Dog mom mug. I love this mug and use it every day.
Smells Like Pink Sugar. I like the scent but I gave this to my granddaughter (who was filming the video above for me) as I only like my signature vanilla perfume.
How Does It Work?
You sign up and get a monthly box for $39.99. You can cancel at any time.
Pup Mom Crate says that you get 5-8 products in each box BUT I got 9 products in one box and 8 in the other. Definitely worth the price of the crate and it's such a fun surprise every month to see what we get in our box.
How to Join Pup Mom Crate
You go to the Join page where you have a choice of three dog size options. Those of us with chihuahuas will pick the Small Dog Crate for dogs up to 24 pounds. The Medium Dog Crate is for dogs between 25 to 55 pounds and the Large Dog Crates are for dogs 56 pounds and over.
The next page you are taken to will tell you when your first box will ship out. It also asks for information about your dog such as their name, gender and birthdate.
Lastly you are taken to the check out page. When you go to check out, you put in your shipping and payment details. You also have an opportunity to add previous crates to your order. They even have a Dog Dad box that would make a great Father's Day gift.
The whole process is very simple and only takes a few minutes. If you join through my link, I will get a small commission but it won't cost you any extra. In fact, if you use this discount code CHIMOM10 when you check out, you get a 10% discount off your first box.

We have had so much fun with our dog mom subscription box that I plan on continuing with the subscription at least for this entire year. I can't wait to see what we get next month!
Here are some more dog mom subscription box subscriptions that I haven't tried yet (but would love to!):
Let us know if you get this subscription box and what you think of it! And if you know of any other subscription boxes like this, let us know about them too. I'd love to try them out.