I Love My Chi may earn a small commission for purchases made after clicking links on this page. As an Amazon Associate I earn from qualifying purchases.  Learn More
#Petteaseygrooming #pet #dog #cat #petgrooming

You would think as a former pet groomer, I'd just love grooming my dogs everyday. But true confession: I don't. It's actually kind of a drag.
But I know if I don't, I'll have little hairball tumbleweeds all over the house. My border collie Roxy is the worst culprit for shedding hair but the 2 chihuahuas like to contribute their share too.
It's a never ending battle but that's one of the things you accept when you own these amazing little creatures, right?
I'm always on the lookout for anything that makes grooming my dogs easier (for both me and the pups). If I can find something that they actually enjoy along with being easier for me to do, I'm all over it like a flea on a dog.
It was fun getting to try Petteasey Grooming Gloves on my pups. I thought my little ones might be afraid of them but they weren't. Specially after I started stroking them with the gloves.
You can watch the video here:

Now with the chihuahuas, I did stroke gently, as someone in the comments on Amazon mentioned they were too rough for small dogs. They aren't too rough at all, you just have to adjust the pressure of your hands when stroking them.
Roxy (the border collie) has a very thick undercoat and is much bigger than the chihuahuas. On her, I could use as much pressure as I wanted. She loved it.
Actually they all loved the gloves. They don't really like being brushed by a grooming brush, but they seem to enjoy being groomed by the Petteasey gloves. I think it feels like a massage to them.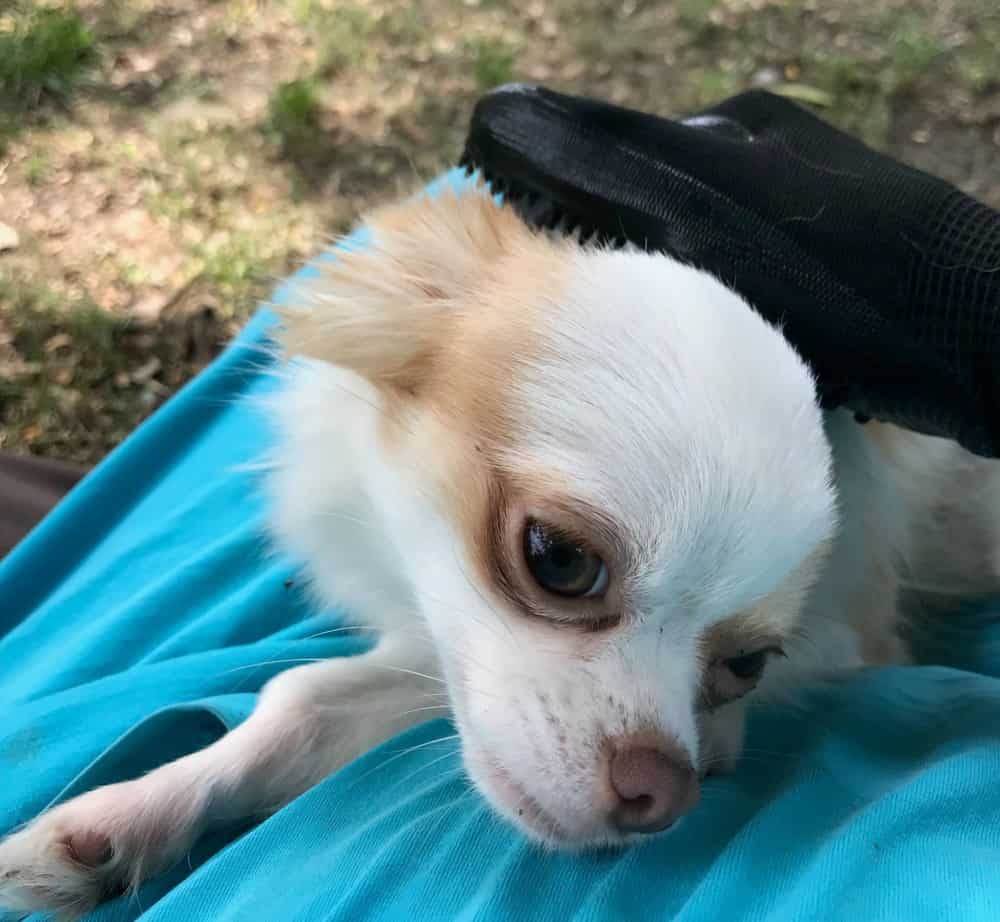 It's become a morning tradition with us. When we get up, I take them all outside so the can do their business, then one by one, they wait their turn to get groomed with the gloves before we go inside for breakfast. It really cuts down on the hair in my home.
These can be used on other pets besides dogs. Cats, horses, even ferrets can be groomed with the gloves.
They are also washable.
Right now, they only come in one size which fit a medium sized woman's hand just fine. If you have a smaller hand, you could still use them as they have a Velcro strap that you can pull tighter to keep them on. If you have large hands, these might not fit you but don't worry. Petteasey told me they plan on offering more sizes in the future.
If you'd like to get these for your fur babies, you can check them out on Amazon here.
And if you do get them, I'd love to hear how your dogs like them so please leave a comment with your experiences.