This post contains affiliate links, and I will be compensated if you make a purchase after clicking on my links. As an Amazon Associate I earn from qualifying purchases. Learn More
Have you been curious about those dog product subscription boxes? I know I have. It's a wonderful way to spoil your dog and find new products you might not know about.
But what's in them? Are they worth it?
We got the opportunity to give the new subscription box PuppyPack a try. We got the box for free but were not compensated in any other way for this review.
So what's in a PuppyPack?
You get 5 new things each month including toys, treats and accessories. In our pack we got a chew ring, a small chick or duck toy (I'm not sure which it is), some dog treats, a King ball and a smoked rib chewie.
The Kong Squeaker ball was a bust since it was the size of a tennis ball. Too big for tiny mouths. But my little grandson enjoyed playing with it.
The dogs loved everything else.
Lucy really loved the chick toy. It's just the right size for a chihuahua.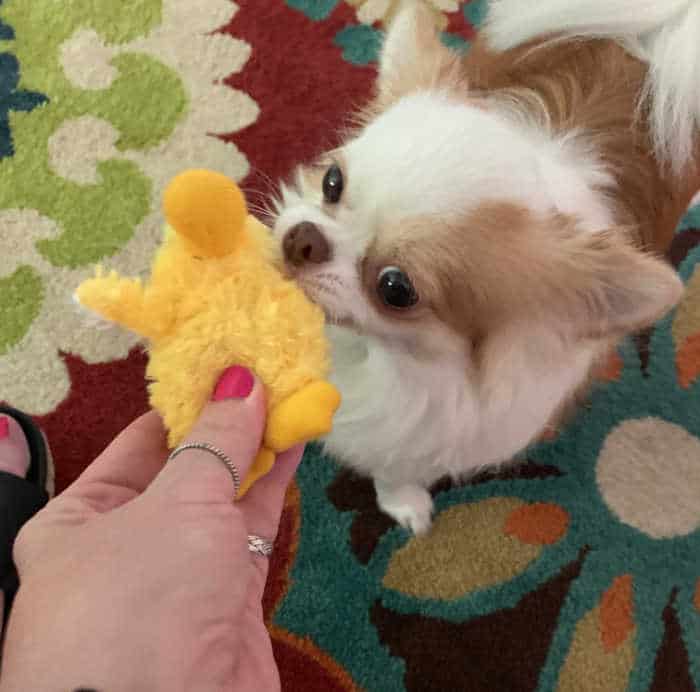 What I liked about the chick toy is that it has a velcro back where you can open it up and take the squeaker out if you want.
The dogs liked the treats. Here is Lucas and Ziggy trying the treats out.
And dog chew ring and smoked rib were a big hit.
How do You Go About Ordering a PuppyPack?
It's pretty easy. You just click on the Get Started button on their home page: PuppyPackStore.com and fill out some details about your dog.
The boxes are customized for your dog and the treats are sourced in the USA.
What is the Price and can you Cancel?
There are 2 levels of membership.
If you pay for a year, it will be $29. a month. If you choose this type, you cannot cancel until the year is up.
Or you can pay $35. per month with no commitment and cancel anytime.
Buy It Again
One cool thing is if you find something your dog really likes, you buy it again by itself without buying the whole subscription box.
Although I went to look for the duck/chick toy, I didn't see it listed. Both Ziggy and Lucy love that chick so I need another to keep the peace.
My Final Thoughts About PuppyPack
My dogs did like the products and it was fun seeing them excited about what was in the box. It was like Christmas morning.
Would I buy this? Probably not as a monthly subscription. It's a little too pricey for me. But I will get them a box for Christmas and their birthdays or Gotcha day. And it would make a great gift for someone with a new dog so I'll definitely remember it for occasions like that in the the future.
Be sure to check them out here: PuppyPackStore.com
I'd love to know if you have ever tried PuppyPack or any other dog product subscription service and if so, what did you think of it?