This post contains affiliate links, and I will be compensated if you make a purchase after clicking on my links. As an Amazon Associate I earn from qualifying purchases. Learn More
This post is sponsored by Febreze ™ and the BlogPaws Professional Pet Blogger Network. I am being compensated for helping spread the word about #Petiquette but I Love My Chihuahua only shares information we feel is relevant to our readers. Febreze is not responsible for the content of this article.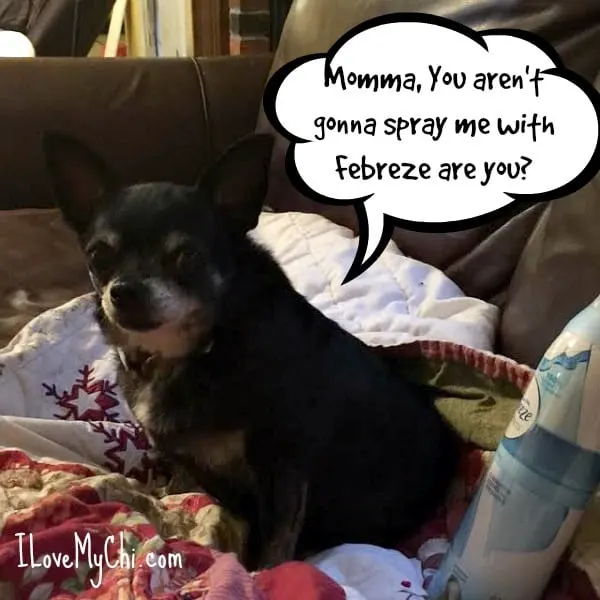 I pride myself on having a great sense of smell. I can sniff out almost anything way before others notice a smell at all. But even I can become noseblind to pet smells in my home. You know how I figured that out? Whenever I come home from a trip, I can smell the dogs as soon as I come through the door. Living here every day, I become oblivious to the smell but being away for just a few days, and I sure do notice it.
That makes me wonder what guests must think when they come into my house. According to an Atomik research survey, 49% of Americans say they dread visiting homes with pets because of the smell. Is that what people are thinking about coming to my house? Gosh, I hope not! I know personally there are a few homes of friends that I hate to go into because of the pet smell. One of them, the smell is so bad, it has actually made me gag going in there. My friend has actually lost her sense of smell so she never notices how bad it is.
Even though I am mostly noseblind to the dog smells in my own house, even I notice them sometimes. Like the past few days it has become very humid and hot. Being at the end of September, I refuse to turn the air conditioner back on, even though I probably should. It's when the house is hot and humid like this, I really notice the doggy smell. Yuck!
It's not just pets that can smell up a house. Cooking odors, garbage cans, bathrooms and laundry hampers, and even kids can also cause your house to have an unpleasant aroma. For instance I have a new little grandson who I babysit for. Who knew such a tiny bundle of joy could be so gassy?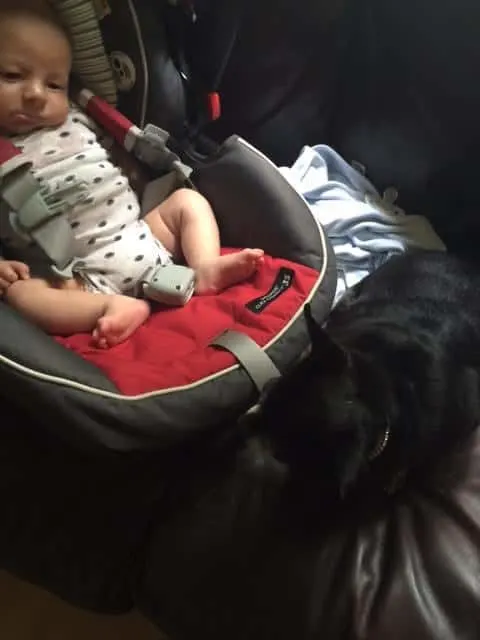 This is Ollie with his surrogate mother Kilo watching over him.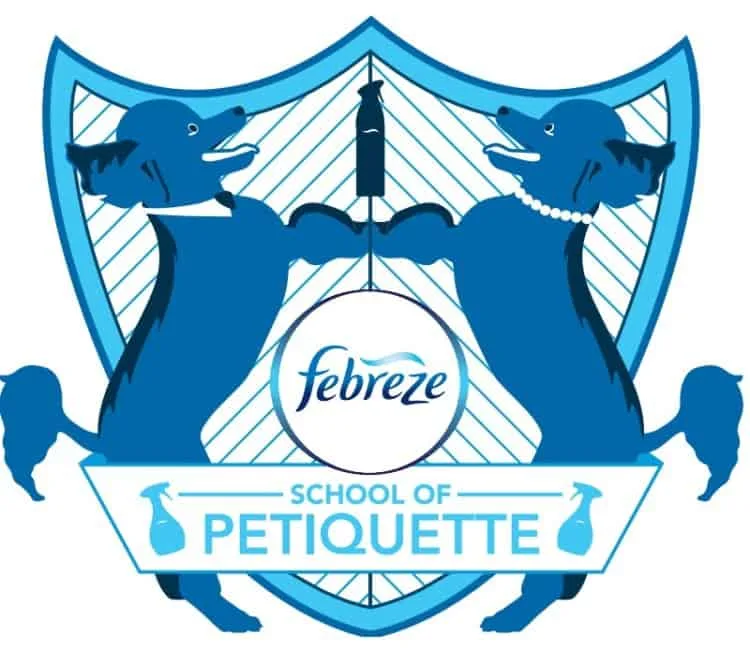 When I found out Febreze™ was looking for pet bloggers to try out their products, I knew we were the perfect family to test them. They have the new Petiquette program to teach pet owners how to freshen up their homes so that they are always guest ready. You can check out their tips here: Petiquette_Curriculum_091415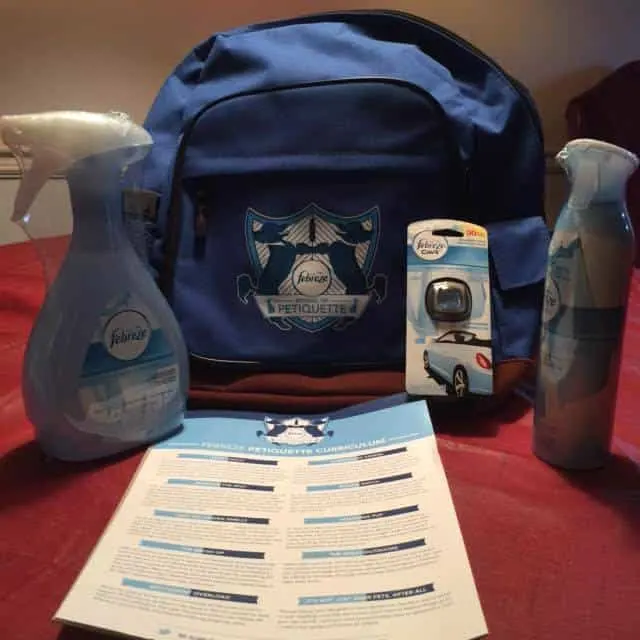 Febreze sent us this nifty little backpack with several products to try.
I have been meaning to get an air freshener for my car, so this came at the right time.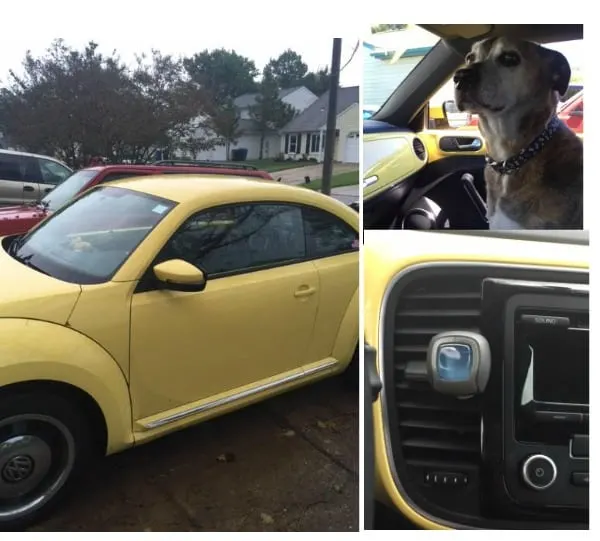 My car Buttercup (yes I named my car) is my pride and joy. My big old mutt Buddy loves to ride in Buttercup with me, but he sure does stink up the car! I can smell him in there the next few times I get in the car so I'm glad I got to try out the Febreze Car Vent Clip. So far, it's working while not leaving the usual strong smell most car air fresheners leave.
Next we tried the Febreze Fabric Refresher. You can see my results with it in the video below:
I did come back at the end of the day, and it still smelled fresh and clean, so I have decided that spraying the furniture and dog beds are going to be a daily habit for me. Fortunately it's safe to use around pets. But don't spray it on them (Kilo was worried about that).
The only thing left to try was the Febreze Air Effects. It had the same fresh scent as the fabric refresher which was called 'Linen and Sky'. I really like that scent. So fresh and clean.
So I'm a Febreze convert. I'm definitely going to keep this stuff around, not only to use when I know I have company coming but to use on a daily basis too.
Here are some links for Febreze if you'd like to check them out:
Febreze website: http://febreze.com/
Febreze Instagram (really cute photos here): https://instagram.com/ToastMeetsWorld/
Febreze Twitter: https://twitter.com/Febreze_Fresh
Febreze Facebook: https://www.facebook.com/febreze
Febreze YouTube: https://www.youtube.com/user/febreze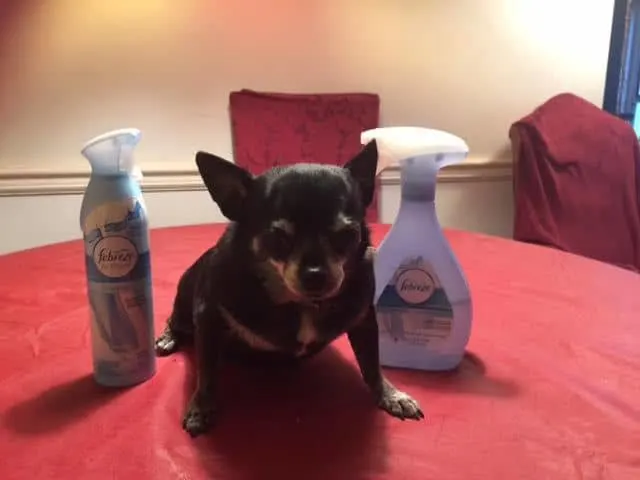 So that's it for my Febreze review. Do you think your house has pet odors? Have you ever tried Febreze? If so, what did you think? Tell us in the comments!