Because of over breeding and not being properly trained, there is an overwhelming number of Chihuahuas out there in need of a home.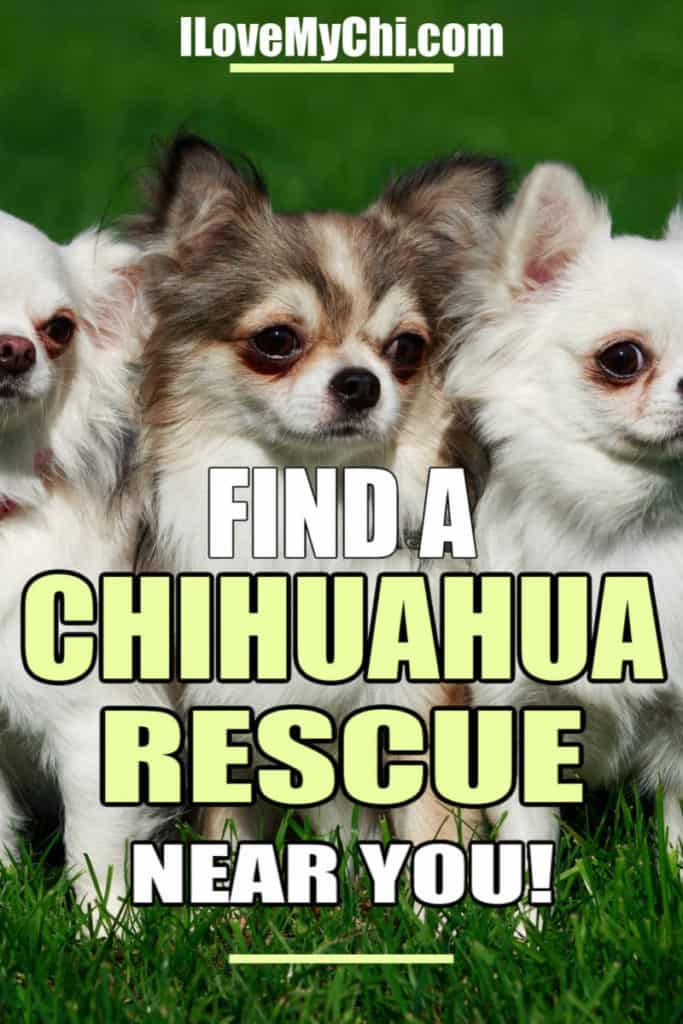 I know many members of our club and Facebook page love the breed and would love to give a homeless Chi a forever home.
Please consider adopting instead of buying.
You can read this article first to help you with finding a chihuahua rescue and then come back here,
If you can't find a rescue in your area, I found a great resource you can check out whether you want to adopt a dog or need to find a new home for your dog.
Other sources to find a rescue are: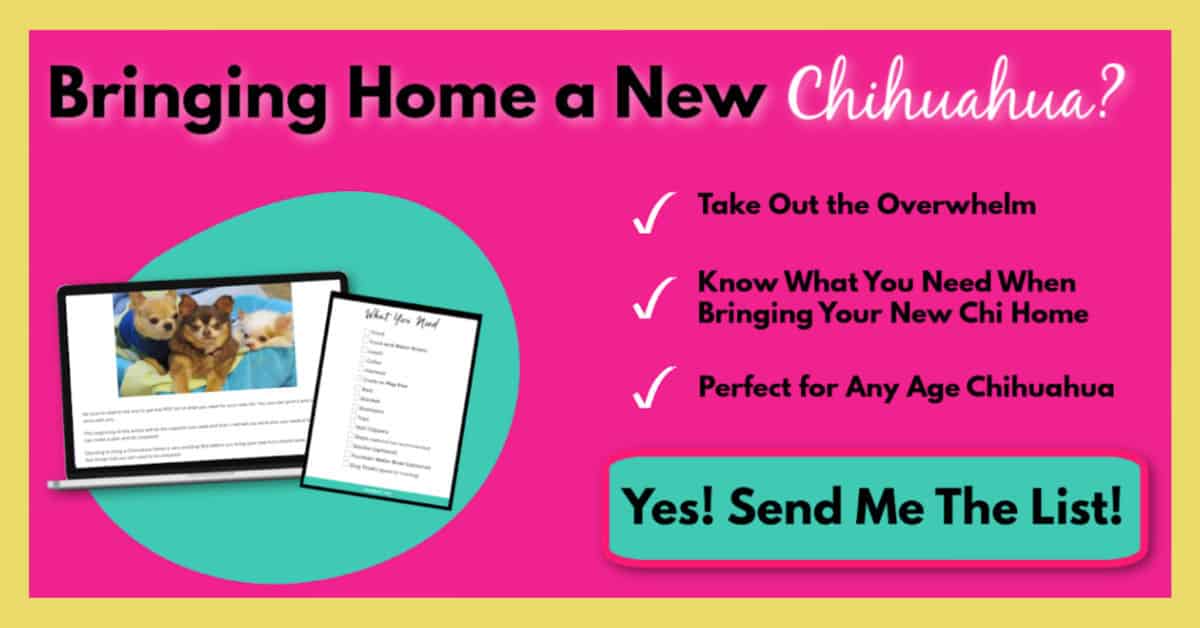 Below is a list of Chihuahua rescue organizations. If there any that you know of that are not on the list, you can email the info at cathy@ilovemychi.com.
NATIONAL
CHIHUAHUA RESCUE AND TRNSPORT
ADOPT A CHIHUAHUA ADOPTAPET
ALABAMA
Alabama Chihuahua Rescue
Alabama Rescue Groups
ALASKA
ARIZONA
AZ Chihuahua Rescue
AZ Small Dog Rescue
Paws Across Borders Dog Rescue(will allow adopters from other states)
ARKANSAS
Arkansas Chihuahua Rescue
Rescue Me Chihuahua Rescue
Dog Tired Ranch Small Dog Rescue
CALIFORNIA
California Rescue Me
Chihuahua Haven Rescue
Chihuahua Rescue of San Diego County
Power of Chi, Oakland
COLORADO
Chihuahua and Small Dog Rescue
Colorado Chihuahua Rescue Me
CONNECTICUT
Connecticut Chihuahua Rescue Me
DELAWARE
Delaware Chihuahua Rescue Me
Renee's Rescues
FLORIDA
Florida Little Dog Rescue Group
Chihuahua Rescue Florida
Florida Chihuahua Rescue Me
Limbo Chihuahuas (Tampa)
GEORGIA
Chihuahua Rescue of Georgia
Small Dog Humane
HAWAII
IDAHO
ILLINOIS
Illinois Chihuahua Rescue Me
Chihuahua Rescue Midwest
INDIANA
Chihuahua Rescue Indiana
Second Chance Small Dog Rescue
IOWA
KANSAS
Kansas Rescue Me Chihuahua Rescue
KENTUCKY
LOUISIANA
Louisiana Rescue Me
Louisiana Chihuahua Rescue Directory
MAINE
Maine Chihuahua Rescue Directory
MARYLAND
Cold Nose Warm Heart Chihuahua Rescue
Maryland Chihuahua Rescue
MASSACHUSETTS
Massachusetts Chihuahua Rescue Me
Yankee Chihuahua Rescue
MICHIGAN
Fur_Ever Fosters
Michigan Chihuahua Rescue Me
MINNESOTA
Coco's Heart Rescue
Minnesota Chihuahua Rescue
Underdog Rescue
MISSISSIPPI
Mississippi Chihuahua Rescue Me
Chihuahua and Small Dog Rescue
MISSOURI
Chihuahua Rescue Midwest
We Are Not Disposable
Missouri Chihuahua Rescue Me
MONTANA
Montana Chihuahua Rescue Me
Tiny Tails K-9 Rescue
Montana Pets on the Net
NEBRASKA
Nebraska Chihuahua Rescue Me
R.U.F.F. Rescue
NEVADA
Chihuahua Rescue Truckee Meadows
Nevada Chihuahua Rescue Me
Sophie's Chihuahua Rescue
NEW HAMPSHIRE
New Hampshire Chihuahua Rescue
Paws New England
Yankee Chihuahua Rescue
NEW JERSEY
New Jersey Chihuahua Rescue Me
NEW MEXICO
Enchantment Chihuahua Rescue LTD
Lap Dog Rescue
Rancho De Chihuahua
NEW YORK
New York Chihuahua Rescue Me
Yankee Chihuahua Rescue
NORTH CAROLINA
Peanut's Place Rescue
North Carolina Chihuahua Rescue Me
NORTH DAKOTA
OHIO
Ohio Chihuahua Rescue Me
Puppy Pals Rescue
Wolf Spirit Rescue
OKLAHOMA
Oklahoma Chihuahua Rescue Me
Because Of You Chihuahua Rescue
OREGON
Oregon Chihuahua Rescue Me
Displaced Pets Rescue
PENNSYLVANIA
Pennsylvania Chihuahua Rescue Me
RHODE ISLAND
Rhode Island Chihuahua Rescue Me
SOUTH CAROLINA
SOUTH DAKOTA
South Dakota Chihuahua Rescue Me
TENNESSEE
Small Breed Rescue Of East Tennessee
TEXAS
Ay Chihuahua Rescue
Texas Chihuahua Rescue
VERMONT
Vermont Chihuahua Rescue Me
Yankee Chihuahua Rescue
VIRGINIA
Go Rescue Pet Adoption Center
Chihuahua Rescue & Transport, Inc.-Southeastern Region
WASHINGTON
Washington Chihuahua Rescue Me
Chihuahua Rescue and Referrals
WEST VIRGINIA
West Virginia Chihuahua Rescue Me
WISCONSIN
WYOMING
WASHINGTON DC
AMERICAN SAMOA
American Samoa Chihuahua Rescue Me
GUAM
NORTHERN MARIANA ISLANDS
Northern Mariana Islands Chihuahua Rescue Me
PUERTO RICO
Puerto Rico Chihuahua Rescue Me
US VIRGIN ISLANDS
United States Virgin Islands Chihuahua Rescue Me
Chihuahua and Small Dog Rescues
A Chihuahua Rescue not only wants to provide great homes to these dogs, but they also want to educate and spread awareness about overpopulation, spaying and neutering, abuse, neglect, and the staggering rate of Chihuahua abandonment across the country. The Chihuahua is a dog breed that is most commonly found in shelters and rescues; however, they are also one of the most adopted small dog breeds as well.
We have more info on how to find a chihuahua rescue.
Rescue Chihuahua Stats
Did you know that at least 23 percent of households who own a Chihuahua got their chi from a rescue organization or an animal shelter? Another 12 percent of Chihuahua owners say that they obtained their chihuahua from other ways, including finding one that was thrown out near their home, a friend couldn't keep theirs, flea markets, found the dog running the streets and couldn't locate the owner, and even from yard sales.
The Chihuahua is also now considered one of the three top breeds found at shelters in the United States. The two dog breeds above the Chihuahua breed are German Shepherds and Labrador Retrievers.
Why Are There So Many Chihuahuas in Rescues and Shelters?
There are many Chihuahuas, to begin with, and this is the number one reason for them begin so commonly found in rescues and shelters. Another reason has to do with the small size of this particular dog breed. A puppy mill or backyard breeder finds much more of a profit when it comes to these small size dog breeds.
Approximately 15 states as of 2019 have minimal or no regulations in place to shut down these breeder facilities. So, in those states, the pups are usually sold quickly online instead of pet stores because the online sale of a Chihuahua puppy doesn't require the breeder to be federally licensed or inspected.
Another big reason there are so many Chihuahuas in rescues and shelters is because a dog owner chooses this small breed before really understanding its size and care requirements. While most Chihuahuas are relatively easy to care for and grooming is easy compared to larger dogs, they also have their fair share of dangers and medical problems due to their small size.
So, if you are excited about a teacup Chihuahua, for example, you need to familiarize yourself with the extra care that needs to be shown. A teacup Chihuahua is even smaller than a standard Chihuahua. It is a tiny pup that is more fragile and will require more attentive care.
Common Issues with Rescued Chihuahuas
As you can see, a rescue organization is so important because of the high number of Chihuahuas we see across the United States. Each of these dogs also has their own personality, and that has to be accounted for when rescuing them as well.
If you are thinking about adopting a Chihuahua, a Chihuahua puppy, or even a senior dog that has spent considerable time in a rescue or animal shelter, then you need to prepare yourself ahead of time. They may not have as much leash experience as you expected, there may be marking issues with some older male dogs, dental health needs to be checked, and they may need to be housetrained.
Acclimating Your Rescued Chihuahua
If you are getting your Chihuahua from a rescue organization, allow the dog to adapt to their new home at their own pace. They need to build trust with a new dog owner and learn how to navigate their new life.
We do have another post on how to help your rescue dog adjust.
If you get a puppy, this post will tell you what you need to have before you bring your puppy home.
If you decide to get a senior chi, and they desperately need homes and are often overlooked, this post will help you will find what you need for a senior chihuahua.
You should also have a set schedule in place for your Chihuahua to help them feel safer and more secure. It will also help with any erratic behavior you may have noticed.
Allow time for an emotional bond to grow between you and your new Chihuahua. Don't take it personally if they don't warm up to you right away. This is a new experience for both of you.
Finally, accept boundaries and work on socialization at a pace that works for your Chihuahua. Sometimes they need their own personal space to learn how to figure things out.
If you are looking for a Chihuahua, check out the links we have outlined above for the Chihuahua rescues in your area! Remember, it is always a better idea to rescue and choose adoption when you can!