This post contains affiliate links, and I will be compensated if you make a purchase after clicking on my links. As an Amazon Associate I earn from qualifying purchases. Learn More
This post is sponsored by Swiffer® and the BlogPaws Professional Pet Blogger Network.
I am helping spread the word about Swiffer but I Love My Chi only shares information we feel is relevant to our readers. Swiffer is not responsible for the content of this article.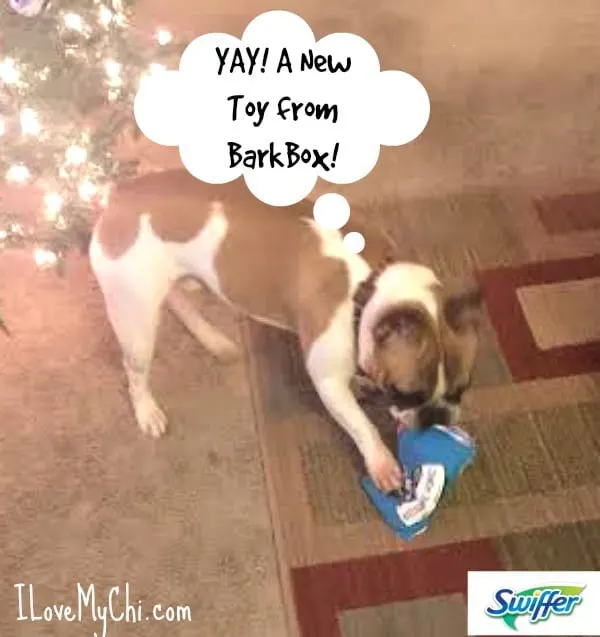 My daughter April and her husband Greg have always been around animals. Greg's mom and sister are Vet Techs and have several dogs and cats. And I have always had multiple pets and often had animal related jobs.
So it wasn't surprising when April told me she wanted a dog. To tell you the truth, I didn't think it was such a good idea. Her family lives in a very nice apartment, but it's on the 3rd floor. Can you imaging walking up and down all those steps at all hours of the day and night to take the dog out to go potty? Also, they both work full time and they already have a cat. Plus April was pregnant with her second child at the time. Geez, lets just throw some more stress to the mix by adding a dog!
But April, who adores dogs and has always been around them, really wanted one. So they adopted this little cutie: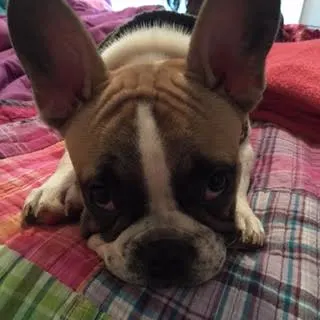 Odie is a French Bulldog and he is full of so much personality but he keeps his parents on their toes.
They also have a beautiful cat named Jango (nickname though is Catty, thanks to my granddaughter). Here is a photo of him with his doggy brother sleeping on their favorite piece of furniture which is the coffee table: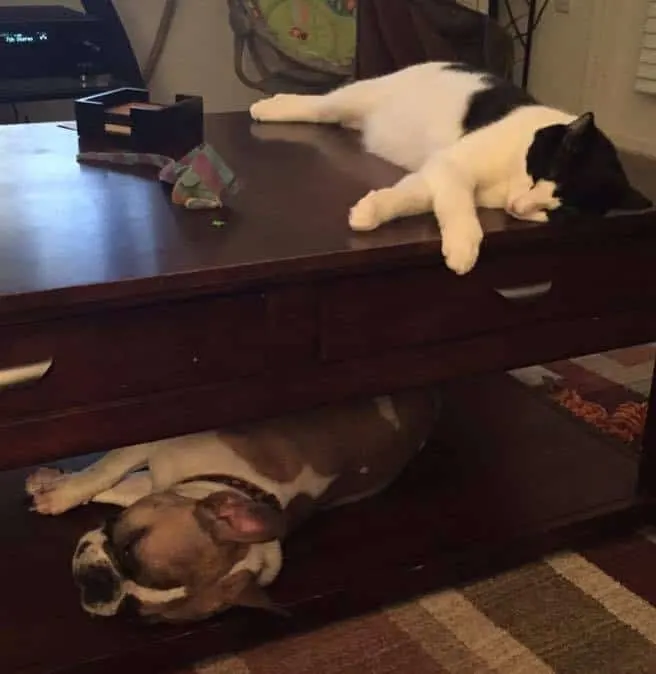 I know how hard it is for April and Greg to keep up with everything they have going on in their lives. Cleaning is often put on the back burner and the pet hair just piles up! Swiffer has reported that 58% of pet parents think cleaning up after their pets is a major source of stress. I'm pretty sure my daughter and son in law would agree with that.
So I loved that I was able to help them out by giving them a Welcome Home Kit that includes both BarkBox® and Swiffer goodies. I received my own kit last month and have really enjoyed it. My favorite product is the Swiffer Duster. You can read about my experience here.
Here's what is in the Welcome Home Kit:
*Coupon for a free Swiffer Sweeper Starter Kit
*Swiffer Dry Refill Kit
*Swiffer Duster
*Coupon for a free Frebreeze product
*Bark Toy
*Bark Treat
*Fresh Chicken Recipe Food Sample and coupon
*Welcome Home Guide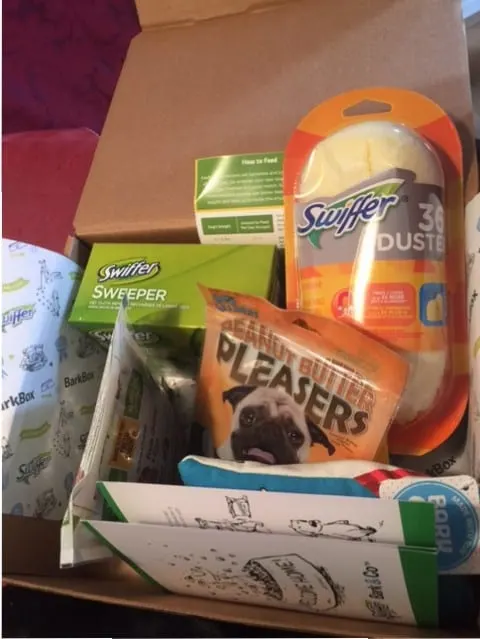 You can see her unboxing the Welcome Home Kit in the video below (please excuse the video quality-totally the blame of the videographer: ME):
I LOVE that @Swiffer and @BarkBox are giving out these Welcome Home Kits to new pet parents who adopt from participating shelters through December. Here's the link to see if your shelter is participating: http://swiffer.barkbox.com.
If you do adopt your own fur-kid and get one of these great boxes, please share a photo of your new fur-ever family and everything in the box with @Swiffer and @BarkBox to show how ready you are for when #ShedHappens.
So what do you use to clean up at home? Have you ever tried Swiffer products? What do you think about them?