This post contains affiliate links, and I will be compensated if you make a purchase after clicking on my links. As an Amazon Associate I earn from qualifying purchases. Learn More
I have a confession to make ? I'm a pet blogger and one of my dogs is not house trained.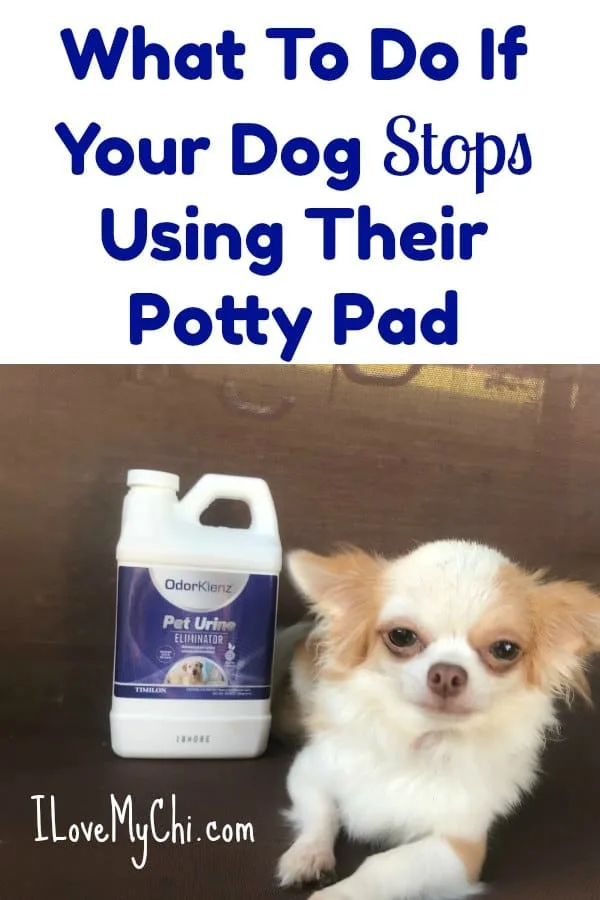 She was potty trained, kind of. At least she was potty pad trained when I left for a blogging convention several weeks ago.
When I came home, she wasn't anymore. I mean, she still only goes in the area her potty pads are on. But she doesn't feel she needs to use the pad now. The rug will do just fine. Fine for her, not for ME!
I think I know what happened. It was a combination of being stressed from me being away from her for 5 days (she's very attached to me) and the fact that the family member watching her refused to change out her dirty pads for clean ones or pick up the poop off the potty pads. YUCK! ??
Let me tell you, I was not a happy camper when I got home. ? The odor alone could have knocked me out. How could such a tiny little ball of fluff make that kind of smell?
After cleaning up the poop and washing the washable potty pads, the smell was better but there was a lingering stink in the carpet. I knew if I didn't get that up, she would never stop using my carpet as her personal toilet.
I know I need to get Lucy trained to do her business outside but for several reasons I won't go into right now, that's just not feasible at the moment. The next best thing is using potty pads.
Here are the steps I'm taking to get Lucy to use only her potty pad:
First and most importantly, get rid of all the smell on the carpet. We used OdorKlenz® for this and I'll tell you more about that later.
After I was sure there is no odor left anywhere in the carpet and the carpet was dry, I laid out the potty pads.
Instead of one potty pad, I covered much of the rug with potty pads to make sure this doesn't happen again.
If I notice she's using one particular pad, I'll gradually remove the other pads.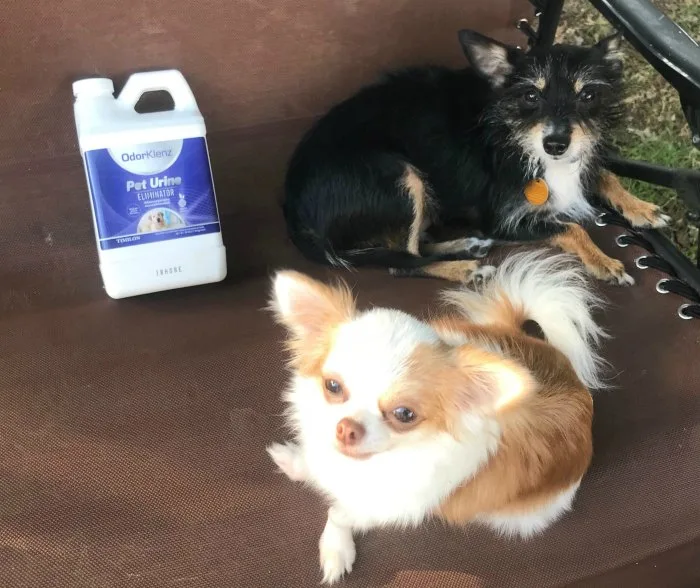 OdorKlenz Pet Urine Eliminator came to my rescue to get rid of the smell. Before my trip, I was asked if I wanted to give it a try and I said yes. (Yes, this is a sponsored post, but ya'll know me, I'll tell you the good, the bad and the ugly). Little did I know when I came home, I would really be giving this stuff a work out.
OdorKlenz has a whole line of odor eliminating products. Not only do they have the urine eliminator and other pet odor products, they also have one for if you dog has encountered a skunk!
Other products include products for laundry, for air quality, for sports equipment, uniforms, etc, and for household odors.
The interesting thing I noticed is that the product itself, doesn't have a smell so if you are sensitive to odors or allergic to perfumes that many carpet deodorizers have, this would be a good product to try.
What I Liked About OdorKlenz
Like I mentioned before, no odor.
Non toxic. It's safe around people and animals (which is great since I have grandkids running around here all the time and lots of pets too).
Eco-friendly.
It removes the odor at the source, not just masking or covering it.
What I Didn't Like About OdorKlenz
You have to remember to shake it for about a minute before each use. Not a biggie but just something you have to remember.
It's not that simple to use. There's a process (I'll explain more below).
How to Use OdorKlenz Pet Urine Eliminator
Okay before I do into the details, let me just say if this stuff works, I'm okay with the extra effort you have to go through. It's worth it to have an effective, safe and eco-friendly deodorizer.
Here are the steps:
Vacuum rug
Using a wet cloth, get up any extra debris (I had some dried poop? stuck in it).
Soak the treatment area with warm water.
Soak up excess water with a towel.
Shake the bottle of OdorKlenz Pet Urine Eliminator for about a minute.
Pour some of the eliminator over the treatment area, and work it into the carpet well.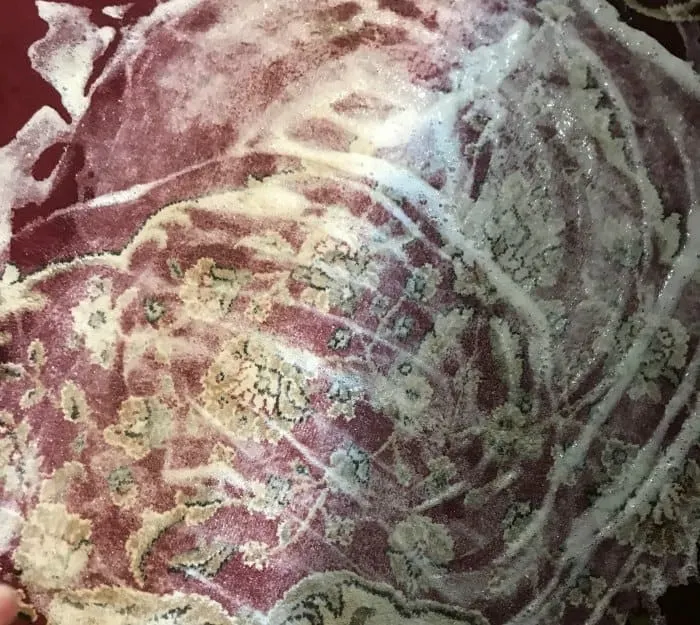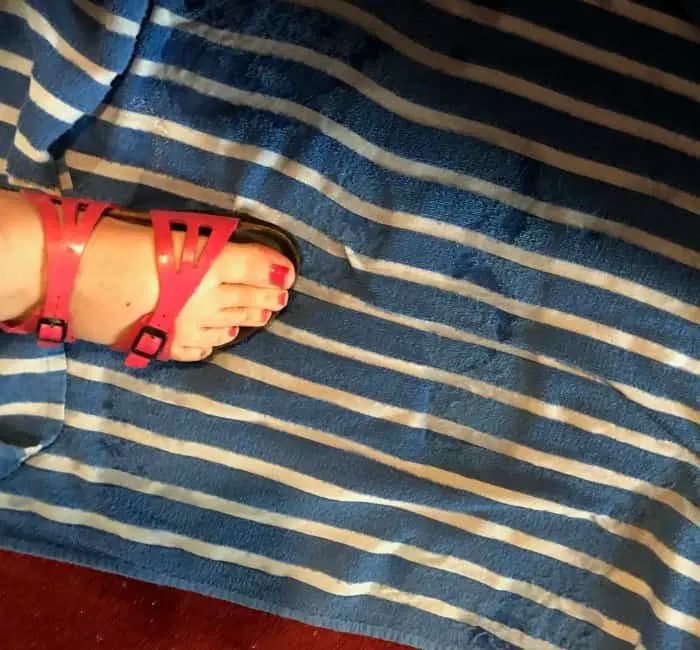 Lay a towel over the treatment area and walk back and forth across it a few times to get it deep into the carpet.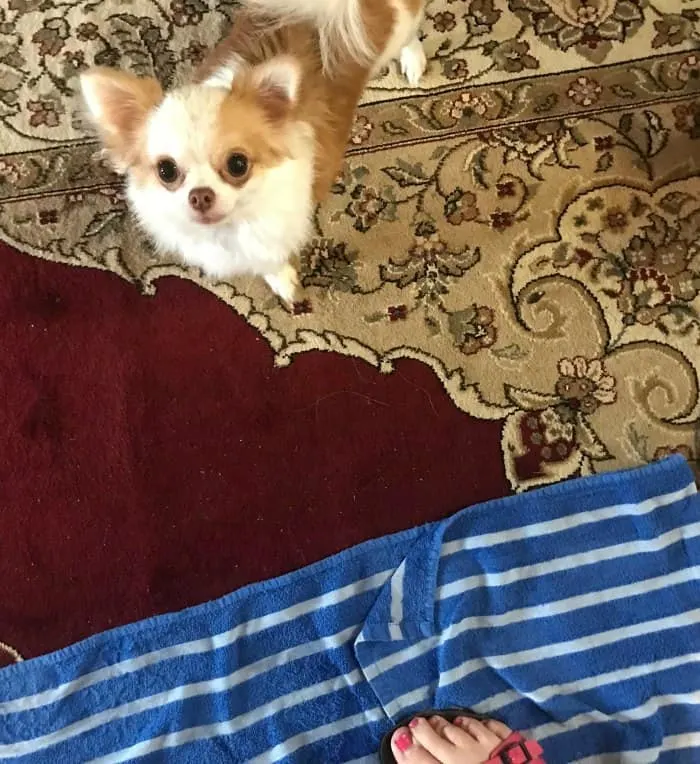 Let it sit for 15 minutes.
With a towel, soak up as much of the water/eliminator solution as you can.
Repeat several times.
Let it dry. It took a whole day for mine to completely dry.
Vacuum up any residue if any. I had some but I have a dark carpet. It may not show up on a lighter carpet.
The Results
As you can see above, although not difficult, there are a lot of steps to using this product. I remember thinking, 'this better be worth it.'
Well it was worth it! The smell is completely gone!
So would I recommend it?
Yes. If you have trouble getting rid of the pee smell in your house, this stuff really works.
If you'd like to give it a try, you can use the coupon code Chi15 to get 15% off your order. You can find it here. And if you want to check out all of their pet products, click here.
Let me know if you try it and what your experience is.