This post contains affiliate links, and I will be compensated if you make a purchase after clicking on my links. As an Amazon Associate I earn from qualifying purchases. Learn More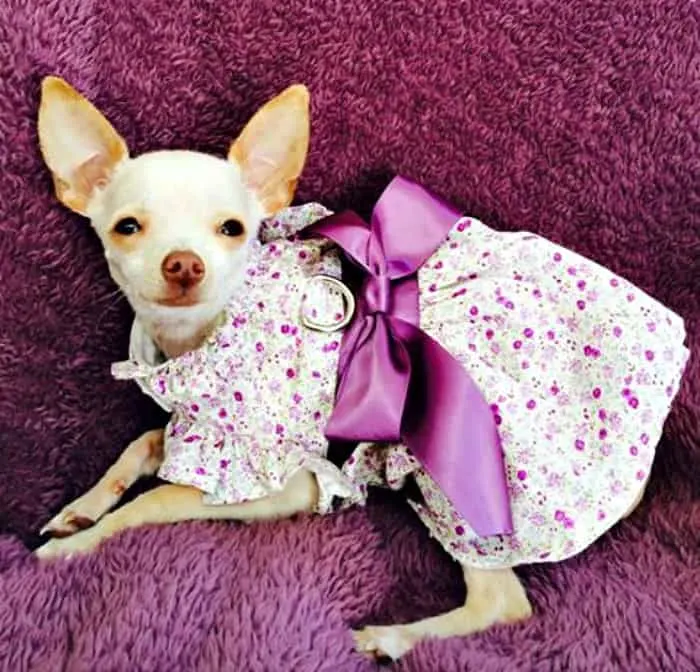 This is my little Sprout. She is 3 pounds now. The life of the party.
I got her from Pet Finder. I wanted a little chi that was the size of my other one. I went on the internet and did a 1000 mile search. I just let God do the searching. Well there was little Sprout, right here in Sacramento where I live. It was truly meant to be and a perfect match.
The rescue had Sprout for about 7 months and was working on getting her well. Sprout came from a back yard breeder and hoarder; 22 dogs all dying and malnourished. She was starved to near death. No water or food. She had Giardia that had to be treated three times. She was severely malnourished and she has some birth defects from inter breeding. But she's the love of my life. She is Hook's little sister.
How she got her name? When she started to come back to life again, she lifted her little head and emerged like a little sprout.
She is the happiest little girl. She gets me up in the morning by dancing on top of the covers.
We have another rescue, a 14 year old Maltese that was owner surrendered at the shelter I work at. Her owner was dying of cancer. Lucy the Maltese was so depressed when we got her. She was not eating and started biting and became a behavior problem. But little Sprout came to the rescue. She was persistent in getting Lucy to play and to socialize. She taught Lucy how to play with toys and helped to paper train Lucy.
Sprout has a little 4 pound chi sister who was always afraid to go up the stairs to our bed. But little Sprout was persistent in teaching Bambi her sister how to get up those stairs and over come her fears. She is truly a joy in our life and a little miracle worker with a very sensitive side to her and very caring.
Sprout's favorite thing to do is play with the other dogs. She has about 30 toys that she hides and we can't find them. Probably a hoarding trait. And she loves to run thru the house throwing her toys in the air and across the room.
❤ u Sprout
Joyce Herman‎