This post contains affiliate links, and I will be compensated if you make a purchase after clicking on my links. As an Amazon Associate I earn from qualifying purchases. Learn More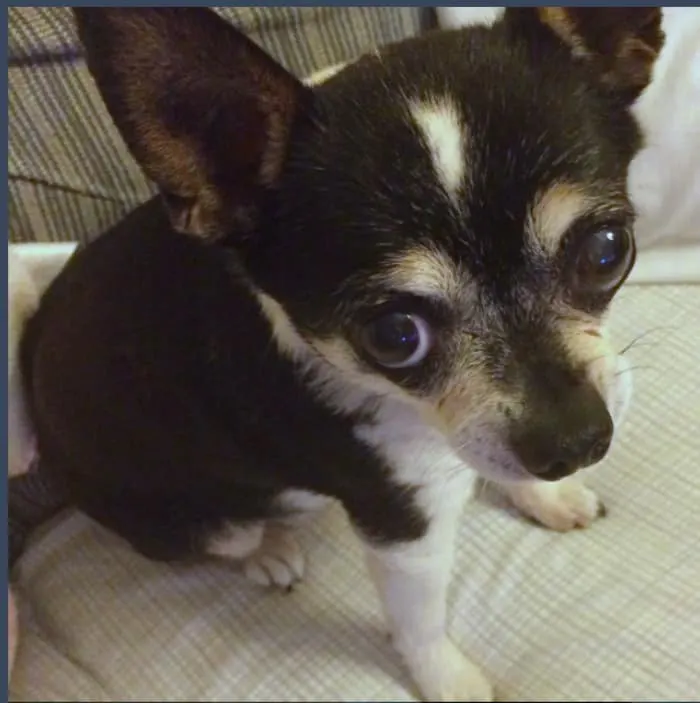 Back in 1999 my daughter decided she'd like to have a dog of her own, and thought she'd like to have a chihuahua. I had no experience with them, and wondered why she wanted one of those "yappy little dogs".
My husband and I decided to let her have one, and looked in the newspaper to see if there were any for sale. We found an ad from a private breeder and went to see the puppies.
My daughter selected a tiny little chocolate ball of velvety fur and brought her home to live with us. She named her Sassy Girl. I fell in love with her – she was such a sweet little dog. Fast forward a couple of years … and my daughter was out living on her own and of course took her little dog with her.
I decided I'd like to have a chi of my own. My daughter and I talked it over and came to the decision that I'd get a little boy dog and we'd breed them just once and each keep a puppy from the litter.
Once again, I checked the newspaper for any chis for sale and found what I thought was another private breeder. When we got out there to see the "litter", we discovered it was a puppy mill. In fairness, I have to say that the breeder kept her dogs in very good conditions, but I have never seen so many chihuahuas in one place in my life! She also did chihuahua rescue, so she had a lot of adult dogs as well as puppies.
She brought out several puppies for me to see and choose from. I narrowed it down to two puppies – one reddish-brown little boy who had one blue and one brown eye, and one little tricolor boy who was very shy. I've always been a sucker for tricolor animals, and decided he was the one I wanted. I have NEVER regretted my choice.
I named my little man Sweet Keltie of Ripley and he was my baby boy for 15 years. A year or so later, Keltie and Sassy had a small litter of two puppies – one chocolate and one black. My daughter kept the chocolate male and named him Keltie's Lucky Shamrock, and I was going to keep the black female who we named Sassy's Sweet Keelie. Sadly, the little girl only lived a couple of days as she was born with hydrocephalus.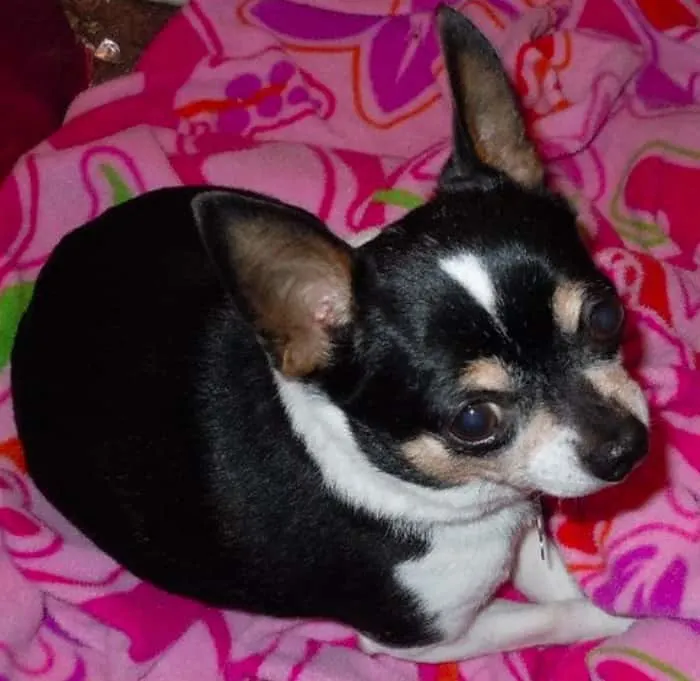 Keltie was such a sweet little guy, and I'm so glad I rescued him because he would never have survived at the puppy mill. He was definitely NOT an alpha dog by any stretch of the imagination. As he got older, he got more and more OCD – he wouldn't walk on uncarpeted floors for one thing. I had to put down throw rugs from my living room through the dining room, kitchen, and laundry room all the way to the back door because if he walked on the vinyl floor he'd do a "Bambi" with all 4 legs spread out.
There is a small "step" of about 2 inches between the kitchen and laundry room, and he always had to stop at the step – then he'd make a flying leap like it was a huge step! It was so funny to see him go down that little step. He also loved to sleep under my pillow; he was a real snuggle buddy. Keltie had a thing for chewing my slippers – and always the left slipper! But I loved that little guy and he loved me.
I left him at a boarding facility for 3-4 days when my son got married. It was an excellent facility, and he was with my daughter's two dogs so I thought he'd be fine. When we went to pick up the dogs, Keltie cried great big crocodile tears all the way home. I guess he thought I had abandoned him! I vowed then that I would never board him again, and I never did. If my daughter couldn't come stay with him when my husband and I went out of town, we made sure to stay in a pet friendly hotel and brought him with us.
I brought Keltie with me to the Outer Banks one time. The house we stayed in had a swimming pool in the back. I took him out to the pool with me so he could play in the grass while I was in the pool. Imagine my surprise when he jumped into the pool to "save" me! Not once, but twice! He didn't like water, so I couldn't believe he jumped into the pool.
Nine years ago, I got him a "sister" from another private breeder. She is also a tricolor and although her registered name is Sweet Kelcie Girl, we have always called her Kissy Girl because she loves to give kisses. But she's a whole different story!
Sadly, Keltie had to cross the rainbow bridge on 7-14-16. Keltie had had a heart condition for several years, and his heart just finally gave out. I will always miss my little man.
June Sasser