This post contains affiliate links, and I will be compensated if you make a purchase after clicking on my links. As an Amazon Associate I earn from qualifying purchases. Learn More
Have you ever watched a service dog, and was impressed at how well they acted? I know I have and I wished I knew their secrets of dog training.
Well, now I have. I have been taking an awesome course called K9 Training Institute (K9TI). They don't help you train your dog to be a service dog but they do use the same techniques that are used to train service dogs.
Why do an online dog training course instead of a live class?
There's nothing wrong with live in-person classes although you may have trouble finding a live class that teaches your dog with the same methods that service dogs are trained.
Some of the advantages of an online course are you can access it whenever you want on your schedule.
And you have lifetime access to the course. So you can come back to it whenever you want a refresher.
There's no travel to and from the training center. You don't have to have your dog around other strange dogs and people.
Who teaches the course?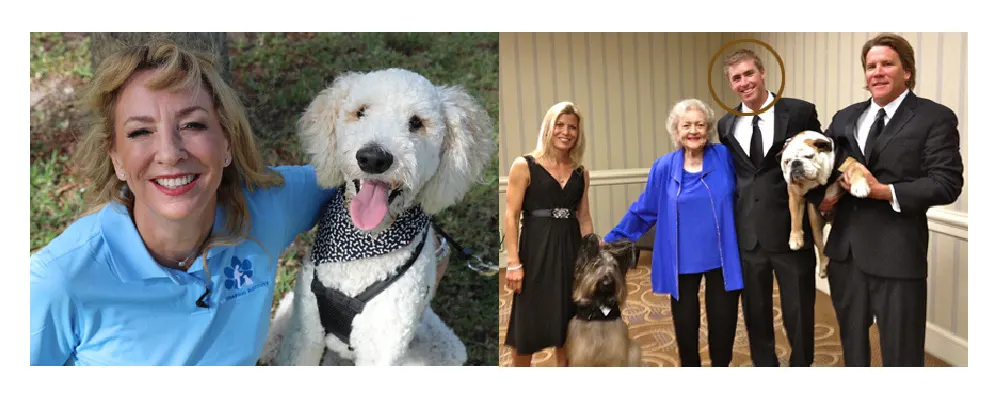 The course is taught by Dr. Alexa Diaz who trained service dogs for 20+ years and Eric Presnall from Animal Planet.
They know their stuff and know how to teach the average pet parent to train their dog in the easiest most effective way possible.
Who this course is for
This course is for any caring pet parent who wants a great relationship with their dog and wants their dog to be well behaved.
And it works for any age of dog and any breed (even chihuahuas!),
What you and your dog will learn from the course
Well, first of all, you can take a free workshop to get a taste of what the course is about.
In that video, you will see how several dogs are trained to stop pulling on a leash, how to stop barking when someone knocks on the door, and how to properly greet people that come into the house.
You can sign up for the free workshop here:
If you choose to take the 10 week course, some of the things you will learn:
Watch and Touch: foundational commands to get your dog's full attention and keep it.
How to teach a dog to be calm.
How to teach your dog to come when called every time.
Walking on a leash without pulling.
Your dog will learn to watch you for cues. You will use visual cues more than verbal cues in this training.
Greeting people and dogs in public.
Interpreting dogs' body language.
Stopping aggression.
Curb awareness (so they don't get hit by cars).
Impulse control.
Stopping destructive behaviors such as biting, jumping, and inappropriate chewing.
Manners, housetraining, and more.
How long does this course take?
The course is 10 weeks long and they also have several bonus classes on kids and dogs, nipping and biting, housebreaking, and separation anxiety.
Each week you will have a series of short video lessons to watch each day and then it only takes 10 to 15 minutes of training sessions with your dogs.
Some of the things I love about this course
They have an unconditional 90-day refund policy.
They have weekly question-and-answer calls with real dog trainers. The calls are recorded so if you can't make the call, you can listen to it later.
A portion of the cost that you pay goes to animal rescues and charities, which I love.
Is there anything bad about this course?
So far I haven't come across anything. I have been very impressed with this course and highly recommend it.
The only drawback I can see is the price. It's not a cheap course.
But, you get what you pay for.
You can make 3 monthly payments to make it easier to pay if you want. And you can get a refund within 90 days of purchase if you decide it's not for you.
What I personally think after taking this course
I have gone through the first few weeks of lessons so far, and what I have really liked about them is how simple they are to learn and implement.
I have taken a few dog training classes before that left me and the dog I was trying to train frustrated.
This class is easy enough that everyone in the family can learn it.
Here are some takeaways from the course so far:
They use dogs with real problems and show from start to finish how to train them.
The lessons are short and easy to teach to your dog.
My dogs learned quickly when teaching them each lesson.
They use video and transcripts so you can watch or read, (or both).
The trainer explains why to do a step so you know the reason to do each step.
You get a homework PDF that you can print out if you want.
This method of dog training is somewhat different from what I have learned in the past but it's much more effective.
Every dog, even the tiniest chihuahua, needs a job to do and if you don't give them a job, they will create one for themselves (often with disastrous results).
Is the course worth the money?
In my opinion, yes. I will now have the skills to train all my dogs to be great canine citizens. They will be happier as will I and my family.
Any future dogs will get this same training right from the start. And I can come back and go through the course again whenever I feel the need to.
If nothing else, at least take the free workshop. You will definitely get some good information from it.
Click the link below to watch it: