This post contains affiliate links, and I will be compensated if you make a purchase after clicking on my links. As an Amazon Associate I earn from qualifying purchases. Learn More
Working out with your chi is a great way to stay fit while bonding with your fur baby. But while exercising with your pooch can be lots of fun, there are times when you just want to focus on your fitness routine, especially if you need to lose weight or build muscle within a certain time frame.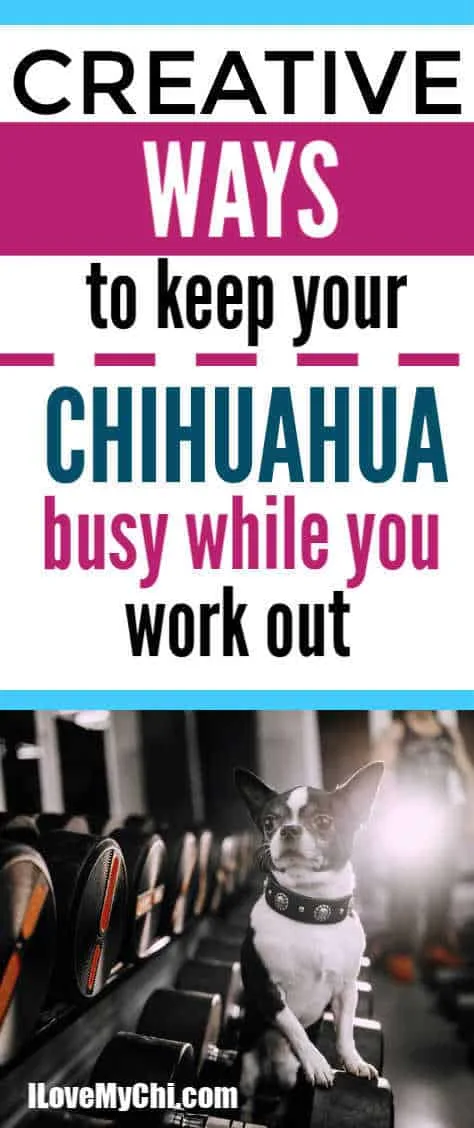 To keep your chihuahua from disrupting your exercise time, you'll need to find ways to keep your pet entertained while you're working on your fitness. Here are a few creative ways to keep your chi busy while you workout.
Let you dog exercise first thing in the morning
If you don't want your chi to be hounding you for pets or jumping all over you while you do strength training exercises, it's a good idea to let your fur baby exercise first thing in the morning so they can get rid of all that extra energy.
Walking your chihuahua for at least 30 minutes in the morning allows you to do some cardio before you move on to strength and muscle-building workouts later, such as doing push ups and pull ups on gymnastic wooden rings.
Going for a walk also helps your chi to be more calm throughout the day so they won't be barking, chewing, or whining while you're focused on your workout routine.
Allow your chi to watch pet videos on your device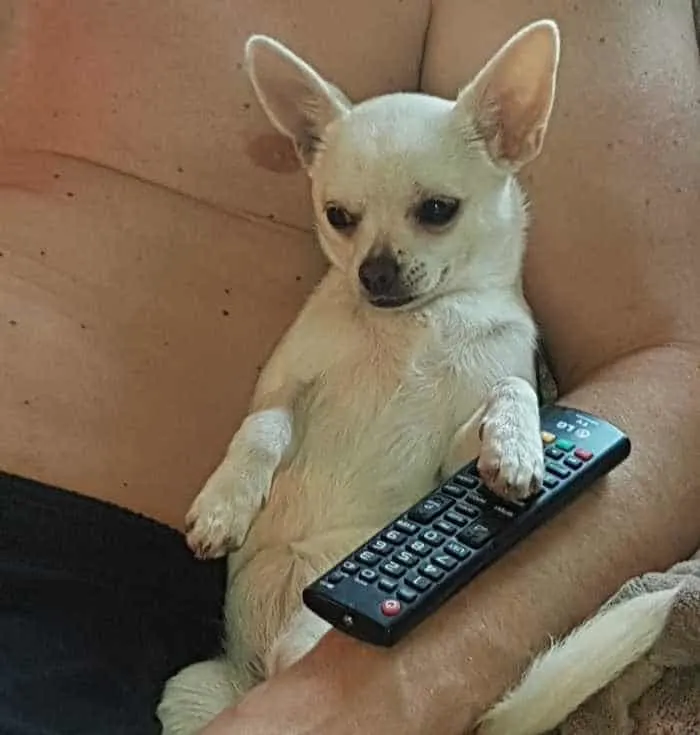 You may have noticed that your pet loves to sit beside you while you're watching TV. While you may think that they're just keeping you company while you're catching up on another episode of your favorite TV series, studies indicate that some dogs can actually engage with television.
To keep your dog from disrupting your home workout, why not let your fur baby watch some pet videos on your smartphone or tablet? Chihuahuas like to watch other canines interact with their owners or play with their toys, so find an appropriate video for your pet to watch while you follow along to a YouTube exercise video on your smart TV.
You can also let your pet watch the DogTV channel as it provides endless content that your chi will surely love.
Turn on the water fountain
Want to keep your pet distracted while you're running on the treadmill? If you have an indoor water fountain, simply turn it on, and the sights and sounds of the bubbling or cascading water will keep your chi entertained for as long as it takes to complete your workout.
Make sure to change the water in your fountain frequently as your dog may attempt to drink from it. Also, if what you have is a tabletop water fountain, make sure that it's placed at the center of your table to keep your chihuahua from knocking it to the ground.
If the fountain comes with lights, be sure to turn the lights on too to keep your beloved chi entertained.
Your fitness should be a priority at all times. Try these tips to keep your chi busy and happy while you workout, and look forward to having a stronger and healthier body over time.