This post contains affiliate links, and I will be compensated if you make a purchase after clicking on my links. As an Amazon Associate I earn from qualifying purchases. Learn More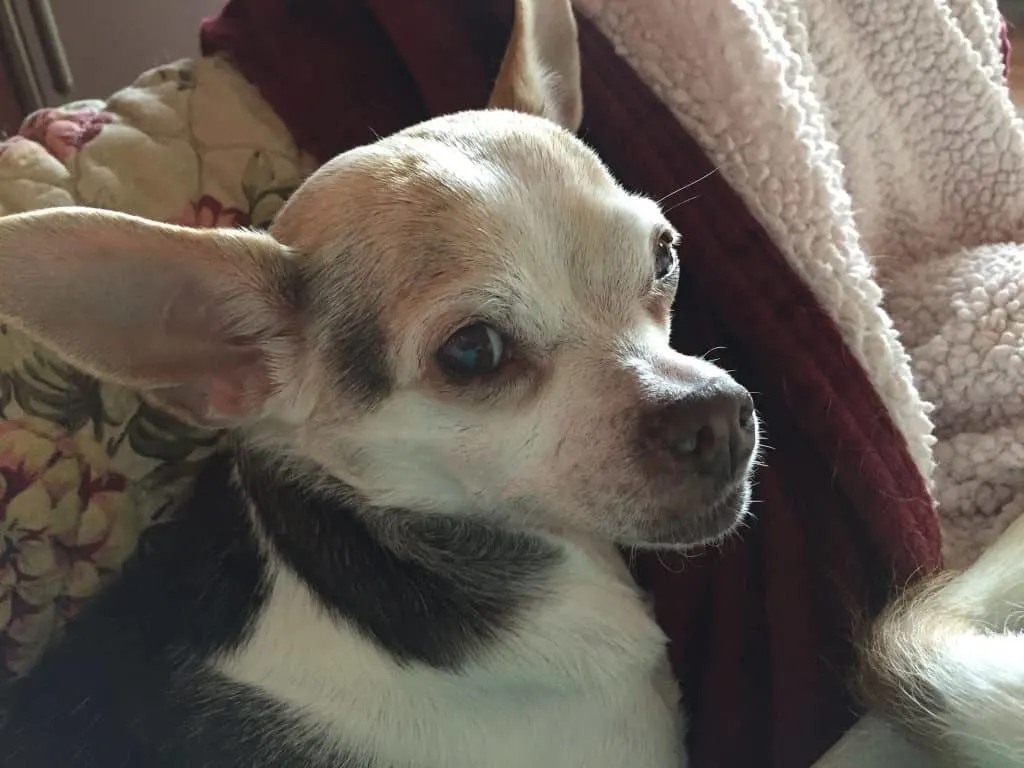 Betty, Betty-Boop, Aunt Betty, Miz Betty, Betty Boopison. She has many nicknames. Her name was Bella when I adopted her from Chihuahua Rescue USA in 2007. At five years old, she and her (many) puppies were in a foster home in Jefferson City, Missouri. I was told that a puppy mill owner had retired, and all of her dogs were turned over to rescues and shelters.
I confess that I saw "Legally Blonde" on Broadway in 2007 and was captivated by the adorable character of Bruiser (a beautifully trained real Chihuahua on stage!) I had never had a Chihuahua but thought they were quite possibly the perfect dog. I hate to admit that I was one of Those People who fall in love with a breed they saw in the movies or on television. But I decided that there must be a Chihuahua who needed me, so a rescue was what I wanted. Thus began my love affair with Chihuahuas.
I found Betty on petfinder.com. I gave it a lot of thought before I contacted her foster family. But I ended up driving down to meet her. I happened to bring a crate with me, "just in case." Her foster mother called her and a veritable herd of Chihuahuas came racing around the corner. Betty was the last to arrive but she stood up on her hind legs and begged me to pick her up. She gave me a quick kiss and that was that. I took her home with me that night.
I thought it might be best if I crated her that first night. (Hah, I know, right??) She protested as only a Chihuhua can and ended up sleeping peacefully on my pillow. From that night forward, she was under the covers with me.
It was obvious that Betty had been bred too many times to count. She had just been spayed and had a hernia repaired, but it was obvious that the hernia repair had caused another bulge on the other side. So she went back for more surgery. This time they installed mesh, because her poor stomach muscles had been expanded so many times. She was fine after that.
Betty is now about to celebrate her 14th birthday. She can't stand on her hind legs like she used to, and she has to be lifted up onto the bed. But she's healthy and happy, if a tiny bit crabby. J I have her teeth cleaned annually and have senior blood work done, just to make sure she's okay. She just got a very clean bill of health, although she doesn't have quite as many teeth as she once did.
Betty is now the oldest of my four Chihuahuas, the newest being Barney. (Barney told his story here last August.) Betty is a stern disciplinarian but she loves Barney and keeps his ears extra clean. Her beautiful tri-coloring has faded to gray, but as we age together she's fond of telling me, "you're not so young yourself."
Betty has convinced me that Chihuahuas are indeed the Perfect Dog.