This post contains affiliate links, and I will be compensated if you make a purchase after clicking on my links. As an Amazon Associate I earn from qualifying purchases. Learn More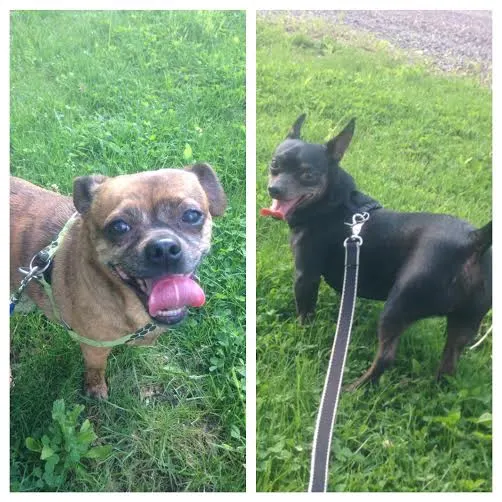 NOTE FROM CATHY: I received an email in regards to my Chihuahua aggression article from Michelle and I asked her if I could use it as a Chihuahua Story. The letter is an inspiration for those of you who are dealing with dogs with "issues".
Despite how some may have reacted to your aggression article, I am glad you wrote it. I have a rescued Chi-Weenie named Cole and he, due to his severe past abuse by a male, is very very aggressive toward them.
I am working with a trainer from my local Humane Society to get myself as well as Cole and Java (my other rescue) training on how to deal with their stress. I know a lot about dogs and how to train them, but managing high levels of nervousness and stress is not something I had experience with fixing.
When I rescued Cole and Java, I did so individually and 1.5 years apart. Cole was found as a stray in North Carolina by a vacationing member of the shelter along with his sister. The volunteer brought them back to Pittsburgh where they both had to undergo heart-worm treatment. Once finished, I asked to adopt both of them, but was told that Cole's sister bullied him a lot so they had to be adopted out separately. I was also told that Cole had SEVERE confidence issues and would really need some work. I embraced the challenge wholeheartedly and have loved every second.
First I had to teach Cole that neither I nor anybody or anything else was going to steal his food… so for about 2 months I fed him one piece of his dog food at a time by hand.
Next, we tackled his stairs problem because he would not walk up or down them. I had to gain his trust and then show him that I wasn't going to hurt him if he went up and down them.
Once we fixed those issues and got him house trained and settled (about 1.5 years in total) I adopted Java Bean. She was older, much more calm, 100% loving, and had come out of a hoarding situation.
I "interviewed" many female dog friends for Cole because I knew I had to find the perfect personality match for him. Picking a fur-friend that threatened his confidence or made him feel uncomfortable would ruin all the work that we had just done. After driving an hour and a half to meet Java Bean for the first time, I instantly knew that she was the PERFECT pug mix for us.
Now that us 3 are settled into our lives together, I decided to tackle Cole's male aggression and stress issues. After only 3 training sessions and a lot of hours of homework with Cole and Java both, we are making huge steps in the right direction and I could not be more excited!!! Thank you for your letter and all that you do and share!!!!
Best,
Michelle
NOTE (again) FROM CATHY: Remember to email me (cathy@ilovemychi.com) your Chi Story and at least one photo of your Chihuahua if you'd like to have your story shared with our readers and Facebook friends.