This post contains affiliate links, and I will be compensated if you make a purchase after clicking on my links. As an Amazon Associate I earn from qualifying purchases. Learn More
I love the Pet Blogger's Journey that comes around every January and even though I don't participate in it every year, I do read the other bloggers' entries. So interesting and a great way to connect to other pet bloggers.
Thank you Colby for doing this for us! Colby has an awesome blog called Puppy in Training.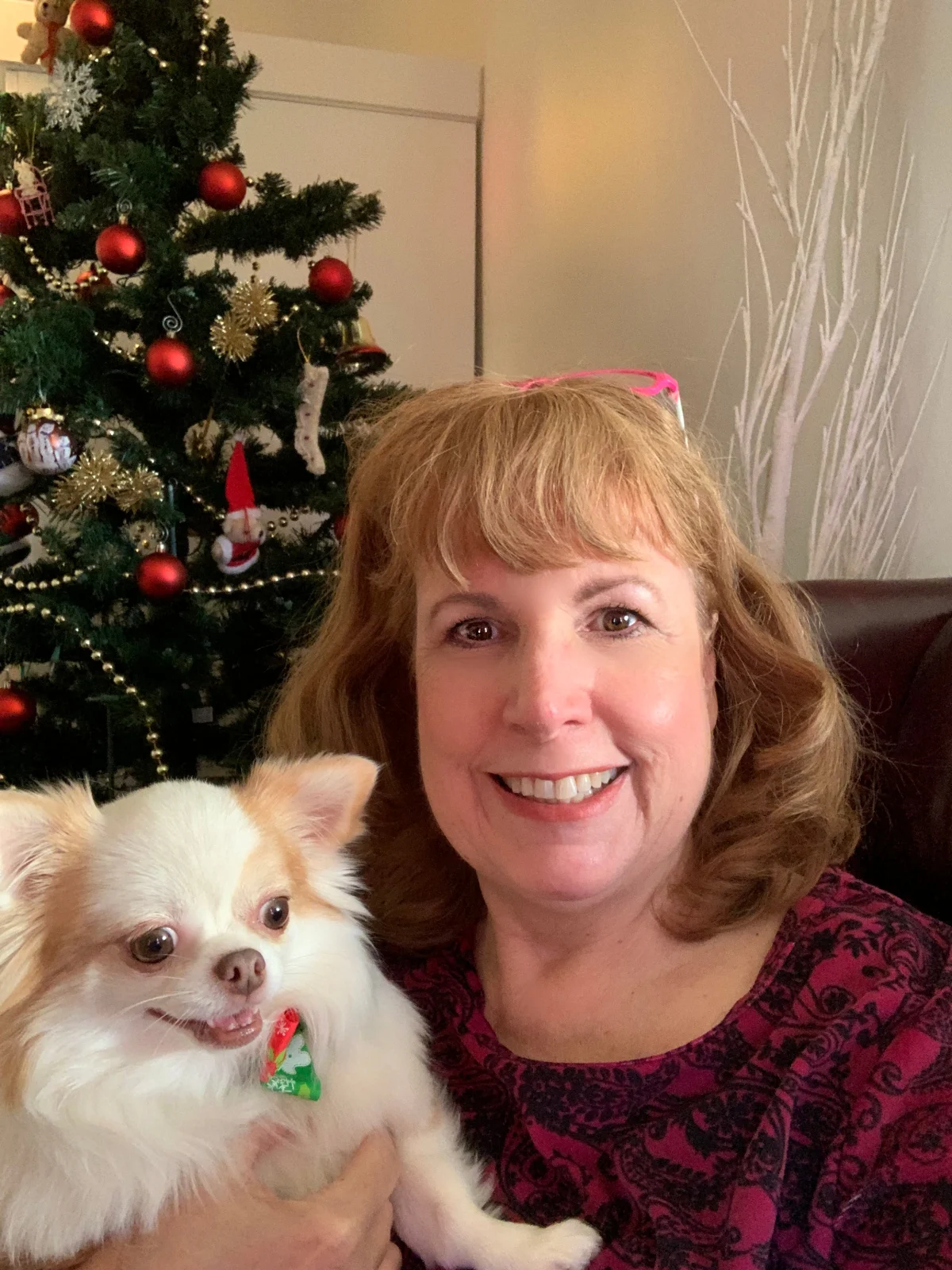 When did you begin your blog and what do you currently write about on your blog?
I started this blog, I Love my Chi in May 2013. I started my newer blog Yorkie Universe in December 2020.
The names of these blogs pretty much explain what I write about. I Love My Chi is all about Chihuahuas and Yorkie Universe is all about Yorkshire Terriers.
The reason why I have 2 blogs about 2 breeds is well, they are my favorite breeds! I have one long-haired chihuahua (I'm holding her in the photo above) named Lucy. I have a Chorkie (chihuahua-yorkie mix) named Lucas. I also have a Yorkie named Ziggy and Bear joined us this past summer. He's a black Yorkie.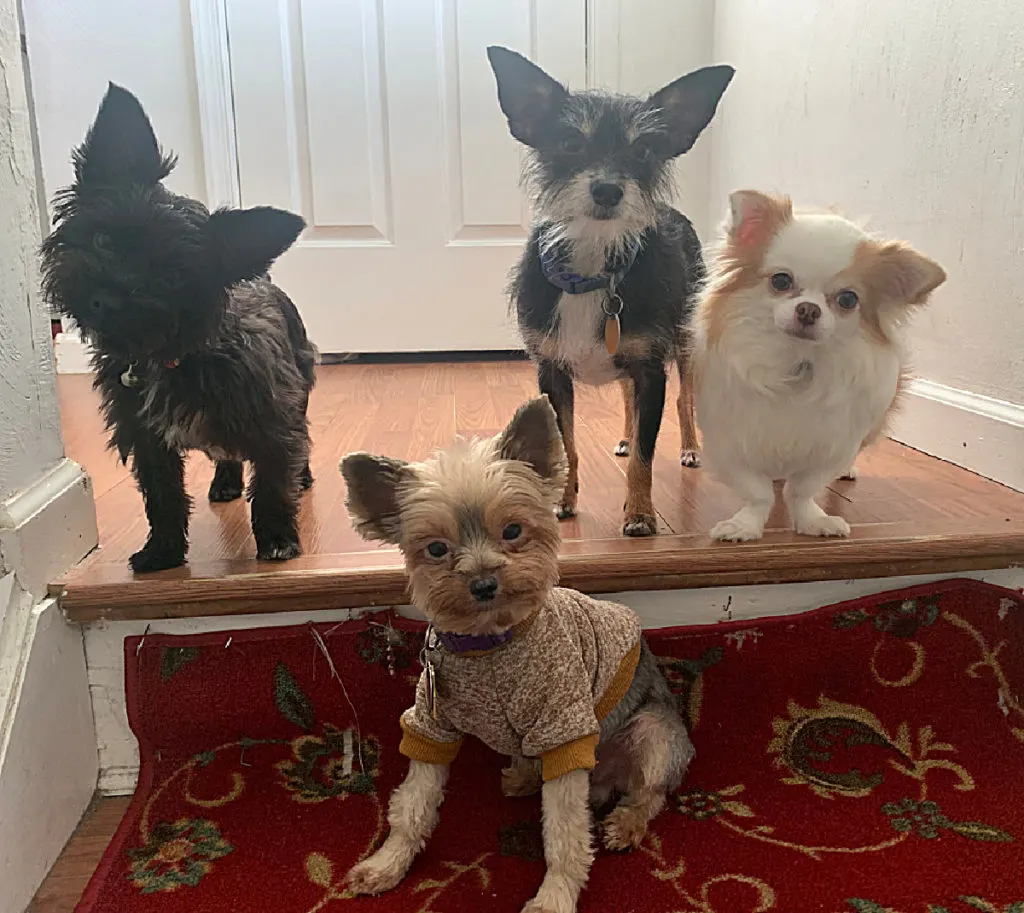 Name one thing about your blog, or one blogging goal that you accomplished during 2021, that made you most proud.
To tell you the truth, this question is really hard to answer (hanging my head in shame). I feel like I coasted with I Love My Chi for the most part and didn't accomplish any big goal with it. And I didn't get nearly as far along with Yorkie Universe as I wanted.
I guess one thing I'm proud of is that I didn't give up on Yorkie Universe. I have started blogs before but then quickly lost interest in them when they didn't get an audience right away. I haven't written as much as I'd like to on Yorkie Universe, but I'm still hanging in there and haven't given up on it because I really love the breed.
What was the biggest blogging challenge you faced in 2021? How did you tackle it?
Just trying to keep my search engine rankings up with I Love My Chi was a challenge. I have started updating old posts to try to get them back in Google's good graces.
Tell us one thing you learned in 2021 that can help us all become better bloggers.
I guess I'm learning the hard way with my new blog that what worked in the past doesn't work now. Blogging is ever-changing.
I also learned that if you want to keep up with your goals, you need a plan. I like to list my goals for the year and then break them down. First I list everything I can think of that I need to do to accomplish each goal.
Then I list those tasks to what I can do each quarter, then each month, and then break them down even further to weekly goals and daily goals. Doing things in bite-size chunks makes it easier to accomplish and not so overwhelming.
What are your top three blogging goals for 2022?
Update 1 to 2 old posts each week.
Come up with 4 small digital product ideas (one for each quarter) and actually make them.
Consistently write 2 posts a week on Yorkie Universe.
In the perfect world, where do you see yourself and your blog one year from now?
Yorkie Universe would be thriving with a large enough audience to get it into Mediavine.
I Love My Chi would be getting twice the traffic it now gets and I would be coming up with digital product ideas that my readers would love and buy. And my affiliate income would increase enough to be half of my total income (without losing any income from my ad company of course).
If you had $1,000 to spend on your blog how would you spend it?
SEO and keyword research. I suck at both.
What is one skill you'd like to learn or improve in 2022?
SEO and keyword research, LOL.
I'd also like to learn YouTube, although to do that, I would need a plan for making videos that people would actually be interested in watching and my mind becomes blank when I try to figure that out.
If you could ask the pet blogging community for help with one challenge you're having with your blog, what would it be?
90% of my income comes from my ad network which is Mediavine. They are awesome, don't get me wrong, but it makes me nervous to have all my eggs in one basket.
So along with coming up with some digital products (and I'd love to hear if you have any ideas off the top of your head for those) I'd also like to up my affiliate income. I'd love some tips on how you increase your affiliate income, without being obnoxious of course.
And if you don't have any tips on those things, I'd also be interested in SEO and keyword research tips.
I've been doing this blogging stuff for many years but I still have lots to learn!

Thanks for reading about my pet blogging journey! And if you'd like to read the journeys of other wonderful pet bloggers, you can find them over here at Puppy in Training.
Here's to a happy, healthy, and prosperous 2022!