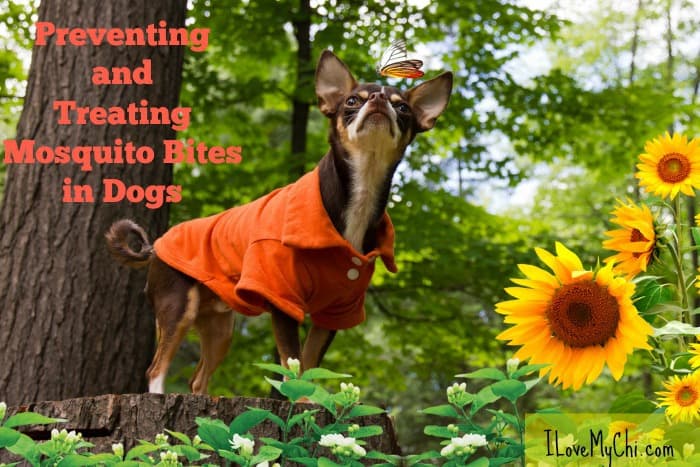 The only thing I dislike about warm months is that the mosquitoes come back in full force. If you live in an area where you don't have them, consider yourself lucky. In my area they are out day and night.
Mosquitoes are not only annoying to us and our dogs, they also carry disease. For dogs, the main disease caused by mosquitoes to worry about  is Heartworm. Left untreated heartworm can be fatal and it's an expensive disease to treat. It's better to prevent it.
To prevent heartworm, have your Chihuahua checked for the disease (it's a simple blood test). If he doesn't have it, you can put him on heartworm preventative medicine. You can get it from your vet, your local pet store or Amazon.
Another issue caused by mosquito bites, is that your dog can scratch it until it bleeds or develops an infection.
Here are some remedies to stop the itch after you or your dog is bitten by a mosquito:
Wipe it with a little rubbing alcohol. It seems to stop the itch.
I have also dabbed it with coconut oil which healed it quickly and took away the itch.
Haven't tried this but have heard that Preparation H helps relieve the itch.
Witch Hazel works well too to take away the itch.
If you are growing Basil in your garden, pick off a leaf and rub the bite with it.
Here are some ways to lessen the chance of your dog getting bit by a mosquito:
Avoid walking your dog at night or early morning and early evening if possible, as this is the time mosquitoes are most active.
Avoid walking your dog in marshy areas.
Plant mint near your doors (it's a natural insect repellent).
Change water in your dog's water bowl every day.
Make sure there is no stagnant water in your yard.
Keep a citronella plant or candle near your back door.
Plant a Eucalyptus tree. They don't grow very large and not only do they repel mosquitoes but they also repel fleas too.
Make sure the screens in your windows don't have any holes or tears in them.
Do you have issues with mosquitoes in your area? Any great remedies you'd like to share? I'm all ears 🙂