This post contains affiliate links, and I will be compensated if you make a purchase after clicking on my links. As an Amazon Associate I earn from qualifying purchases. Learn More
When I was a young woman, and living in my first house, somehow it got out in my neighborhood, that I was the lady who loved animals. Soon all the kids in the neighborhood (and some of the adults too) would bring me their pets or hurt wildlife who had minor wounds and I would help them the best I could.
I always told them that I had no medical training and sometimes I would tell them to take their pet to the vet because it was beyond my expertise but if I could help them, I would.
That's when I made up my very first pet first aid kit. Nowadays you can easily buy them and you might want to do that with your first one. Eventually, though, you will need to refill it.
It's so important for dog owners to have a first aid kit in the house for their fur kids. Items in first aid kits will mostly take care of minor wounds, but there is some medication that you can keep in your kit to help your dog as well.

First aid kits allow you to quickly treat your dog in case of an emergency before you can take them to an emergency or regular veterinarian. If you don't have any medical experience, it would also be beneficial to take a first aid class, so when the time comes that you need that kit, all of the tools won't be useless. A first aid book for pets is a good idea too.
What do you need to put in a first aid kit?
First, you're going to need items for any cuts, gashes, or nicks. For this, you don't want to use regular adhesive bandages like Band-Aids. Use the non-sticking bandages that you can wrap around the wounded area, so when you or the vet takes it off, it won't take a big clump of fur with it.
Be sure to have gauze in case of any bleeding injuries.
For broken toenails.you should also have some blood clotting solution or powder, so you can stop the bleeding faster. Here are some good clotting products to pick from.
Consider the age of your dog. For puppies, bleeding injuries are more serious, because they have less blood in them. It's extremely important that you stop any continuous blood flow immediately on your puppy.
You should stop ongoing bleeding in any size dogs, but small breeds and puppies could have more severe blood loss with ongoing bleeding.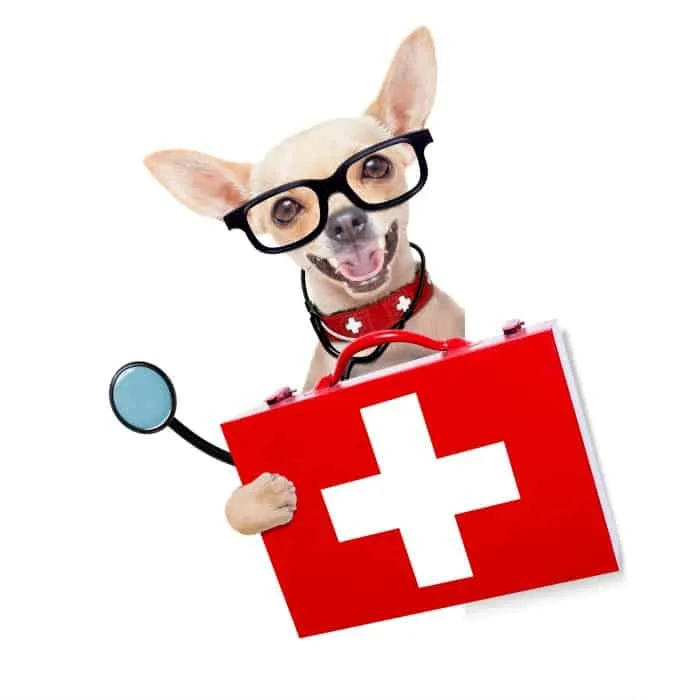 Other items to pack into your first aid kit:
Tweezers or Hemostats

Absorbent gauze pads

Hydrogen peroxide (to induce vomiting in case of certain poisons, only use per Vet instructions)

Syringe (to administer hydrogen peroxide)

Activated Carbon (to aid in recovering from poisons and stomach issues-only use if instructed to by your vet)

Self-cling bandage or Vet Wrap

Antiseptic wipes

Non-latex disposable gloves

Sterile saline solution

Rectal thermometer (use petroleum jelly or coconut oil to lubricate)

Antibiotic ointment

Spare leash and collar
Can you think of anything else that should be in there? Leave a comment and let me know what I should add.
Be sure to read How to Prepare Your Dog for Disasters.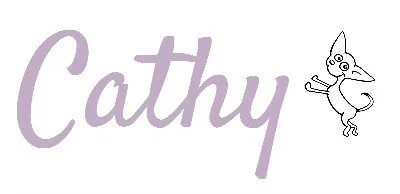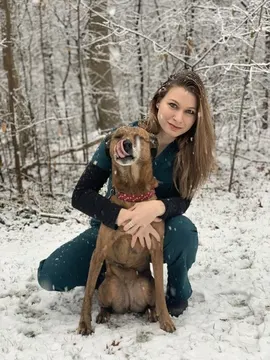 Paula Simons
DVM
This article has been fact-checked and approved by Dr. Paula Simons DVM. You can read more about her on our About page.