This post contains affiliate links, and I will be compensated if you make a purchase after clicking on my links. As an Amazon Associate I earn from qualifying purchases. Learn More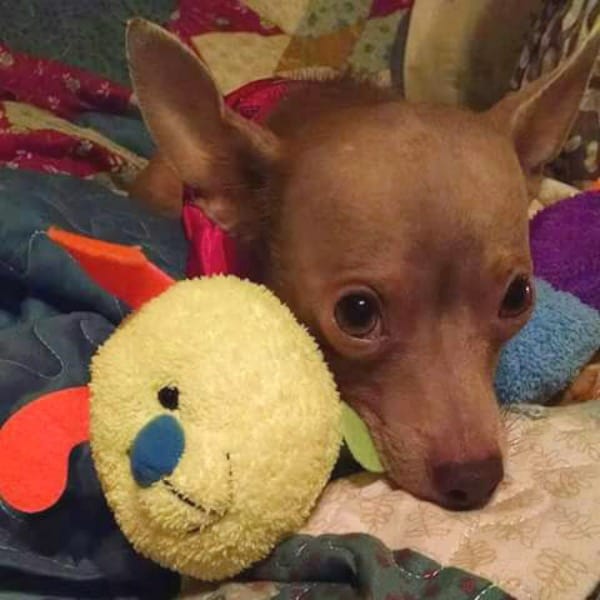 This may be a long story but it's Louie's story.
Sadly and heartbrokenly. I had to put my precious Speedie to sleep before her 20th birthday.Speedie's photo is below.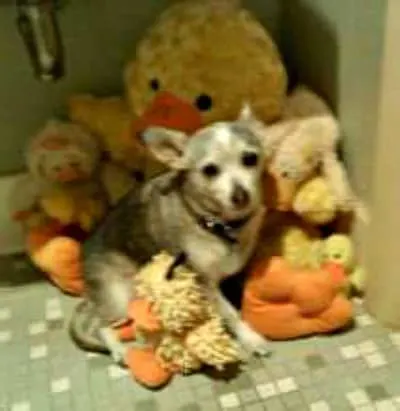 Sometimes when a beloved pet dies we are torn between not being ready for another furbaby for awhile or to get another. I am alone and disabled and all my family live in Florida. I could never replace my Speedie but the holes in my heart were lonely.
Because I live under the Housing Authority the pet has to have a Rabies shot and it has to be fixed. I hadn't financially recovered fromSpeedie's vet bill so I hoped to find one that had both.
A puppy was out because I am not able to keep walking it to train it to keep going out. Anyway there was a lady that had some Chis for sale and everything was already done and she wasn't going to charge me much. I had to call her and tell her I couldn't get one after all. She said, "You really want and need a Chi don't you?" "Yes", I said.
She showed up soon after that. She said "I have a boy you can have and he has had everything done but you can say no." She pulled Louie out the crate and I wasn't saying no. Sadly for 7 years this baby had been on a chain outside in all weather and half starved most of the time.
She said he had a hard and bad life. The previous owner got messed up on drugs and (no excuse) had poured ACID on his face all the way down his back. I can't believe he didn't die. He had to be just for me. I have a scar down my back and had been abused by my ex-husband. So I thought that meant something.
My care giver and I are sure he was beat with a broom as well. Because when she swept he would get so upset. He was not aggressive towards her but would cry and fret and bite the broom, run, cry and bite it some more. So I started taking him out when she swept. But he trusts us both now and doesn't do it anymore.
My vet said that acid could have cooked him. He also said Louie's hair wouldn't grow back. But with the TLC he has had with me I think it has grown back some. He won't let anyone hug me and protects me. Lol. I still miss my Speedie.
I don't think the foster mom knew Louie's original name. She said it was Punk. He didn't look like a Punk nor did he respond to it. I named him Louie because my Mama's name was LouAnne. I think she would have liked that. I love him so much Oh yeah, that evil man IS in prison for what he did to my sweet boy.
I tell him all the time that he is a pretty boy and so handsome. He is so sweet, smart, loving and happy.
Sherry Barrs Hamrick