This post contains affiliate links, and I will be compensated if you make a purchase after clicking on my links. As an Amazon Associate I earn from qualifying purchases. Learn More
For most if not all chihuahuas, there is no place they would rather be than right by your side, 24/7 – even if it means going on a lakeside or beach holiday with you.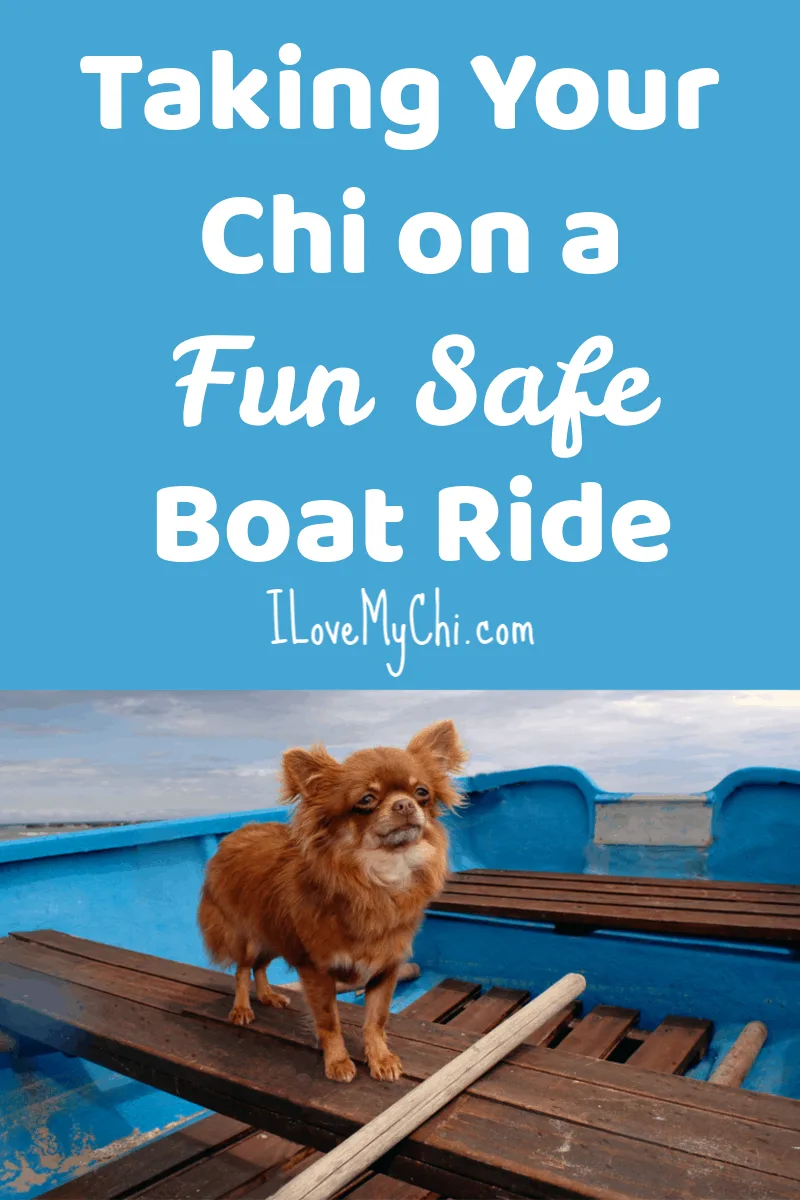 The good news for your fur baby is that you probably feel exactly the same way.
The 2018 National Pet Owners survey found that around 37% of pet owners travel with their pets every year, up 19% from the previous decade.
If you have opted for a water-focused destination and you plan on sailing, how can you ensure your chi is safe and happy aboard a boat?
Important Considerations Before Taking the Plunge
Before your chihuahua heads out into the water with you, he should know how to swim and enjoy being in the water.
Older dogs and those with health conditions may become stressed by the sound of a motorboat, the proximity to the water, and the activity taking place on-board.
When teaching your chi how to swim, do so slowly, allowing him to paddle a short distance until he gets to you. Make sure he has a safe, approved flotation device on anytime he is anywhere near the water, even if he is just in the pool.
Some chis adore the water and jump into a lake or beach as soon as they spot a little sparkle.
Make sure boating is the right fit for your dog; if it will only cause stress, your chihuahua may be better off relaxing at your lake or beach house with other family members until you get back.
If you have a choice between a large and small boat to take your chi on, opt for the larger as you and your chi will enjoy greater stability and avoid feeling dizzy while sailing.
If you have a choice between sail and motor boats, also bear in mind that sail boats move more and can therefore be more uncomfortable for your chi to walk across.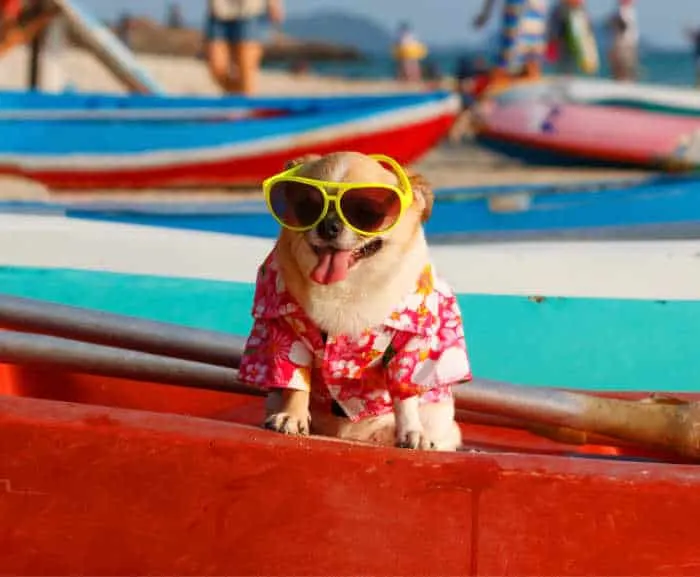 Protecting Your Dog's Skin
It is a myth that dogs cannot get sunburned because they have fur. All dogs – but especially those with shorter coats like short hair chihuahuas – need sunscreen if they will be spending more time in the sun.
Buy your chi a dedicated doggy sunscreen, as you will rest assured that there is nothing irritating in the solution. Some come in spray form; others come as a stick.
Nose balms also exist and are a fantastic way to stop your dog's nose from burning and cracking. This type of ointment can also be used to prevent dry, cracked paws.
Avoid Dehydration
Your dog should not be so thirsty that he ends up drinking water from the lake or sea. Ensure you have all the supplies you need on-board, including a collapsible doggy drinking bottle and bowl, snacks, and sunscreen.
Watch that your dog is not swallowing the water as he swims, as he could develop an upset tummy afterwards.
If your dog swims, he might urinate in the water, but if you don't want him to swim, train him to pee on pads. The longer you practice, the more comfortable he will be when he needs to relieve himself on-board.
If you can think of nothing better than swimming in a natural body of water while cuddling up with your chihuahua, then know that you are not alone.
The key to making the experience as pleasant as possible is to choose a boat with stability, ensure your chi is protected against the elements, and that he truly enjoys swimming or being near the water.
Invest in a top quality vest above all things; it will ensure your chi is always floating on the water and so relaxed he can concentrate on simply being with you.