This post contains affiliate links, and I will be compensated if you make a purchase after clicking on my links. As an Amazon Associate I earn from qualifying purchases. Learn More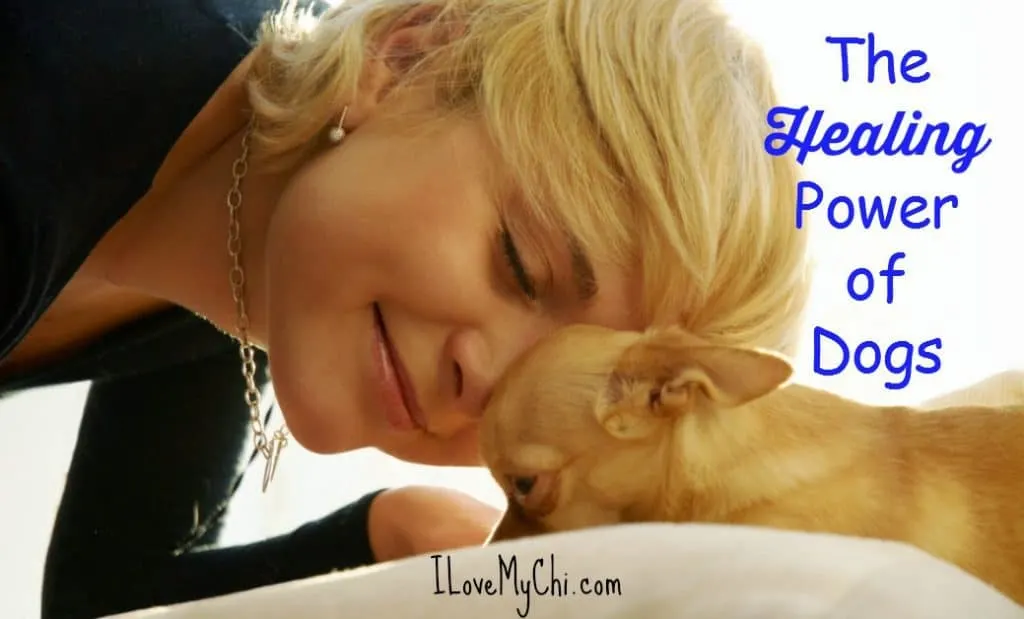 Our dogs are such amazing little creatures. They are part of our families. They love us unconditionally and we love them! Did you know they have healing powers too?
What got me thinking about this is that one of our members in our facebook group posted this photo: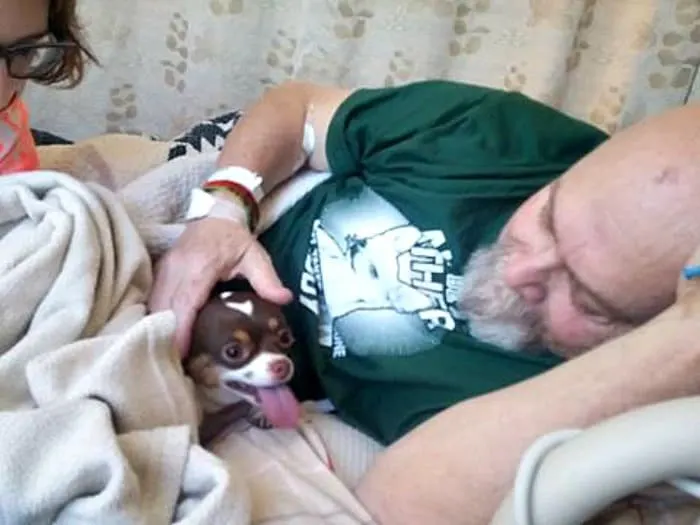 And she talked about how her husband was in the hospital fighting liver cancer. His blood pressure was way too high and they couldn't seem to get it down…until McKinley came to visit her daddy. Then it dropped down to completely normal. Lynda (McKinley's mom) says that Mckinley and brother Rascal helped her when she went through chemotherapy for 2 years and now it's her husband's turn.
Another member Tina-Marie told about how her Chihuahua Nalla warns her when Tina-Marie is about ready to have a seizure. I find that fascinating.
Dogs and Mental Health
Some people now get their dogs certified as emotional support dogs. And they really do help with our emotional well being. Watch this video of how this dog helps a boy with Autism.
Dogs have helped veterans suffering P.T.S.D. deal with their flashbacks. They help emotionally traumatized children to heal.
I know my dogs have helped me deal with some traumatic events in my life. I don't know what I would have done if I didn't have them to turn to.
Dogs and Physical Health
We have heard about dogs being able to sniff out cancer. And I mentioned above how they can also warn someone when that person is about to have a seizure.
It has been proven in many studies that petting a dog has a calming effect on our bodies. Our blood pressure is lowered. The University of New York found in a study of stockbrokers who were being treated for hypertension, that almost half of those who adopted a dog, lowered their blood pressure enough that they were able to go off their medication for it.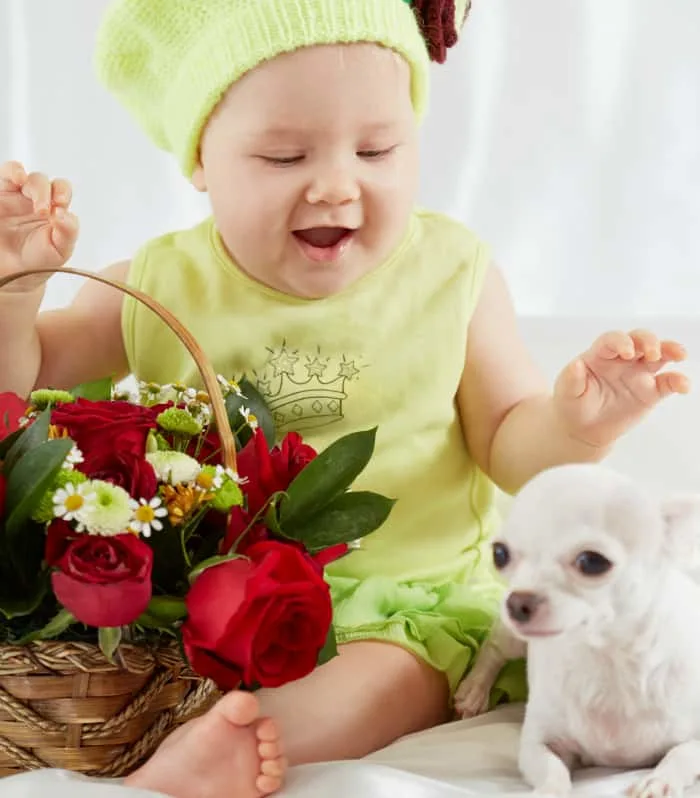 In the August 2002 edition of the Journal of The American Medical Association there was an article on the results of a study showing that children who grow up with pets have a reduced chance of allergies and asthma.
Dr. Erika Friedmann of Brooklyn College found in a study that those heart attack victims that owned a dog, were 8 times more like to survive one year after suffering the heart attack.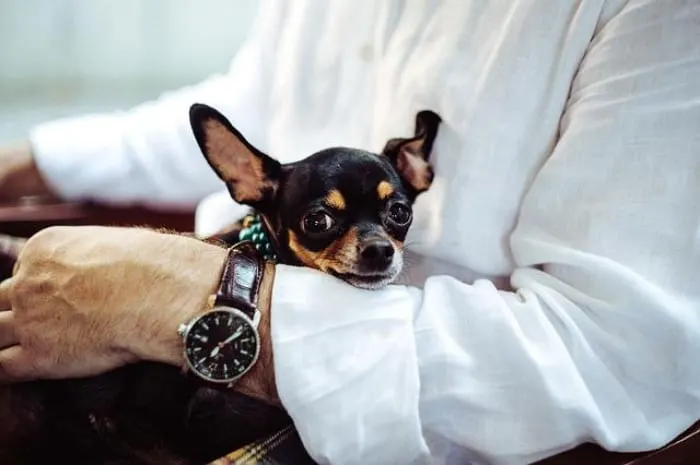 Dr. Jeff Burgess, a physician at the University of Washington Pain Center says "By initiating and maintaining the relaxation response pets can take people's focus off of their pain and elevate their moods. Secondly, through touch or physical contact they can block transmission of their pain from the periphery to the central nervous system shutting the pain processing centers down."
So in other words, pets help us deal with pain.
Health Benefits to Seniors
There have been studies that show that elderly people who own dogs help delay dementia. That's because taking care of a dog helps the person to have something to focus on. Dog ownership also provides them with exercise, companionship and gives them something to live for.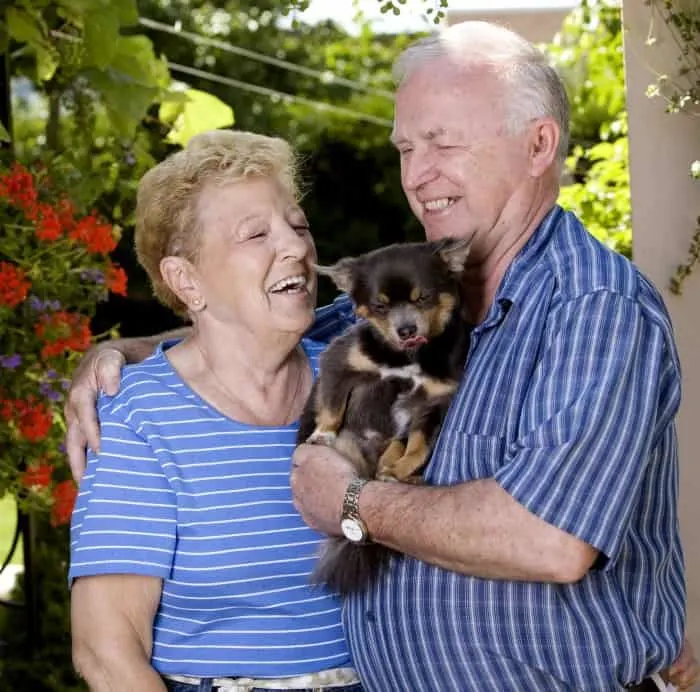 I have personal experience with this. After my mother's beloved dog Prince died, she just seemed to lose interest in living and felt like she no longer had a reason to get up most mornings. She passed away about a year after her dog died.
Dogs truly are God's little furry angels sent to earth to help us. Do you agree?
Has your dog helped you heal? I'd love to know your story. Let us know in the comments.