This post contains affiliate links, and I will be compensated if you make a purchase after clicking on my links. As an Amazon Associate I earn from qualifying purchases. Learn More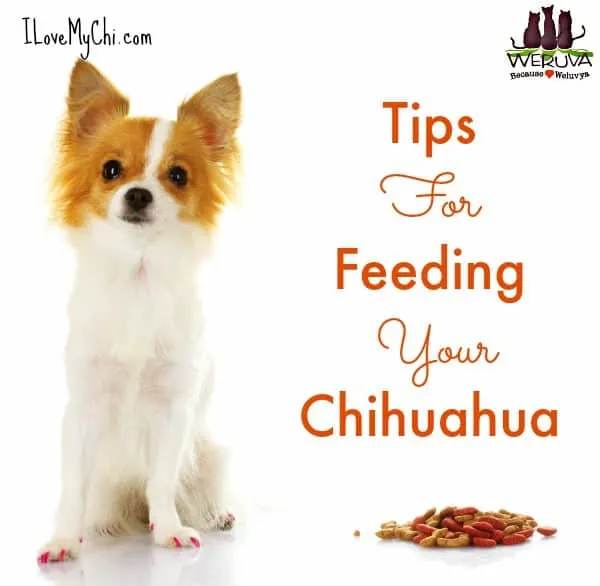 One of the most common questions I get from Chihuahua parents is how much and how often to feed their Chi. Chis tend to either be too skinny or too pudgy and either condition can cause some health problems.
If you are struggling with feeding issues with your Chi, then this article will help.
How Often Should You Feed A Chihuahua?
It depends. Here's the breakdown:
Puppies under 3 months, should always have food available to them so free feeding is best.
Puppies 3 to 6 months old should be fed 2 to 3 times a day
Puppies 6 months to 1 year old should be fed 2 times a day.
Adults should be fed twice a day.
If your dog has Hypoglycemia or low blood sugar, he may need to eat more often. Just break up the meals into smaller portions and feed every few hours. You can read more about Hypoglycemia here.
How Much Should You Feed A Chihuahua?
This also depends on the age and activity level. Active dogs can eat a little more, while slower dogs should eat a little less.
Here's the general rule:
Puppies under a year old should have 50 calories per pound of body weight per day. So a 6 month old puppy that weighs 2 pounds should have 100 calories total, split up into 2 meals (hope that makes sense).
Adult dogs between 1 and 7 years old need 35 calories per pound of body weight a day.
Senior dogs over 8 should have 30 calories per pound of body weight.
The calories in commercial dog foods differ according to the brand and type so be sure to read the back of the bag or can for feeding instructions. In most cases, a Chihuahua should not have more than 3/4 cup of food total in a day.
Tips For Feeding Your Dog
Feed at the same time and same place every day if possible. Dogs, and Chis in particular thrive on consistency.
Your dog's food should contain at least 30% protein.
If you change the brand of food you are feeding, do it gradually. Start with 1 part new food to 3 parts old food. After a few days, do half and half, then a few days later 3 parts new food to 1 part old food and finally just the new brand of food.
Always keep fresh water available.
Wash food and water bowls often (daily to a few times a week).
If your dog is picky, you can add a little warm meat broth to kibble to entice them to eat it.
Try to keep the air and moisture out of your dog's kibble when storing by keeping it in the original closed bag and putting the bag in a resealable plastic container.