This post contains affiliate links, and I will be compensated if you make a purchase after clicking on my links. As an Amazon Associate I earn from qualifying purchases. Learn More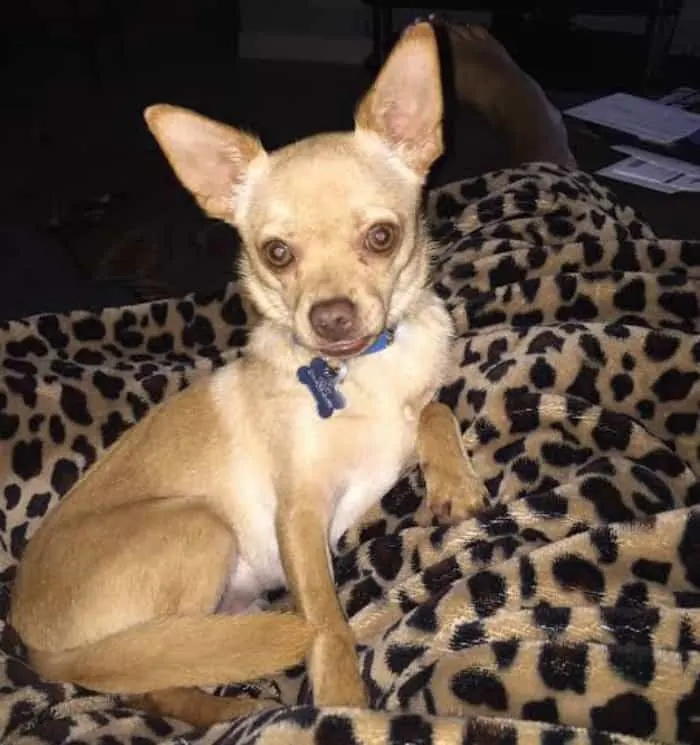 I promised my 2 kids over 5 years ago that one day we would buy a house. And when we bought our house, I promised them we would get a dog. 2 weeks after buying and moving into our new house I liked a page on FB "Rescue me! Chihuahua rescue".
It was on a Friday when I was looking through my feed and there he was, the cutest sweetest face I've ever seen. I immediately fell in love with Alex! I thought we just moved in, we're not 100% settled and just kept scrolling.
It was Sunday and I still couldn't get Alex out of my mind. I took a screen shot of him and thank goodness I did because when I went back to find him on the rescue page to get his info and he was gone.
He was already in a foster home and I emailed his foster mom. She replied back telling me Alex was already adopted but they had 10 days to bring him back if things didn't work out. She was very doubtful they would because they fell in love with him. I was heartbroken! She also told me she got a lot of emails/inquires about Alex thus the reason she took down his profile but I was first on the list should anything change.
Two days later I get an email from her telling me the couple brought Alex back because they wanted a younger puppy and Alex was over a year old and if I was still interested. YES! I replied back.
We made arrangements to meet after he got fixed to make sure my son with asthma and bad allergies wouldn't be allergic to him. It couldn't have been a better meet – he was absolutely perfect for our family!
Come to find out the vet determined while doing his surgery he was only 7 months old – a lot younger than they originally thought! But I didn't care is he was 10, we knew he was the baby for us and weren't going to let him go!
My fiancé lives in states away and was here the weekend Alex came home on September 5th. He wasn't there for the original meet but it was love at first sight when Alex came home.
It's been 6 months since we rescued Alex. (Sometimes I truly believe he's the one that rescued us!) A few things have changed around the house – the house belongs to Alex – he just lets us live here. Everything around the house, including blankets and the couch belongs to Alex. He's just kind enough to let us use them. Lol The patio door must remain open at all times (on nice days) so he can come in/out as he pleases.
We can't imagine life without our wonderful baby boy Alex! We are seriously thinking about getting him a brother or sister so he has someone to play with during the day when we're at school/work. We'll see…
Love,
Violet