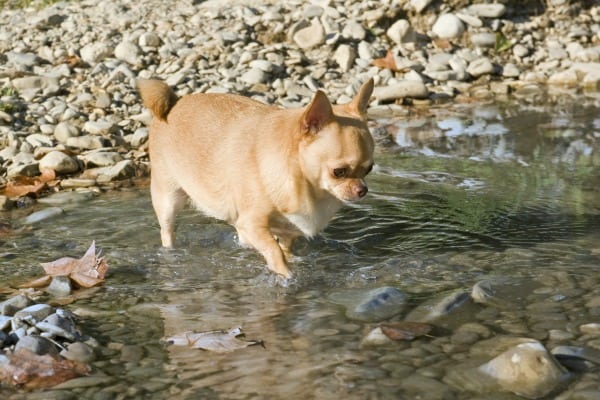 Chihuahuas are very popular dogs, but unfortunately what are also popular are obese Chihuahuas. Some people even think that obesity in these dogs is funny or cute and they poke fun at them.
Most people do not even know the danger that is caused by a Chihuahua being overweight. The owners just brush the issue off like it is no big deal. Well, it is time to learn that it is a big deal. You are putting your loved one in serious danger. Find out how you can fix this problem and prevent future issues.
Obesity in Chihuahuas can cause heart disease, diabetes, wearing down of the joints, arthritis, and a shorter lifetime so it is time to get serious about your Chi's life. Whether your Chihuahua is just overweight or has become obese, they are in trouble.
40% of all dogs in the United States are overweight. This should tell you something right there. Their owners are neglecting their best friend's health. Do not be one of them anymore!
Most Chihuahuas should weigh less 6 pounds or less. (The exception to this is if your dog has a larger frame than the standard Chihuahua, and your vet can tell you what your Chi should weigh.) So in order to find out of if your pup is overweight, all you have to do is weigh them. If they are over 6 pounds, they probably have a weight problem.
Another way to tell is to feel their ribs. You should easily be able to feel them under their skin. If you can't, they may have a weight problem.
Do not panic, though. All you have to do is fix the problem before it is too late. Besides the main health issues stated above, here are some additional effects that can arise from your Chihuahua being overweight or obese.
Arthritis due to the extra weight putting pressure on their joints and bones.
Type II Diabetes due to their bodies needing more insulin. If Chihuahuas end up with Diabetes, they may need an insulin injection every day or their body will go into shock.
Back and spinal problems due to their little body not being able to handle the weight. Their spinal discs can slip, bones can fracture, and ligaments can tear.
High Blood Pressure
The greatest risk for an overweight Chi is heart disease.
If they have Patella Luxation (loose knee caps), being overweight will aggravate and worsen the condition.
In order to prevent any of these nasty issues for your poor Chihuahua, there are some things you will need to change, as their fur mom or dad.
If you feed your Chi table food, stop right now! They don't need the extra food. Now if you have some basic meat and veggies for dinner, it's fine to add a little of that to your dog's food. Just make sure they are still getting the same quantity of food that they normally would. Even if they are begging, you need to use self-control to care for their health.
When it comes to dog food, depending on how much you are currently feeding your Chihuahua, cut down to once or twice a day. No more than twice! As for how much, feed them between 1/4 cup and 1 cup a day. Do feed them a high quality dog food, preferably one with no grains.
Increasing your Chi's daily activity level and making them exercise will definitely help them lose weight. Despite the Chihuahua's small size, they actually do need to run around and play every day even if they are not overweight. If you don't give this to them, they actually will naturally gain weight even if you are not feeding them excessively.
Allow your Chi to exercise by creating fun games for them that will increase their activity level. Let them run around the yard with toys. On cold days, you can make up fun indoor dog games, like bouncing a small ball and encouraging them to fetch it.
Anything that you can come up with will help your pup lose weight. Do not let your overweight Chi overdo exercising because this could also be harmful. Take it slow at first and then gradually increase the activities more and more.
Is your Chihuahua overweight? Or have you had success in helping your Chi lose weight? Leave a comment and tell us about it!