This post contains affiliate links, and I will be compensated if you make a purchase after clicking on my links. As an Amazon Associate I earn from qualifying purchases. Learn More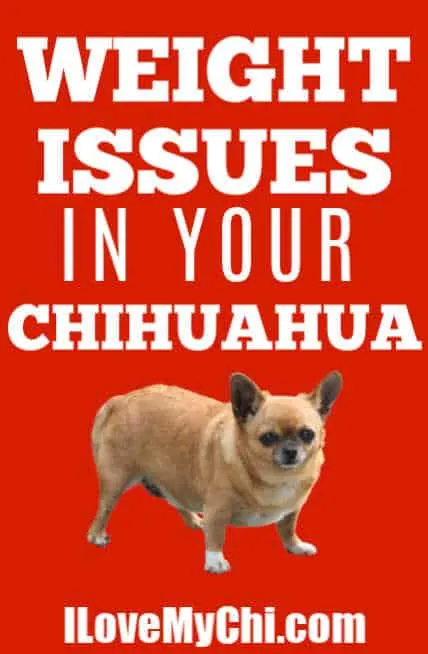 Chihuahuas are very popular dogs, but unfortunately, what are also popular are obese Chihuahuas. Some people even think that obesity in these dogs is funny or cute, and they poke fun at them.
Most people do not even know the danger that is caused by a Chihuahua being overweight. The owners just brush the issue off like it is no big deal.
Well, it is time to learn that it is a big deal. You are putting your loved one in serious danger. Find out how you can fix this problem and prevent future issues.
Dangers of Obesity in Chihuahuas
Obesity in Chihuahuas can cause heart disease, diabetes, wearing down of the joints, arthritis, and a shorter lifetime, so it is time to get serious about your Chi's life. Whether your Chihuahua is just overweight or has become obese, they are in trouble.
More than 55 percent of all dogs in the United States are overweight. This should tell you something right there. Their owners are neglecting their best friend's health. Do not be one of them anymore!
Do not panic, though. All you have to do is fix the problem before it is too late. Besides the main health issues stated above, here are some additional effects that can arise from your Chihuahua being overweight or obese.
Arthritis due to the extra weight putting pressure on their joints and bones.
Type II Diabetes due to their bodies needing more insulin. If Chihuahuas end up with Diabetes, they may need an insulin injection every day, or their body will go into shock.
Back and spinal problems due to their little body not being able to handle the weight. Their spinal discs can slip, bones can fracture, and ligaments can tear.
High Blood Pressure
The greatest risk for an overweight Chi is heart disease.
If they have Patella Luxation (loose kneecaps), being overweight will aggravate and worsen the condition.
To prevent any of these nasty issues for your poor Chihuahua, there are some things you will need to change, as their fur mom or dad.
How to Tell When a Chihuahua is Overweight
Most Chihuahuas should weigh 6 pounds or less. (The exception to this is if your dog has a larger frame than the standard Chihuahua, and your vet can tell you what your Chi should weigh.) So, to find out if your pup is overweight, all you have to do is weigh them. If they are over 6 pounds, they probably have a weight problem.
Another way to tell is to feel your dog's ribs. You should easily be able to feel them under their skin. If you can't, they may have a weight problem.
Feeding Your Chihuahua
If you feed your Chi table food, stop right now! They don't need the extra food. Now, if you have some basic meat and veggies for dinner, it is fine to add a little of that to your dog's food. Just make sure they are still getting the same quantity of food that they normally would. Even if they are begging, you need to use self-control to care for their health.
When it comes to dog food, depending on how much you are currently feeding your Chihuahua, cut down to once or twice a day. No more than twice! As for how much, feed them between 1/4 cup and 1 cup a day. Do feed them high-quality dog food, preferably one with no grains.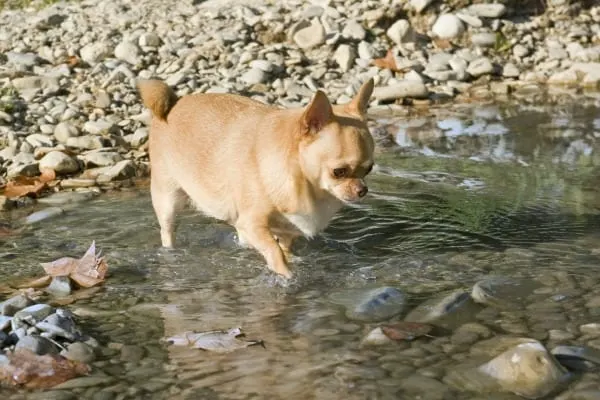 Exercise for Your Chihuahua
Increasing your Chi's daily activity level and making them exercise will definitely help them lose weight. Despite the Chihuahua's small size, they actually do need to run around and play every day even if they are not overweight. If you don't give this to them, they actually will naturally gain weight even if you are not feeding them excessively.
Allow your Chi to exercise by creating fun games for them that will increase their activity level. Let them run around the yard with toys. On cold days, you can make up fun indoor dog games, like bouncing a small ball and encouraging them to fetch it.
Anything that you can come up with will help your pup lose weight. Do not let your overweight Chi overdo exercising because this could also be harmful. Take it slow at first and then gradually increase the activities more and more.
Healthy Training Treats
Instead of giving your Chihuahua regular treats, it may be time to switch them out for a healthier alternative. You pay attention to the food you give them, so it is time to pay close attention to the calories you are handing them in treats every day too. A lot of treats happen to be high in sugar, fat, and calories. Avoid those treats and reach for turkey bacon or chicken breast treats instead.
These treats are higher in protein and lower in fat and have no sugar. Cut them into bite-size pieces for your Chi and use it as their reward for good behavior.
What About Obese Senior Chihuahuas?
As a Chihuahua ages, there is also a gradual decrease in their metabolism. When your senior dog is eight years or older, they will require up to ten fewer calories per day per pound of weight. So, depending on the size of your Chihuahua, you will have to adjust their calorie intake by as much as 60 calories daily while also adjusting their activity levels.
Older dogs are naturally going to be less active, but to keep a healthy dog, you need to encourage physical activity when possible to keep them from putting on too much weight. The excess weight will just exacerbate any other medical problems your senior dog may already have and will put even more strain on their body.
What Health Issues Can Cause Weight Gain?
Overeating and minimal physical activity aren't the only causes of weight gain for a Chihuahua. Other medical conditions may also contribute.
Thyroid Issues. If your Chihuahua is gaining weight, then there may be an issue with their thyroid. This is what controls the metabolism. If this isn't working properly, then it can cause the dog to gain quite a bit of weight in just a small time. Some signs of a thyroid problem include lethargy, excessive shedding, and cold intolerance.
Cushing's Disease. This is a condition that affects the dog's adrenalin gland. In addition to weight gain, other signs of this medical condition include panting, a potbelly, thinning coat, bald spots, weakness, and scaly skin patches.
Diabetes. Being overweight can lead to diabetes, but it is also a condition that can cause the dog to become too heavy, so it could be either a cause or effect of their weight. This is something you want your veterinarian to rule out as soon as possible. You should also follow proper feeding guidelines, make sure your pup gets plenty of exercise, and make sure they are given any medication the veterinarian feels are necessary.
Reasonable Expectations
When it comes to your overweight Chihuahua, it is important to maintain reasonable expectations. Always discuss your obese Chihuahua with your veterinarian before implementing any new kind of diet plan or introducing any new foods to their diet. Weight issues in your Chihuahua can be serious if they are not addressed as soon as possible.
An overweight dog is left open for a variety of different medical conditions as we have described above, and an older dog who is also an obese dog is open for even more complications.
Discuss your dog's body weight with the vet, feed them fewer calories, switch out their dog treats for healthier alternatives, and ensure they are getting the proper amount of exercise each day. In doing so, you will be helping your obese dog along on their weight loss journey and will help reach the dog's ideal weight.
Is your Chihuahua overweight? Or have you had success in helping your Chi lose weight? Leave a comment and tell us about it!