This post contains affiliate links, and I will be compensated if you make a purchase after clicking on my links. As an Amazon Associate I earn from qualifying purchases. Learn More
Do you use a dog car seat for your Chihuahua? We all know we need to keep our Chihuahuas secure in the car. For their safety and ours. They could easily cause us to have an accident. And if, God forbid, and accident did occur, we wouldn't want them flying through the windshield, right?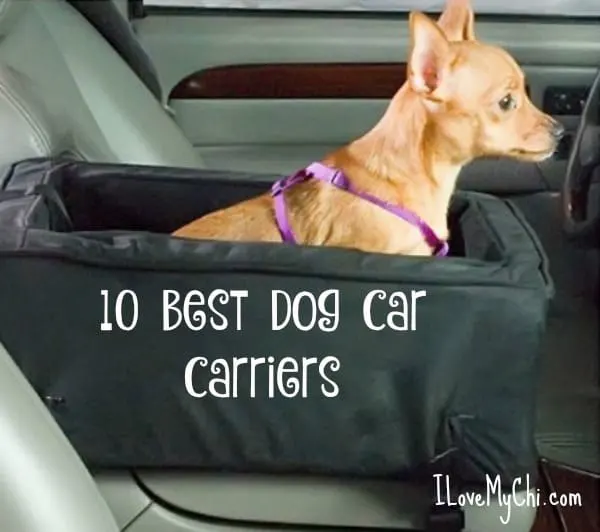 Below are the top 10 (in my opinion) dog car seats on Amazon. There are different price ranges, different colors and styles but what they all do is keep your fur baby safe and comfortable when in a car.
I personally plan on buying one of these because with my new grand baby here, I don't want my dog jumping on the baby in the car.
One note about dog car seats. Most of them come with clips to attach to your dog's harness to keep them in the car seat. Please make sure you have your dog wear a harness and attach it to the harness and not your dog's collar as attaching it to the collar can cause the dog to be strangled if he tries to jump out or is thrown out in a car crash.
Click the photo or the name of the seat to find out more about it and to order. Oh and just to let you know these are affiliate links. That means if you buy something by clicking on them and going over to Amazon, I get a very small amount of whatever you paid but it won't cost you anymore than if you went to Amazon directly.
The Kurgo Skybox is one of my favorite car seats (my other favorite is the last one at the end of this post) of the 10 I'm featuring. It's affordable and comes in different colors.
You can find it here: Kurgo Skybox car seat
It comes with a clip strap that allows you to attach it to the seat belt and to your dog's harness or collar. This prevents the dog from jumping out of the seat and it's long enough to allow the dog to turn and lay down.
This seat is just the right size for a Chihuahua. I like that it sits high so your Chi can look out the window.
The liner is washable and it might be a good idea to wash it as soon as you get it as some said they noticed a chemical smell when they first bought it. Only a few noticed the smell so if you do notice it and it bothers you, just wash the liner first and let the seat air out a day or two before putting it in the car.
It says it fits dogs up to 30 pounds but most people said they didn't think it would be comfortable for a dog over 20 pounds. It is collapsible for easy storage. It also has a zippered side pocket.
---
I like the padding on this carrier. It comes in 3 colors and is water resistant. The cover is washable and removable.
Check it out here: Dog Car Booster Seat
---
I love the styling on the dog car seat, don't you? So cute. Although they say the size for this is large, it only fits dogs up to 18 pounds, so it's obviously not that large. It includes the safety leash, and has a removable, washable liner.
Check it out here: Solvit Tagalong Booster Seat
---
If you need a seat that will fit 2 of your little guys, this one is perfect. This is the one I have in my own Amazon wish list since I plan on taking my dogs on a trip next Fall. I also like that this is elevated so they can see out the windows. This seat is easy to clean and easy to install, both which are pluses for me. I love the print this comes in but you can also get it in tan and grey.
Check it out on Amazon: K&H PET PRODUCTS Bucket Booster Pet Seat
---
Here is a nice low cost choice. The biggest complaint about it is it says it's for dogs up to 20 pounds but folks said it really is for dogs 10 pounds and under.
It has a zippered storage compartment and sheepskin lining.
If you'd like to know more about this seat, go here: Etna Pet Booster Seat
---
Available in 9 colors this car seat is a great option! It's washable, but don't put it in the dryer, just hang dry. It's very padded and soft and comfy for your fur kid too. Also comes with a harness strap and what they call a "Lookout Travel Rack" which allows your pet to have food and water while on the go.
Customers say it comfortably fits dogs up to 15 pounds. Read more about it here: Snoozer Lookout Car Seat
---
I love the padded look of this car seat. This one is better for smaller dogs 8 pounds and under. They do have a larger version for bigger dogs though.
It comes with a safety strap for securing your dog's harness and the pad insert is washable.
See more here: Snoozer Luxury Car Seat
---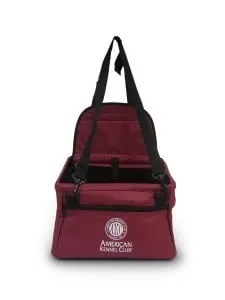 One of the nicer dog car carriers for the price, this one comes with a memory foam cushion and a built in leash. It has adjustable straps and a zipper compartment. It folds up for easy storage and fits dogs up to 20 pounds.
Find out more about it here: AKC Pet Booster Seat
---
I love this pet carrier because you can zip it up. That's great if you have an excitable dog that you are afraid is going to try and jump out. Good for traveling. It's also great for cats.
The cover is washable and comes with a tether to keep your dog secure.
It fits dogs up to 20 pounds.
Check it out here: Pet Gear Signature Car Seat
---
Last but not least we this great find. It has excellent reviews on Amazon.
The exterior can be wiped clean with a wet cloth and the interior lining can be washed.
It collapses for easy storage and has a strap to hook to your dog's harness.
It has a zippered pocket to store things.
Best of all it has a 100% Lifetime Guarantee!
Read more about it here: Devoted Doggy Pet Booster Seat
---
So, do you have a car seat for your dog? If so, what kind do you have and would you recommend it?
If not, why not (just curious). Leave a comment and let us know.
And if you want to read more about the pros and cons of using a car seat for your Chihuahua, check out this article: https://ilovemychi.com/does-you-chihuahua-need-a-car-seat/