This post contains affiliate links, and I will be compensated if you make a purchase after clicking on my links. As an Amazon Associate I earn from qualifying purchases. Learn More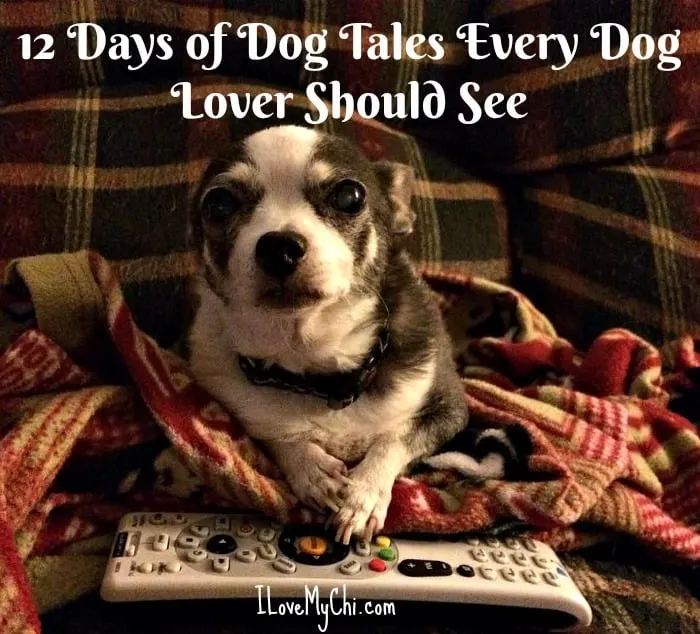 If you have some time on your hands or want your kids to watch some wonderful dog related family members then check below where you will find a list of 12 wonderful dog related movies (listed in chronological order) that I know you and your family will enjoy as much as I do.
And of course, these films are not only timeless, they are great to watch any time of the year. Click on any of the photos of the movies or the titles to buy them off of Amazon (I do get a small commission of the sale but it won't cost you anything extra).
And so, as Ralphie's (from a Christmas Story) friend, Schwartz, might have said – "Go on, I dare you to watch all 12 movies! No … I Double-Dog Dare Ya!"
---

From great books come great movies and Lassie Come Home is no exception. In this story a poor Yorkshire family is forced to sell their beloved family dog, Lassie, in order put food on the table.
This movie follows Lassie's incredible journey home through many trials and a few triumphs, but even when circumstances turn in her favor and she would find someone to care for her, she never stayed long, always being pulled onward, back to the boy who loves her … and home.
If you haven't seen this movie you owe it to yourself to see where all the best dog movies began and the Queen that started it all.
2 Paws Up — Very Good Movie
Fido Fun Fact – In the book, movies, and TV, Lassie is supposed to be a female dog. However, a male dog was always used to play "her" because male collie's coats tended to be fuller and prettier.
---
It is true that Lady and The Tramp is filled with excitement, romance, adventure and just a bit of danger.
If you are someone who believes that the one you love is no where in your league, then you need to check out "Lady and The Tramp".
2 Paws Up — Good Movie!
Fido Fun Fact – This was Disney's 15th animated feature and the first one to be done in "CinemaScope" which today we just call wide-screen.
---
Life in the western frontier has its share of dangers and soon this entire family comes up against a life-threatening danger that only Old Yeller, the family dog, can help them with and it's an unexpected turn that changes everyone's life forever.
Be aware that this movie is a real tear jerker.
3 Paws Up – Great Movie!
Fido Fun Fact – For old Western fans, check out a great cameo scene performed by Chuck Conners of "The Rifleman" fame. He's the one who actually owned "that "old yeller dog" before he traded him to his new young owner for a fine looking toad-frog.
---

This movie tells the story of a boy who saved the life of a stray dog by nursing it back to health and how the dog repaid his kindness.
Though there are some sad scenes in this movie, it's a wonderful movie too, well worth the watch.
3 Paws Up — Great Movie!
Fido Fun Fact – The actor who played the father in "Lassie Come Home" is the same actor who played the grandfather in the 1959 version of this movie.
---

Sometimes you have to meet God half-way. This is one of the lessons young Billy Coleman learns from his grandpa when he sets his sites on having himself his very own pair of hunting dogs.
Where the Red Fern Grows will make you laugh, cry, and cheer, but more importantly—if you pay close attention—it will teach you about life, both then and now, and how to face it all with hope, dignity, and faith.
Although a remake of this movie was done in 2003, and is a bit more realistic in where it was filmed and the general look, I still feel that the 1974 movie captures the "heart" of the book a lot better.
3 Paws Way Up — Great Movie!
Fido Fun Fact – The book which the movies were based on, was a "sleeper" of sorts for some time because people who read the title thought it was a book about gardening. However, once the confusion was cleared up, the book became so popular that for many years to come it became required reading in many schools around the country.
---

I have loved this movie since I was a kid. It was the first time we could see what life was like through a dog's eyes. Benji is a heroic little mutt who shows true love and courage in his adventures.
This is a great movie for kids but adults will love it too.
The Benji movie was so popular that they made 4 more Benji movies, including a Christmas movie.
4 Paws Way Up – A Truly Excellent Movie!
Fido Fun Fact – Benji was the second animal ever to be inducted into the Animal Actors Hall of Fame (Lassie was first).
---
This story is of a dog and a fox who form a friendship and the trials they go through.
There are plenty of life lessons to learn in this simple movie, both for kids and for adults. It's not that we all don't know them deep down but sometimes we all can use a reminder of what truly is important in life. This movie is good at showing that without being too heavy handed about it.
2 Paws Up — Good Movie!
Fido Fun Fact – Two legendary actors play voices in this movie. Mickey Rooney, voiced grownup Todd, and Pearl Bailey played "Big Mama" the wise old owl.
---
This movie is truly classic Tom Hanks with a mixture of both funny and serious moments which ultimately shows how a man who truly dislikes dogs comes to learn to love his very first dog despite himself.
There's something in this movie for all members of the family from beginning to end. Lots to make you laugh and a bit to make you cry, but in the end, you'll be wanting to watch it all over again.
3 Paws Way Up — Great Movie!
Fido Fun Fact – The year before doing this movie Tom Hanks had starred in a simple movie that separated him from the pack, and within less than 6 years he would have raised that bar a bit higher with "Sleepless in Seattle" and then go onto tying the record with two consecutive "Best Actor" Academy awards for "Philadelphia" and "Forest Gump".
---

Many have assumed this is a Disney movie but it isn't even though it is of Disney quality. The story is about a dog named Charlie who after he is murdered, returns to earth to help a little orphan girl who can communicate with animals.
It's a heartwarming story of love and sacrifice. There are some sad moments but it's a great movie for the whole family.
2 Paws Up – A Very Good Movie!
Fido Fun Fact– The movie's title is derived from a quote by Robert Louis Stevenson: "You think those dogs will not be in heaven? I tell you they will be there long before any of us."

---

When we see a dog in a movie, if the narrator doesn't tell us what the dog is thinking, we usually have to figure it out by the actions we see on the screen. Fortunately, in this movie the narrator and the dog is the same.
This sometimes funny, sometimes scary, sometimes tragic story will take you on a whirlwind of emotions with the hope that someway somehow the children will see their beloved pets again.
2 Paws Up – A Very Good Movie!
Fido Fun Fact – Michael J. Fox who did the voice of "Chance" would also do a delightful romantic-comedy this same year called "For Love or Money".
---

This captivating story takes us through love, laughter, tears, and tragedy, but in the end, the viewer will be so much better for going along on the journey.
This is truly an exceptional movie, and while set in the 1940s, I believe it's timeless and poignant, and I have to admit is probably my favorite movie on this list. If you don't get to all of them you just Have To See This Movie. My Dog Skip will teach you there are no finer qualities a friend can have then love and loyalty. And that's something dogs have in abundance.
4 Paws Way Up – A Truly Excellent Movie!
Fido Fun Fact – Skip is played in this movie by Enzo and his father Moose. Moose is best know for playing "Eddie" from the series "Fraiser". In the story, Willie, was only 9 when he received Skip, but in real life, Frankie Muniz was 14 going on 15. Talk about looking young for your age.
---

Young Owen wants his own dog so bad that he is willing to make a deal with his mother to prove he is responsible enough to take care of a dog. The Deal – walk and care for four of the neighbor's dogs for six months. If he can accomplish this his parents will get him his own dog.
A series of events starts one of the greatest events of Owen's life as well as a wonderful and touching "boy meets dog" story that will both make you laugh and make you cry and overall, warm your heart and when it is all over you will understand why we call man's best friend – Good Boy!
3 Paws Up – This Is Both a Funny yet a Wonderfully Touching Movie!
Fido Fun Fact – In a version of "life imitating art" young Liam Aikins, who plays Owen in the movie, was presented with his own dog (same breed as Nellie, the dog in the movie) as a gift after he finished shooting the movie because he really liked all the dogs.
---
Okay that's it for my list. Have you seen any of these dog movies? Which one is your favorite? Are there any you think I should have included that I didn't? On that note, some may wonder why I didn't include Beverly Hills Chihuahua. After all, this is a chihuahua blog. I actually do like that movie but I figured it's one most people who love chihuahuas have already seen.