This post contains affiliate links, and I will be compensated if you make a purchase after clicking on my links. As an Amazon Associate I earn from qualifying purchases. Learn More
I am a big fan of having fresh human grade dog food delivered to my home for my dogs. In fact we have tried about 4 brands so far in the past 3 years and for the most part, my dogs loved them all.
My goal is to try every brand out there and then write about our experience to let you know what was great about it and what wasn't so great about it.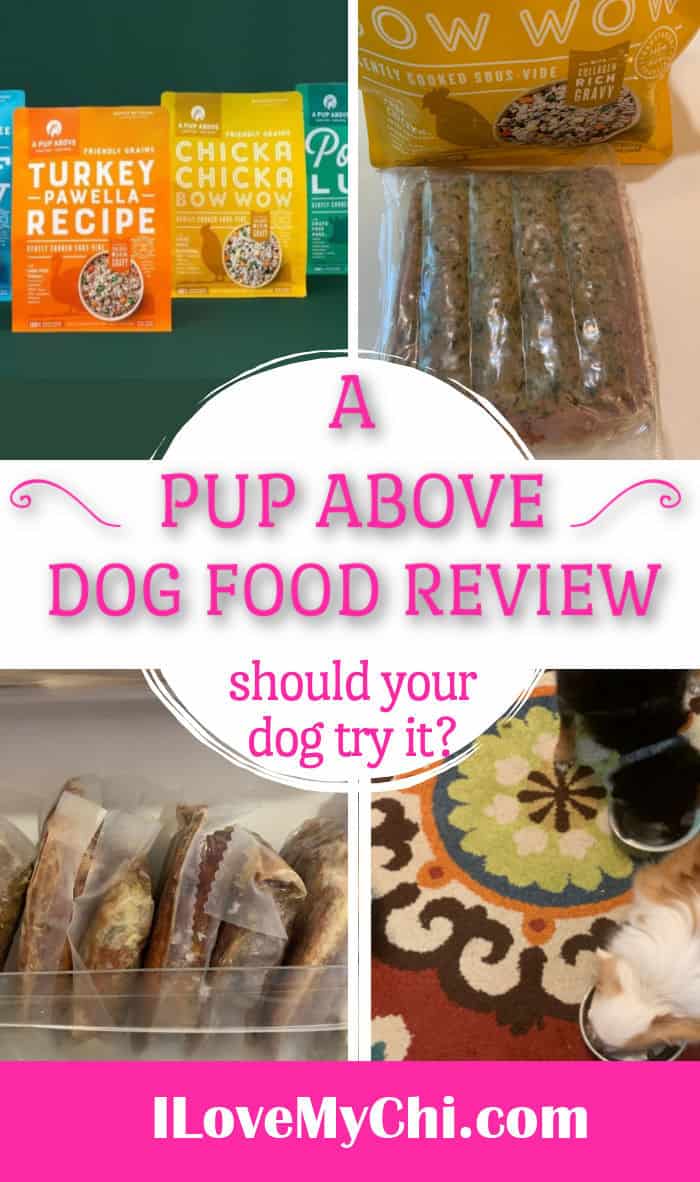 I think with A Pup Above, we may have found our forever brand. Why? Because it's the only brand my little Ziggy has been excited about. In fact, I just ordered some more.
Ziggy is a picky eater. Lucy is occasionally picky too. Lucas, being the piggy he is will eat anything. Anyway, Ziggy will not eat kibble at all. He will eat fresh dog food but most of the time, I have to encourage him to eat it. A Pup Above is the only one he is excited to eat and will actually beg for the bowl before I put it down for him. So I definitely recommend giving this a try if you have a picky dog.
Here's a short video of me feeding Ziggy A Pup Above so you can see his cute little dance:
Why I choose to feed my dogs fresh food delivered to my home: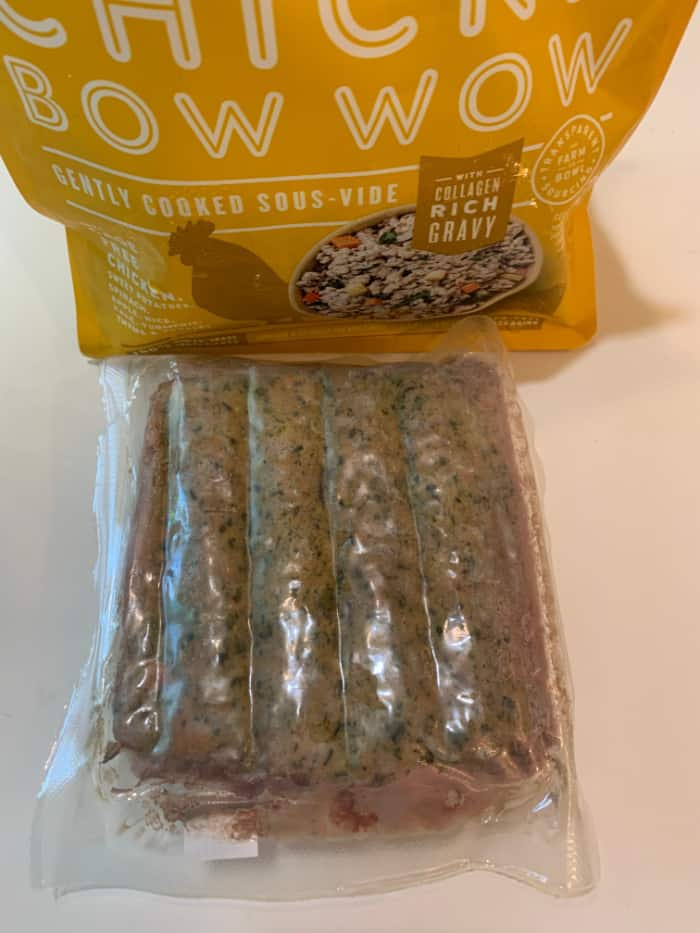 The quality is human grade and much healthier than kibble.
I don't have to go to the store and buy it.
My dogs have been healthier since they have been eating it.
My dogs love it and will no longer eat kibble (can't say that I blame them).
The Ordering Process
You can order a 3 pound bag or a 7 pound bag. It's a tad confusing when they talk about patties. The food doesn't seem like a patty, so much as just a clear packets of food. Each packet is a pound of food and the 3 pound bag will contain 3 of the 1 pound packets of the food. The 7 pound bag will contain 7 of those packets.
You have a choice 4 flavors: pork, chicken, turkey and beef. You can order any one of these or a sampler pack of all 4. My dogs love all 4 flavors.
I like that you can make a one time purchase without a subscription. But if you do decide to subscribe, you get a 25% discount for subscribing.
You can choose how often you wish to receive the foods. It can be delivered every 2 weeks, 4 weeks, 6 weeks or 8 weeks.
You also get free shipping if you order more than 3 bags at a time.
Receiving the Order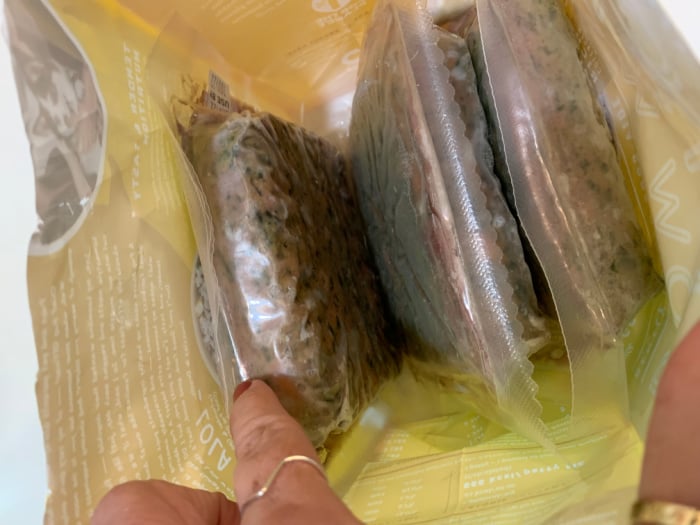 The box comes insulated and packed with dry ice and the food was still frozen even though the weather was hot. The box and insulation are recyclable.
Storing the Food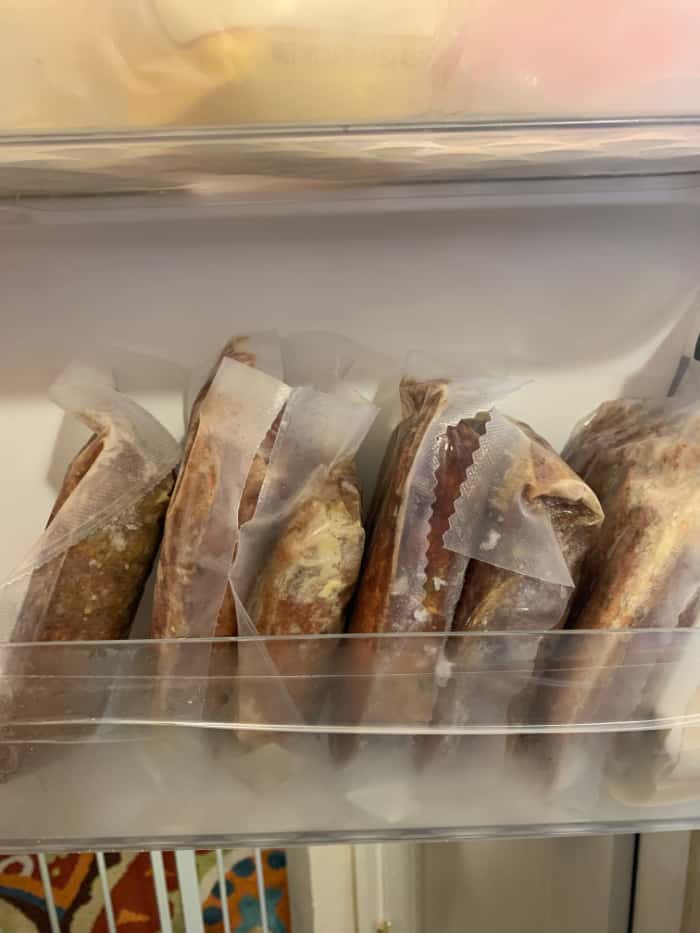 I took the individual packets of food out of their bag and just lined them up in the freezer. Easy-peasy. I take a packet out and put it in the fridge to defrost a day or two before the pups finish their food.
The food can stay in the fridge unopened for 2 weeks. Once it's open and defrosted, it's good in the fridge for 1 week.
How to Prepare A Pup Above Food
You can see what I do in the video above but I'll tell you here too. I just put the food in a container and cut it into square portions. The food is a little on the firm side which makes it easy to cut into square portions.
Then I just put a square in their bowl and smash it up for easier eating. And that's all I do. I bag of the food is 3-4 days of food for my 3 dogs. Of course I do add a few pieces of rawbbles and sprinkle a topper on it too so the food goes further.
According to their site, a 5 pound dog would eat 6 pounds of food every 3 weeks. That equals to about 4 oz per meal.
The Quality of A Pup Above Dog Food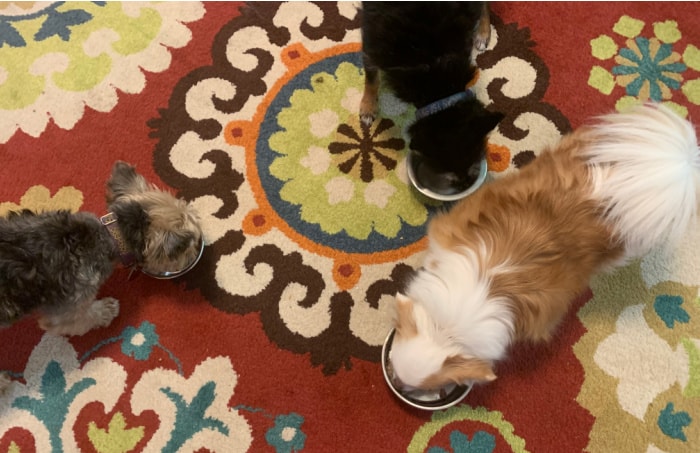 The quality is outstanding! A Pup Above uses a technique where they slow cook the food to preserve nutrients. The technique is called Sous-Vide and not only does it increase the nutrients of the food compared to other cooked dog food, it also increases the flavor.
It's all human grade food, grown and made in the USA. It's also GMO-free, and pesticide free.
The recipes are developed by veterinarian nutritionists.
Though the food does have fruit and veggies in it, it also has the highest amount of protein compared to other fresh food companies.
Cancelling A Pup Above Subscription
You don't need to have a subscription if you don't want to. You can buy it without a subscription. But if you do have a subscription, you can cancel it anytime by going to the Subscription tab in your account.
You can also postpone a shipment or skip it too if you'd rather do that without cancelling the subscription. You can even swap out the recipe of the food for a different recipe.
What I Don't Like About A Pup Above
It's somewhat pricey. It won't stop me from paying it because seeing picky boy Ziggy so happy with his food makes it worth it to me. Also I figure I'll save money in the long run with less vet visits and healthier happier dogs.
They don't have food for specific age-ranges like puppies or senior dogs. For puppies, they suggest you use it as a topper for your puppy's food.
Although I prefer to have the food delivered, I know not everyone does. They do have A Pup Above in a few stores but it looks to be very limited right now.
The food doesn't come in resealable bags.
Figuring out the amount to feed can be a little confusing.
What I Love About A Pup Above
My dogs LOVE this food.
The quality is wonderful.
I love that their cooking process produces the highest nutrients in their food.
It's all sourced and based in the USA.
There has never been a recall on A Pup Above dog food.
You don't need to subscribe to buy the food.
The ordering process is very easy.
Cancelling or changing a subscription is also very easy.
You have a choice of 4 recipes.
Conclusion
If you'd like to try A Pup Above, you can click the link here to check it out.
Also I have a little surprise for you. A Pup Above has been kind enough to offer you a chance at trying their dog for free!
If you'd like a chance to win a Sampler Pack of all 4 recipes, all you need to do is go over to A Pup Above's site and check out their 4 recipes.
Then come back here to this post to leave a comment and let us know which recipe you think your dog would like best. A winner will be picked at random on July 25th, 2021 and will be contacted by email.
NOTE: We had 22 entrants to this giveaway and I used Google's random number generator to pick a winner. The winner was Christin and she has been notified by email.
If you decide you want to go ahead and give it a try, you can use the coupon code ILOVEMYCHI15 to get 15% off a Sampler pack or useILOVEMYCHI25 to get 25% off your pup's first meal delivery when you subscribe. Remember if your dog doesn't like it, you can always unsubscribe (but I bet your dog will love it as much as mine do).