This post contains affiliate links, and I will be compensated if you make a purchase after clicking on my links. As an Amazon Associate I earn from qualifying purchases. Learn More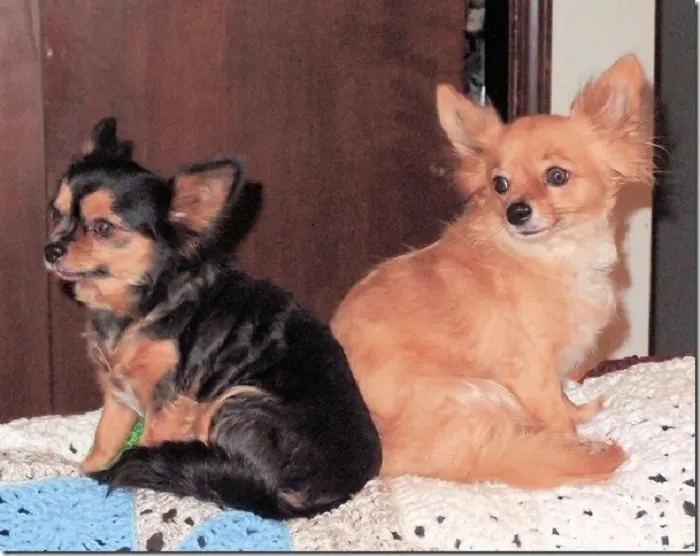 In 2004 I went looking for a little girl Chihuahua. I found one at a breeder's home in Liberty, Mo.
It was a rather cold day with snow still on the ground. When I arrived, the breeder led me around behind her home where she had a walk out basement.
There, lined along the side of the drive were several plastic kennels stacked 3 and 4 high, one on top of another.
She opened a cage on the bottom row of cages and inside were two Chi pups, one very small black and tan little girl, the one I came to see and one larger mottled brown female. She told me they were sisters. I could not help but notice they were shivering and wet. The snow on the ground had blown into their cage and they seemed to be very cold.
I made a deal to buy the smaller of the two but as I walked away I heard the 'big sister' pitifully whining and crying .. then the black and tan that I held did the same thing.
I did not know how long big sister would be able to stand the snow and temperatures, so… you guessed it. I came home with two girls instead of one.
My husband was less than thrilled. But when I explained the circumstances he understood.
We named the little black and tan "Gypsy" and the larger one "Peach's" Peach's grew to be quite the little substitute mother to Gypsy, cleaning her, protecting her. They continued to stick by each other as they do to this day.
Now 10 years old they have NEVER known a cold day or snow covered bed since coming home. We love them dearly.
I have 5 Chi's in all and we both love them all. I am enclosing a photo of Gypsy and Peach's.
Alma