I Love My Chi may earn a small commission for purchases made after clicking links on this page.  Learn More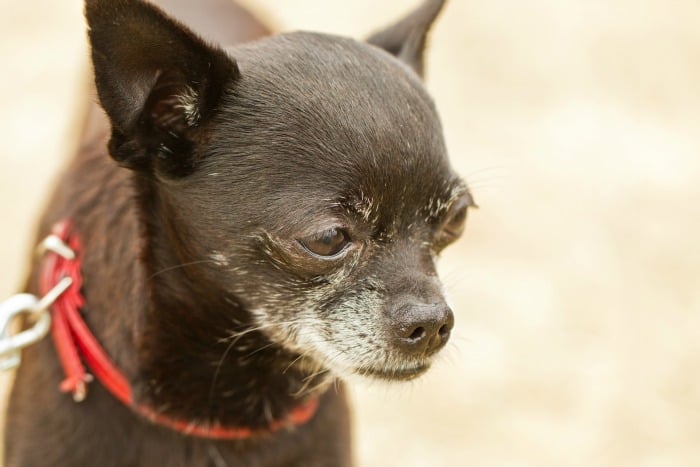 Chihuahuas are blessed to be live the longest out of all the dog breeds. But because of that, you will have a lot of years with an elderly dog. And you want to keep your Chi healthy and happy for as long as possible.
Because of their long life, Chihuahuas aren't considered a senior until they are about 10 years old.
Many of the issues that afflict dogs as they age are often the same as what aging humans experience.
Hopefully your Chi will never experience these things but you should be aware of them and know how to help your pup if they do.
Health issues that elderly Chihuahuas may develop:
Arthritis, and other joint issues such as Luxating Patella
Fatique
Dental disease
Weight gain
Weight loss (may be caused by dental or liver disease)
Diabetes (look for sweet, fruity breath, frequent urination and drinking more water than normal)
Liver disease (look for foul smelling breath,vomiting, weight loss)
Senility which is called Canine Cognitive Dysfunction which is similar to Alzheimer's in humans
Incontinence (may be cause by physical or mental issues)
Sight problems
Hearing problems
Heart condition which is usually an enlarged heart in Chihuahuas
What you can do to help your senior Chi:
Regular visits to your Veterinarian, Now more than ever, it's important to take your dog to the vet for regular check ups and whenever there is a health issue.
Quality dog food. There are specially formulated dog foods that are made for seniors.
Supplements: Omega 3 supplements are great for your dog's hair and coat. Glucosamine, Chondroitin Sulfate supplements work well for joint issues.
Brush your dog's teeth at least several times a week and give them dental treats.
Exercise: gentle exercise and play to keep them limber and healthy.
Toys: Puzzle food toys, balls and other toys to keep them entertained.
Orthopedic beds to ease their joints while sleeping.
Ramps or steps to couches and beds to help your dog access them without jumping. (These are good for all Chis so they don't hurt themselves going up or down on furniture).
Keep them warm: doggy sweaters, warm bedding, etc.
If you have hard, slick floors, place floor mats to help your Chi maneuver them without sliding.
Keep them stress free as much as possible. Keep small children or other pets who tend to annoy your old pup away from them.
If your dog has sight issues, do not move furniture around to confuse them.
Last but not least, know when it's time to let go. Don't let your faithful friend suffer because you are having a hard time letting them go. When they are in pain and medication no longer helps or when their quality of life has diminished significantly, it's time to do the right thing and put your beloved baby out of their misery. Discuss it with your vet, and get their guidance on when it's time to let go.
The senior years can last for 10 or more years in your Chihuahua's life and with a little extra care, there's no reason they can't continue to be a happy, healthy companion.