This post contains affiliate links, and I will be compensated if you make a purchase after clicking on my links. As an Amazon Associate I earn from qualifying purchases. Learn More
Pet parents have probably noticed how saturated the pet food market has become. With so many choices, it may be overwhelming choosing the right food.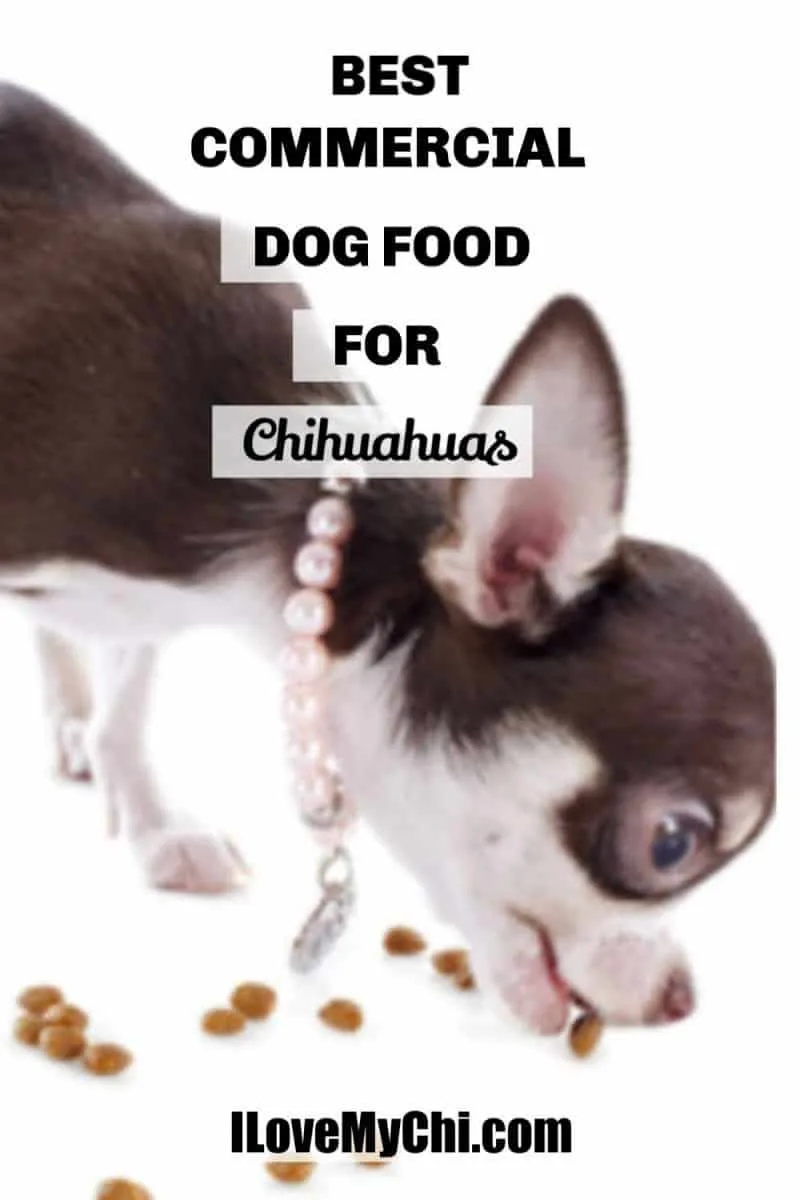 Based upon my personal experience and research, as well as speaking with other Chihuahua parents, I have compiled this list of recommended commercial foods.
Rather than a traditional list of some good choices of foods that could still leave you wondering what the best choice is, I recommend the following commercial foods based upon the most common specific needs of dogs to help you narrow down choices as you embark on the journey to the best food for your dog's needs:
The Best Food for Healthy Weight: Annamaet
Annamaet Pet Foods is a family operated pet food company that has been offering holistic diets for dogs and cats for thirty years. The food is produced in small batches and always made in America.
Annamaet cares about sustainability of our environment and quality food for our pets. Their values, knowledge, care and experience is evident by the quality food they produce and their customer service.
Lindsay of Virginia struggled to find the right food to help her Chihuahua, Riley, lose weight. For months his extra pounds remained, even when he was fed the absolute minimum serving of other low fat diets.
Then a local dog boutique owner recommended Annamaet Lean for Riley, which is a grain free, reduced fat diet. He not only loved the food, but he also lost the weight and kept it off.
They also have a small breed formula.
The Best Food for Minuscule Mouths: Wellness Pet Food
Wellness Pet Food is a natural dog and cat food company that was one of the companies that worked to make a difference in the overall pet food industry.
They offer healthy food in BPA free containers, customer service to answer all questions that pet parents have, and they established the Wellness Foundation to make a difference in the lives of pets.
Wellness is the best choice for the tiniest Chihuahuas because not only is it good quality, healthy and natural, but the kibble is the smallest I have ever seen. Click here to see the size of the kibble. The puppy formula kibbles are approximately three millimeters and the adult turkey and oatmeal flavor is about five millimeters, which is smaller than some earrings!
They do have a small breed formula though here.
Paige of Texas was so excited to bring home her Chihuahua puppy, Lacey. Lacey was only two pounds when she came home, and her mouth was so tiny. When Paige noticed Lacey struggling to chew the puppy kibble she had chosen for her, she began researching what good quality kibble was the smallest and discovered Wellness. Lacey is able to eat much better now and she enjoys her meals.
Most Chihuahua parents who feed wet food have also struggled with food waste, as canned food can be kept for approximately four days, but most cans of food are so large that a single Chihuahua could not finish a can before it would expire.
Wellness also offers wet foods specifically for small breeds, Petite Entrees, which eliminates wasting excess food, as they are smaller than regular cans of dog food.
The Best Food for the Picky Eater: Royal Canin Chihuahua Food
Royal Canin is passionate about continually striving to offer the best quality pet food they can possibly produce by utilizing science, veterinary research, and communications with pet parents.
They believe there is always room for improvement and that they can never stop learning. This determination provides quality pet food designed to meet the needs of your dog. Although their scientific approach is less popular in today's market which values natural and organic foods, their Chihuahua formula should not be over looked.
Royal Canin's Chihuahua Formula is available in both dry and wet options for puppies, adults, and seniors. Royal Canin recognizes that many Chihuahuas are picky eaters, so to help inspire them to eat their meals, they created a recipe specifically for Chihuahuas which has a tantalizing aroma.
Not only is this food made to be extra delicious, it also is full of fiber and digestible proteins. The Chihuahua formula also supports coat health and less smelly bowl movements.
Ruby of New York chose Royal Canin for her Chihuahua, Alice, at the recommendation of her veterinarian. Alice was very picky and refused to eat any kibble Ruby offered, except the Royal Canin Chihuahua recipe. Ruby commented that the food does smell appetizing, even to her.
The Best Food for Healthy Skin and Coat: Avoderm
Avoderm was created in 1982 when Breeder's Choice pet foods discovered a local farmer who had extra avocados. After extensive research, supporting the benefits of avocados for dogs, Avoderm was formed.
While it is true that dogs cannot eat the pit of an avocado, it is possible for them to consume this super fruit safely. As a matter of fact, not only is avocado safe for dogs when prepared properly, it is also very beneficial. Avoderm was created with your pet's safety and health in mind.
If your Chihuahua has skin problems, a dietary adjustment will likely be where your veterinarian begins. The avocados in Avoderm support a healthy coat being rich in antioxidants and omega fatty acids.
Avocados are also high in protein, which is beneficial for hair, which is made of protein. If your dog does not have allergies, try the Avoderm Small Breed Adult recipe.
Avoderm also makes limited ingredient formulas for pups with allergies or sensitive skin.
Cassie of West Virginia chose to feed Avoderm to her Chihuahua, Duchess, when she noticed she had dry skin. After feeding Avoderm for a few weeks, Cassie was able to see a difference in Duchess's coat; her skin was no longer dry and her coat became much more soft and shiny.
Cassie mentioned that being able to see the difference the diet made helped her feel good about the choice to change Duchess's diet.
The Best Food for Dogs with Allergies or Sensitivities: Earthborn Holistic Pet Food
Earthborn Holistic Pet Food is carefully crafted in the United States with ingredients from trusted high quality sources.
Earthborn's limited ingredient line, Venture, was created with carefully chosen, unique protein sources. Dogs who have had trouble digesting traditional protein sources well, or who have allergy issues, benefit most from these recipes.
Of course, if your Chihuahua is a canine connoisseur, she might like to try some of these protein sources just for fun.
Some of their limited ingredient diets include:
Valerie of Utah struggled to find the right food for her Chihuahua, Minnie, who suffered from skin issues and digestive upset often. Even when her veterinarian prescribed prescription limited diet foods, Minnie still suffered.
When Valerie compared the labels of the foods Minnie had eaten, she noted that the food she previously fed and the prescription diet both had chicken in them. With the guidance of her veterinarian she looked for other foods featuring unique proteins and found Earthborn Holistic.
Minnie is thriving on these limited ingredient diets and her favorite formulas are the Rabbit and Pumpkin Recipe and the Squid and Chick Pea Recipe.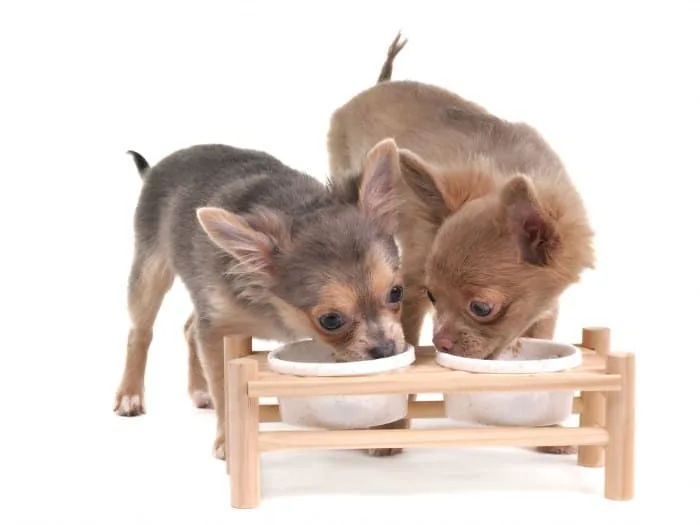 How Do I Know What The Best Food For My Chihuahua Is?
Despite what they will tell you, a helping from your plate is not what they should be eating. Chihuahuas should be fed a commercial diet, fresh food diet (NomNom Now, PetPlate, Farmer's Dog, etc.) or a veterinarian approved home made diet to ensure that their nutritional needs are completely met.
Be sure to read our article on whether you should make homemade dog food for your chi.
There is no one size fits all diet for Chihuahuas; each of them have their own specific needs. Consider your Chihuahua's unique needs and discuss their diet with a veterinarian to find the right food for your favorite little furry friend.