This post contains affiliate links, and I will be compensated if you make a purchase after clicking on my links. As an Amazon Associate I earn from qualifying purchases. Learn More
While most dogs enjoy beds, Chihuahuas enjoy them more than most because some of their favorite activities are burrowing and snuggling. This means that picking the right bed for your Chihuahua is important because it will get a lot of use between their breed's life span and the habits of the average Chihuahua.
Based upon my experience with my Chihuahuas and feedback from my readers, here are some of my top picks for the best dog beds for Chihuahuas, broken down into categories based upon your Chihuahua's preferences and unique needs.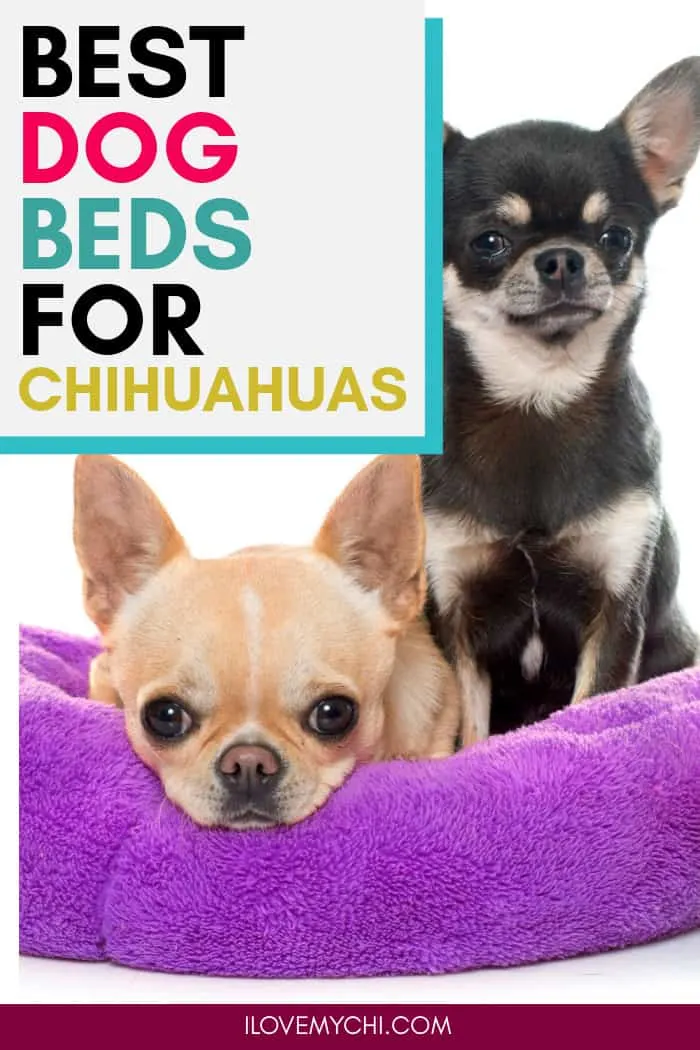 Donut Dog Beds
Donut beds are exactly as the title implies, donut shaped. This style bed is popular among Chihuahuas because it keeps them very cozy and warm in the middle of the donut. The donut style is especially ideal for Chihuahuas who are hard of hearing or who suffer from anxiety because it may help them feel more secure. My dogs are still relatively young but they love these beds so much I have multiples of them throughout my house. This is their favorite type of bed.

Bolstered Beds
Bolstered beds have a thick edge for your Chihuahua to lean against or use as a pillow. This style is particularly popular in multiple pet households because it offers room for multiple pets to snuggle together, while offering some of the comforts of a donut style bed.
Covered Beds
The covered style of bed is perfect for nervous Chihuahuas because it offers a cozy and comforting place for them to hide if they are overwhelmed and need to be alone.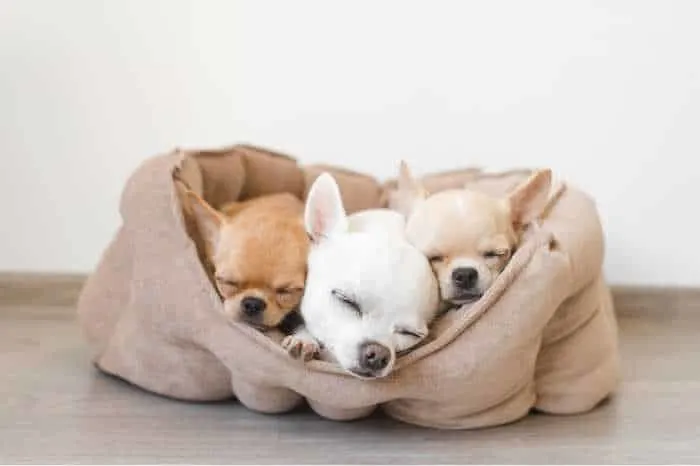 Orthopedic Beds
Orthopedic beds may be a bit more expensive than non-orthopedic beds because they are lined with higher quality materials such as memory foam, and they often use extra of these high quality materials to offer dogs maximum comfort and joint support.
The main customer base of orthopedic dog beds are senior dogs who have arthritis, however, they are ideal for dogs of any age who have joint issues or who love extra comfort. Further, if your home has hard floors, a thick orthopedic bed is a good choice to help your dog be comfortable and protect their joints from becoming stiff from laying on a hard floor.
Furniture Style Beds
If you love interior decorating, a furniture style bed can offer your Chihuahua a comfy place to hang out while being a stylish addition to any room. Your Chihuahua can have his or her own personal little sofa to enjoy if you order him or her one of these sofa style beds:
Crate Beds
If your Chihuahua is crated, these beds or mats will fit into their crate to keep them comfortable. Keep in mind that most Chihuahuas appreciate having a blanket or two in addition to a crate mat in their crate so they can dig a nest to sleep in.
Outdoor Beds
For Chihuahuas who enjoy spending time outside on a deck, on a patio or in a yard with their owners, an outdoor dog bed is a good choice to offer them a comfortable place to relax outdoors.
Outdoor dog beds are different from indoor dog beds because they have warming or cooling features and they are made with more durable fabric. For maximizing the longevity of your dog's bed, and to prevent wildlife or bugs from using them, it is recommended that the bed be stored indoors and brought outside for your Chihuahua to use.
Due to the small size of the Chihuahua, they are considered prey by wildlife commonly found in residential areas. As such, never leave your Chihuahua outside unattended; he or she should only enjoy using one of these beds outside when you are outside with them.
Ollie and Hutch Dog Beds
These are premium beds and are somewhat pricey. But they are gorgeous and very well made.
Shopping Tips
When shopping for a bed for your Chihuahua, keep the following tips in mind:
Closing Considerations
Chihuahuas love beds and will appreciate a comfortable bed to lounge in. By considering the categories in this article, you should be able to narrow down your selection to the right bed for your Chihuahua's specific preferences and needs.
It is not uncommon for a Chihuahua owner to experience "canine paralysis", a condition wherein a Chihuahua becomes cozy in their human's lap and the human does not want to move because their furry friend is comfortable. By offering your Chihuahua a cozy bed, you can be cured of canine paralysis, at least temporarily until your Chihuahua wants attention again!
Did you purchase a bed from this post? Share how your Chihuahua likes it in the comments below to help other pet parents find the right bed for their furry friends.