This post contains affiliate links, and I will be compensated if you make a purchase after clicking on my links. As an Amazon Associate I earn from qualifying purchases. Learn More
Would it surprise you to learn that Chihuahuas can get sunburn too? Even though Chihuahuas have a predisposition to warmer weather since the breed originated south of the border in Mexico, sun protection is important for these little descendants of Aztec warriors too.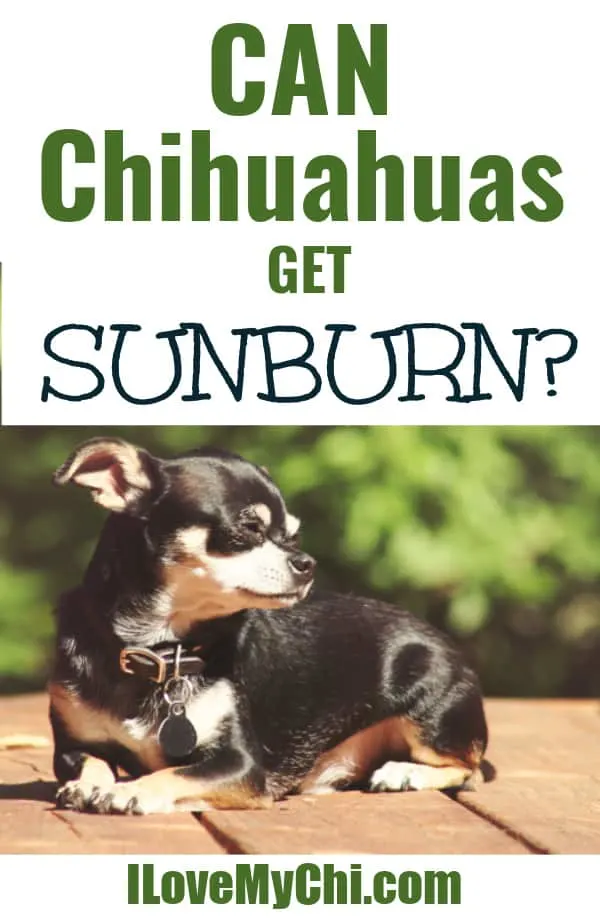 This article will help you prepare for safe fun in warmer weather with your favorite furry friend.
What You Need To Know About Chihuahuas And Sunburn
If you are prepared to protect your Chihuahua from the sun, you are not totally limited to indoor fun as the temperature rises. The basics to know about Chihuahuas and sunburn are:
It is not just uncomfortable, it is dangerous.
According to the American Kennel Club (AKC), sunburn does not just cause mild discomfort in dogs, it can lead to an infection or even skin cancer. This makes sun protection a serious consideration for dogs who spend time outdoors consistently.
Planning and being prepared makes fun in the sun possible.
By planning carefully and being prepared, you can protect your Chihuahua from sunburn. For example, plan to apply sunscreen twenty minutes before your Chihuahua will be outdoors, and to reapply every four hours that he or she is exposed to the sun, or after swimming. More tips are discussed below in the paragraph about how to protect your Chihuahua from sunburn.
Do All Chihuahuas Have The Same Risk For Sunburn?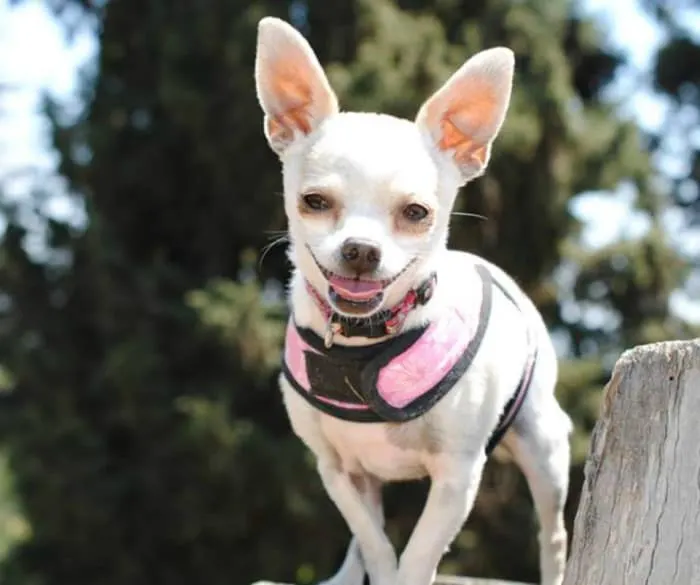 All Chihuahuas have a risk for sunburn, but some are more susceptible than others. The Chihuahuas most at risk for sunburn are the dogs who have light-colored coats with pink noses. Their little pink snouts have the highest risk for sunburn, followed by their ears and their bellies.
What Does Sun Burn Look Like In Dogs? What Happens If My Chihuahua Gets Sunburn?
According to Dr. Klein, sunburn in dogs will appear as red, flaky skin that is hot to the touch. If you notice these symptoms and your Chihuahua has been in the sun, move him or her indoors into the shade and air conditioning promptly.
Next, schedule an appointment with your Chihuahua's veterinarian to have the sunburn examined. Do not apply a human medication to the sunburn; your Chihuahua's veterinarian will provide instructions on how to treat the sunburn. A cold compress may provide some initial relief in the interim of an examination by a veterinarian.
If the sunburn is severe, seek veterinary treatment immediately even if it warrants going to an after-hours emergency veterinary clinic. If the sunburn is milder and you prefer to take your Chihuahua to his or her regular veterinarian, arrange for veterinary care as soon as possible.
How to Protect your Chihuahua from Sunburn

To help your Chihuahua have fun in the sun without getting burned, follow these tips:
Plan walks and outdoor time accordingly.
According to the American Kennel Club (AKC), the sun usually poses the most significant risk between the hours of 10:00 a.m. to 4:00 p.m. Plan to walk your Chihuahua in the early morning or evening hours, as the sun will be shining less brightly then. Do not allow your Chihuahua to sunbathe outdoors during these hours for more than fifteen minutes.
Be sure to test the pavement with your hand or foot before walking your Chihuahua on it to prevent burns to his or her paw pads; if you can stand on pavement comfortably for ten seconds, it is safe for your Chihuahua. If you cannot, walk your Chihuahua in the grass, but carry him or her across the hot pavement. Or consider dog booties or shoes.
Limit their exposure.
Do not allow your Chihuahua to be outdoors for extended periods of time during extremely hot weather, especially unsupervised. The more time a dog spends in extreme heat, the more likely it is that they may experience sunburn or worse, heatstroke.
Use sun protection products.
When your Chihuahua is outdoors, there are products that can help protect him or her from experiencing sunburn, heatstroke, or other heat-related medical conditions such as:
Sunscreen.
Apply sunscreen to sensitive areas, such as the skin on top of your Chihuahua's nose, ears, and belly. I recommend two products:
Lucky Pup Sunscreen Dog Balm is great because it is natural, waterproof, tasteless and fragrance-free. It comes in a chapstick-style tube, making it easy to apply on the go as needed.
Warren London Dog Sunscreen Spray is a soothing sunscreen spray that allows you to mist your dog with sunscreen (just cover their eyes when spraying).
Keep in mind that purchasing sunscreen made for dogs is important because dogs cannot use human sunscreen! According to VCA Hospitals, human sunscreen contains zinc oxide, which causes intestinal issues and damage to red blood cells if consumed by a canine.
A stroller.
If you want to walk during the hottest hours of the day, protect your pup from burning paw pads on the sidewalk and offer shade from the sun wherever you go with the Pet Gear Happy trails No-Zip Pet Stroller. The spacious interior allows your Chihuahua to be comfortable however they prefer to ride. The stroller is easy to fold up and smooth to steer.
If you live in a particularly hot climate, your Chihuahua might appreciate a fan being attached to his or her stroller, especially if your Chihuahua is long-haired.
The other bonus to using a stroller is that many stores will allow you to bring your Chihuahua into the store if he or she is contained in a stroller. Be sure to call and ask first if you are unsure of a store's pet policy. This can allow you to run errands without having to take your Chihuahua home first to avoid leaving him or her in the car.
Doggles.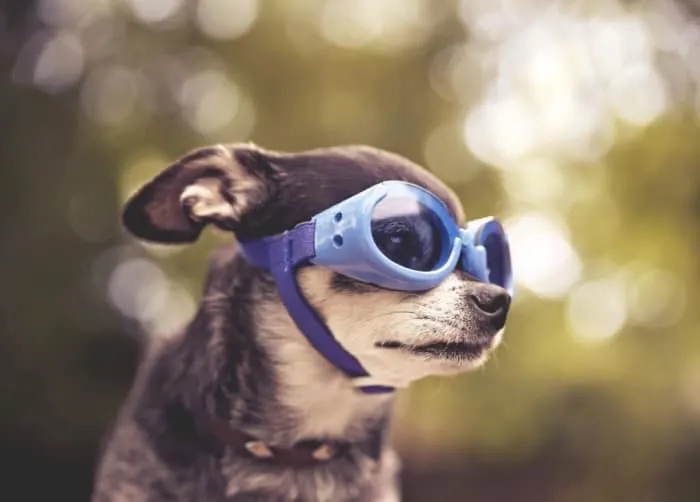 Doggles are goggles made for dogs. Not only can these stylish shades help protect your pup's peepers from the sun, but they make a great conversation starter. Since not many dogs wear doggles, your Chihuahua is sure to make new friends when he or she wears them.
Keep in mind that you will have to train your Chihuahua to wear doggles, as most dogs are not used to having things on their faces and may not like wearing them initially.
Use high-value treats and make the doggle wearing sessions short and positive at first. Put them on your dog and "feed the meter"; feed high-value treats like you are putting coins in a parking meter. Since Chihuahuas are so small, be sure to cut up the high-value treats into small pieces and adjust their daily meals accordingly to prevent weight gain from these training sessions.
Eventually, you will need to work up to your dog wearing them for longer periods of time and feed fewer treats. Before you know it, your Chihuahua will be happily wearing his or her shades!
A covered bed.
When your Chihuahua wants to spend time with you outdoors, provide an outdoor bed with a canopy to protect him or her from sunburn. The best option is an elevated canopy bed such as this one by Floppy Dawg. This design offers protection from the sun with the canopy and allows your Chihuahua to stay cooler by being elevated above the hot ground, providing protection from heatstroke.
UV protective clothing.
The Gold Paw Sun Shield Dog Tee blocks approximately ninety-eight percent of the sun's UV rays, offering effective protection for your Chihuahua.
While this shirt does provide good protection, it is not for every dog to wear. This shirt is most appropriate for Chihuahuas with medical conditions that have caused them to lose some of their coat or who have a thinner coat. Keep in mind that your long-haired Chihuahua may be more susceptible to heatstroke with this extra layer on.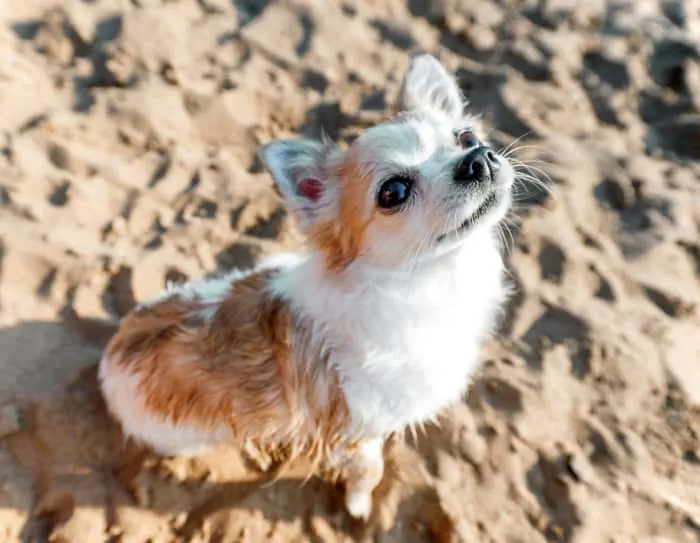 Closing Considerations
Chihuahuas absolutely love to spend time in the sun, but they need their humans to help protect them from sunburn. By implementing the tips in this article and using some of the recommended products, your Chihuahua can enjoy the sunshine without suffering from sunburn.
For many ways to keep your Chihuahua safe this summer, read these Hot Weather Safety Tips by the ASPCA.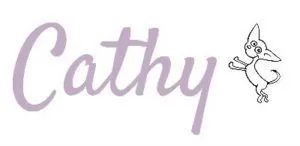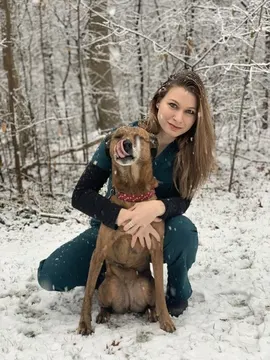 Paula Simons
DVM
This article has been reviewed, fact-checked, and approved by Dr. Paula Simons DVM. You can read more about her on our About page.