This post contains affiliate links, and I will be compensated if you make a purchase after clicking on my links. As an Amazon Associate I earn from qualifying purchases. Learn More
Most dogs enjoy riding in the car, and many pet parents take their dogs for rides daily without a thought regarding riding in the car safely. After all, you ride in the car without issue more often than not, and the majority of car rides with dogs are quick outings to the park, to grab dry cleaning or a curbside food order.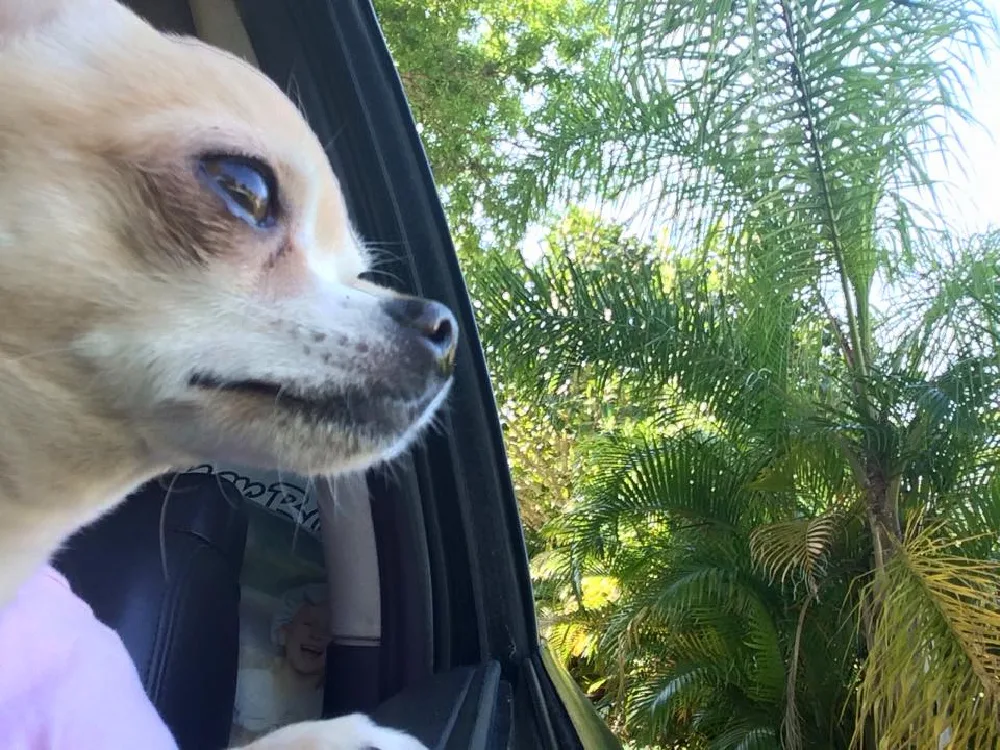 However, if a car accident occurs, the average dog is not riding properly and therefore is more likely to sustain a serious injury, or even pass away, from the injuries sustained.
We all want our dogs to live as long as they can, and to be happy and healthy while they are with us. Keeping your dog safe in the car is one more way to accomplish that. Whether your dog's next vehicular journey is a pleasure ride for a pup cup, a shopping trip, a trip to the vet, or a road trip, this article will provide the basic guidance you need to transport your best furry friend as safely as "pawssible".
What Is the Safest Way For A Small Dog To Ride In The Car?
According to the American Kennel Club (AKC), the safest way for a dog to ride in the car is in a crate.
Some pet parents opt to use a regular crate, which accomplishes keeping a dog restrained, however, there are crates specifically designed to provide protection to dogs in a car crash.
The second safest option to riding in a crate is being restrained in a harness, but not just any harness will do. There are crash-tested travel harnesses on the market designed and tested specifically for use in cars. A regular harness clipped to a seat belt is not a safe choice.
What Is the Worst Way For A Small Dog To Ride In The Car?
The worst places for any dog to ride in the car, but especially small dogs, as they can be injured more severely than larger dogs, is in the driver's lap or in the passenger seat. According to the American Kennel Club (AKC), these seats risk serious injury or death if an airbag is deployed, and increases the risk of the driver being distracted and an accident occurring as a result.
Best Car Safety Products For Small Dogs
To keep your small canine companion safe in the car, consider these products:
Most Safe: Crate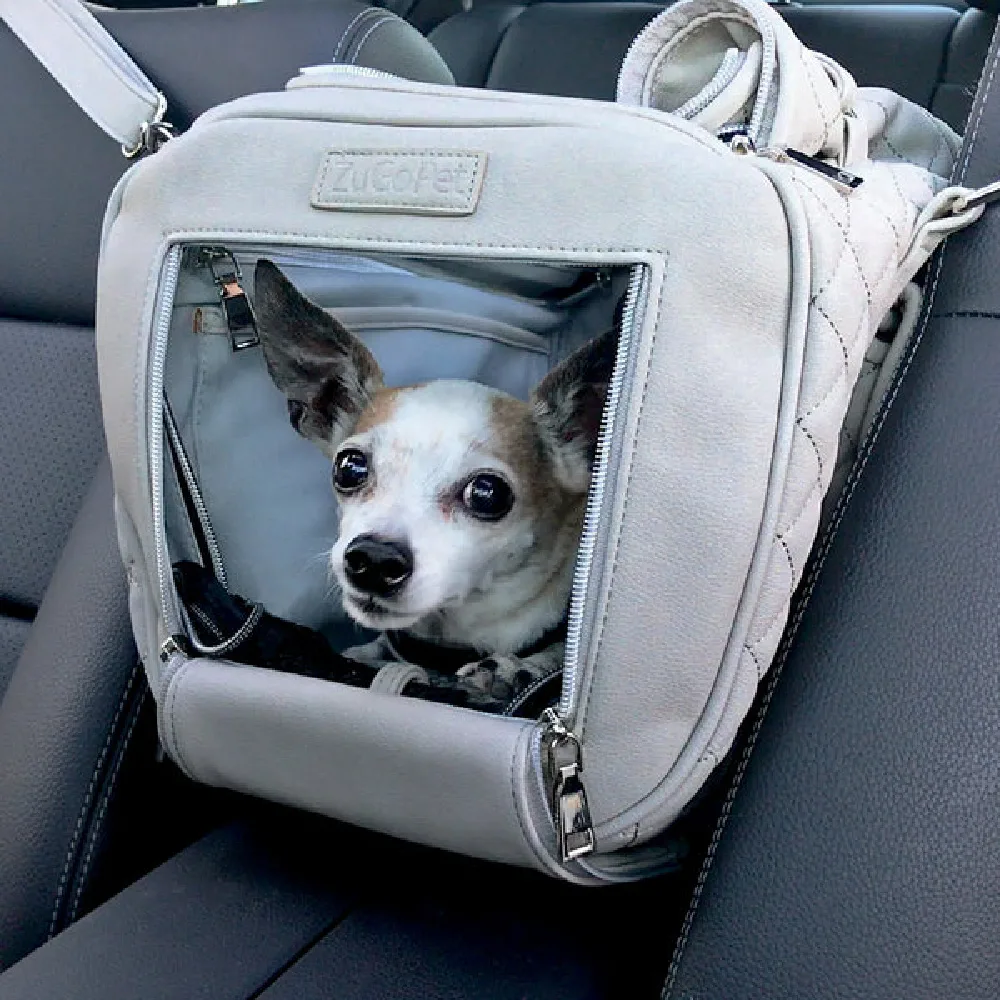 **Should you choose to use a regular crate, it should be set on the floor in the back seat or in the cargo area. Never use a seat belt to secure it; according to the Center For Pet Safety, a seat belt may crush a dog crate.
Second Most Safe: Harness
**Securing your dog with a regular harness to a seat belt may reduce the chance of your dog creating a distraction, but it will not provide any protection, and may even cause injury or death, should an accident occur.
Car Safety Tips For Small Dogs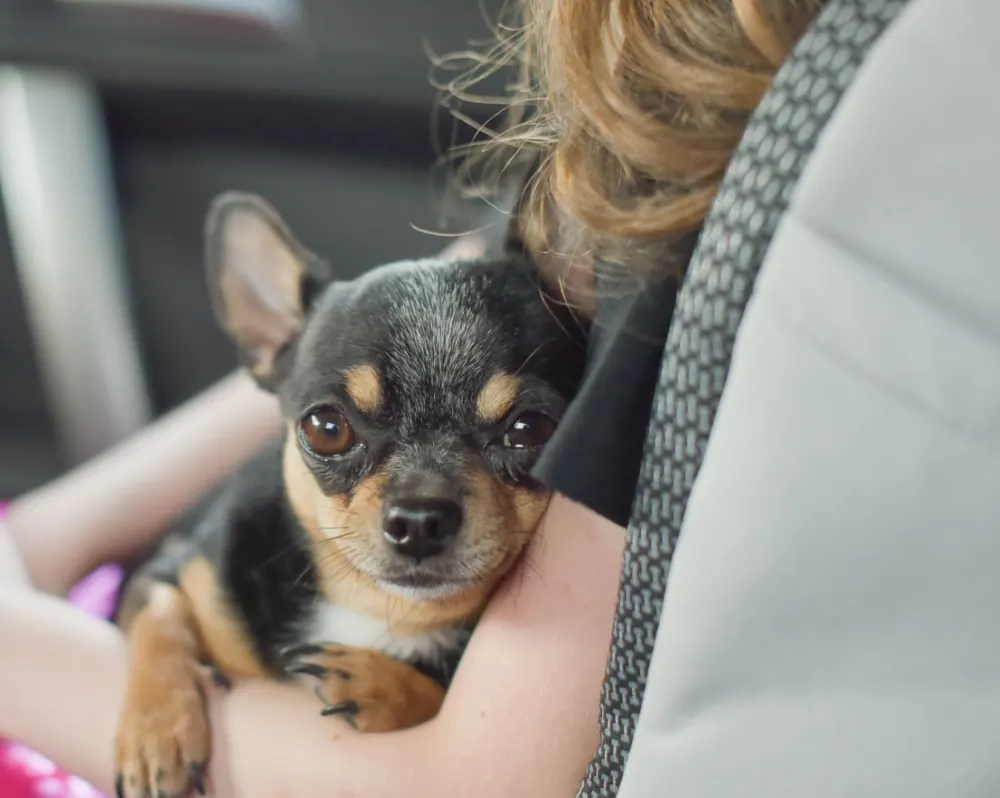 Please refer to these safety tips when riding in the car with your dog:
Dogs should never be left in a car in warm weather. On an 80 degree day, the interior of a car can climb to 114 degrees in just a half-hour! Read more here: How to Save Dogs Left in Hot Cars.
No matter the weather, dogs should not ever be left unattended in a car whether it is running or not, windows cracked or closed. Your dog could push a window button and escape, overheat in warm weather, be injured if another vehicle crashes into yours, or even knock the car into drive, potentially injuring others.
Dogs should NEVER ride in any type of open truck bed, exterior storage attachment, or open or flatbed trailer; this is incredibly dangerous for the dog. This should not have to be said, but sadly it needs to be: your dog should always ride in the car with you.
Although most dogs love sticking their face out the window, it is extremely unsafe; they could push the window button, lowering the window, and fall out, or they could sustain a serious injury from road debris.
Dogs should never ride in the lap of the driver; they may cause a distraction or interfere with the driver's ability to turn the steering wheel, causing an accident. Further, the airbag could cause serious injury or death.
If your dog is riding in a crate, do not place it on the back seat. Instead, it should be on the floor.
If you are going on an extended road trip, be sure to have your dog wearing a harness and collar that can be simultaneously secured to their leash. When you stop for potty breaks or leg stretches, secure the leash to both the collar and leash to reduce the chance of your dog wiggling out of either and escaping.
When traveling far from your regular veterinarian or emergency veterinarian, be sure to look up where emergency veterinarians are located and map them from where you will be staying so that you have a plan of action in the event of an emergency, rather than having to scramble and panic during an emergency.
If traveling out of state, be sure to have your dog's most recent vaccine record with you. The Rabies vaccine is most likely what you will need proof of, but it is helpful to have the entire vaccine record just in case.
Even if you do not plan to make any stops, you should ensure that your dog is wearing a collar with an identification tag. You may need to let your dog relieve himself or herself at a gas station unexpectedly, or if your dog escapes from a crash, the ID tag will help you be reunited more quickly. Microchipping your dog is also wise in case their ID tag is lost or damaged.
Conclusion
Part of responsible dog ownership is helping your dog to travel in the car safely. By following these recommended car safety tips, considering the recommended car safety products, and properly restraining your dog, you can help keep him or her safe.
Refer to the Center For Pet Safety website to learn more about specific crash testing information