This post contains affiliate links, and I will be compensated if you make a purchase after clicking on my links. As an Amazon Associate I earn from qualifying purchases. Learn More
When your Chihuahua's life comes to an end, you will need to decide how to lay his or her body to rest. This article will provide the information that you need to make the decision.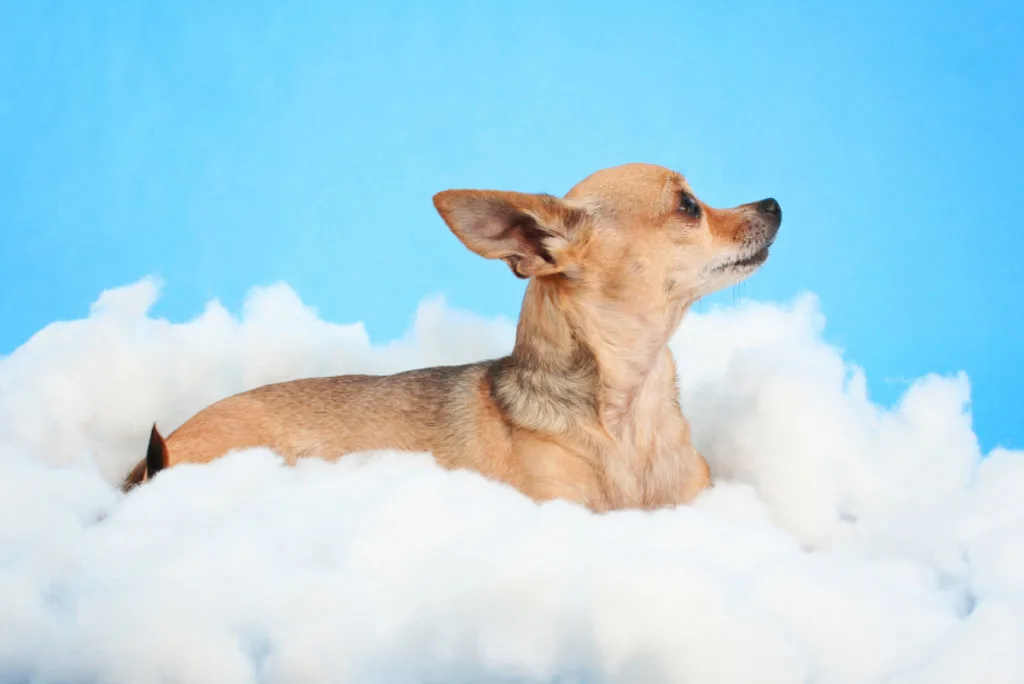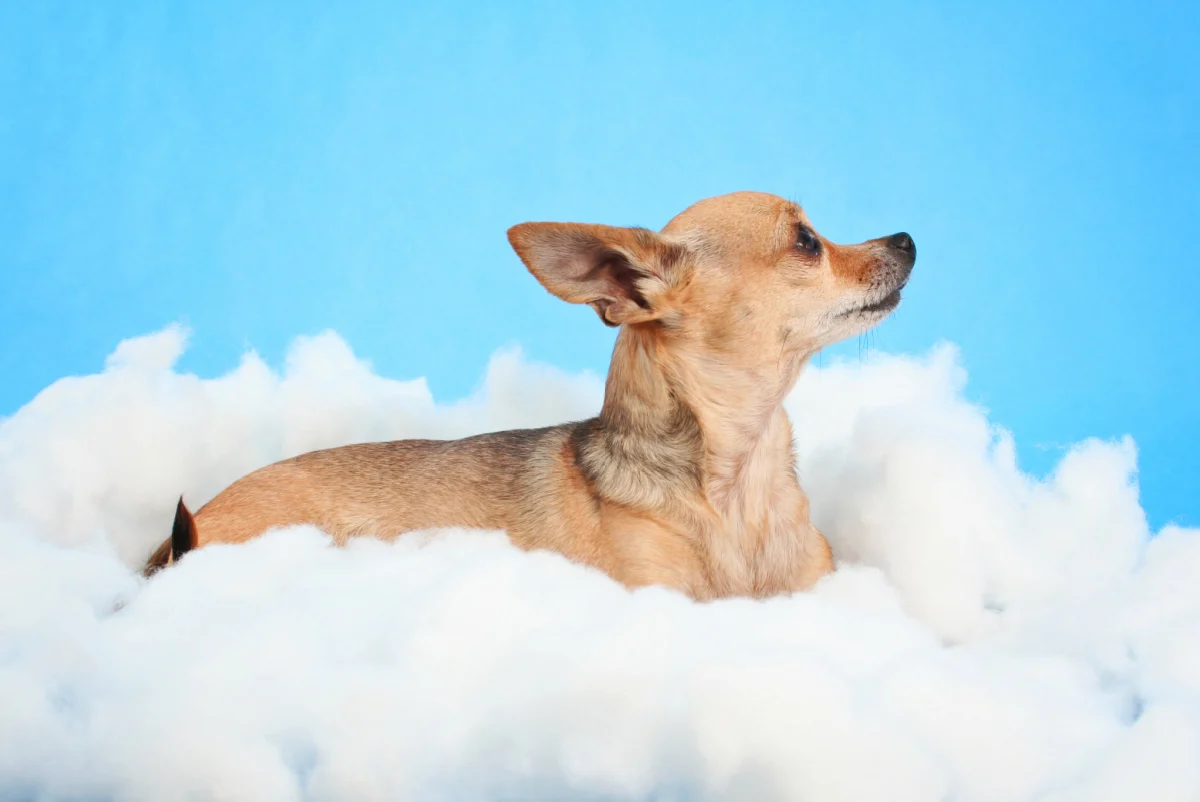 What Are The Options For Laying Your Chihuahua To Rest?
Pet parents may choose from the following options to lay their Chihuahuas to rest:
Group Cremation is when a group of pets are cremated together. Owners do not receive ashes; the cremation company spreads the ashes on behalf of every family whose pet was cremated in that group. This is often the most cost-efficient way of laying your Chihuahua to rest.
Private Cremation is when your Chihuahua is cremated solely, and his or her ashes are returned to you. You may choose to keep their ashes or spread them at a meaningful location. While this is usually more expensive, it often includes a high-quality urn and a memorial keepsake such as a paw print. Many pet parents choose this option if they can afford to because it may be comforting to have your Chihuahua's ashes in your home.
Private Cemetery Burial
Depending upon your local laws, you may be able to bury your Chihuahua on your property or in your family's cemetery. If your Chihuahua was euthanized, you will need to be mindful burying his or her body deep enough that wild animals could not dig up the body, as consuming a body with euthanasia drugs in its system would be fatal for not only the wildlife who consumed the body, but other wildlife that consumes the body of the wild animal poisoned by the drugs.
Public Cemetery Burial
You may choose to find a pet cemetery to lay your Chihuahua to rest in. Many pet parents like having a place to visit their Chihuahua and bring flowers to honor their memory. Some pet parents find comfort in the fact that their beloved pet's headstone will continue honoring their memory and declaring how loved they were to anyone who sees it well past their lifetime. The cost is often comparable to a private cremation.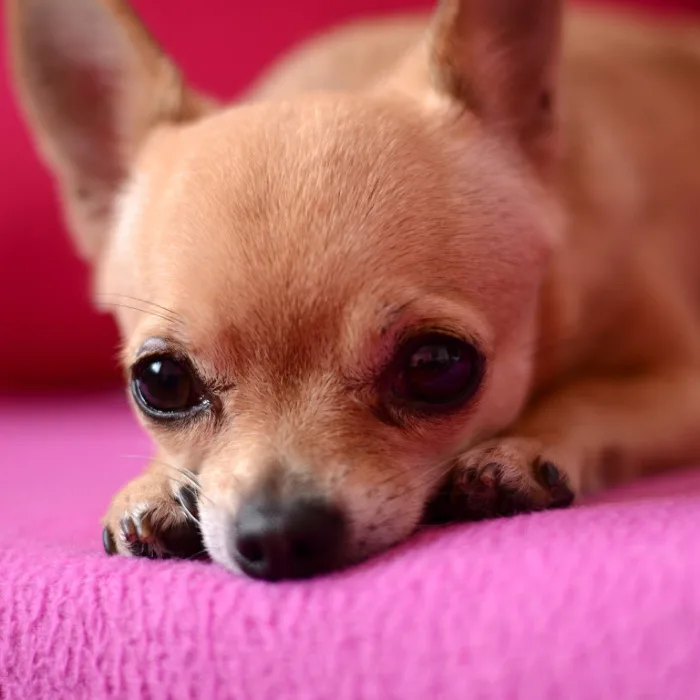 Pros and Cons of Cremation
Cremation has advantages and disadvantages to consider, such as:
Pros
You may keep your Chi's remains in your home; many pet parents find this comforting.
If you move, your Chihuahua's remains are simple to move with you.
Should you wish to be laid to rest with your Chihuahua, your Chi's remains could be interred with yours.
The cost of cremation usually includes a high-quality urn.
Some pet parents choose to set up a memorial area in their home; an urn can easily be added to such a memorial.
Some pet parents find comfort in carrying their Chi with them; by choosing cremation, you may find an urn necklace that a small amount of ashes may be placed into.
Cons
Private cremation may be expensive depending on the provider and your budget.
Should you select group cremation, you do not receive ashes back.
In the event that your Chi died of unknown causes, you would need to decide to arrange an autopsy quickly if you wanted to know the cause of death.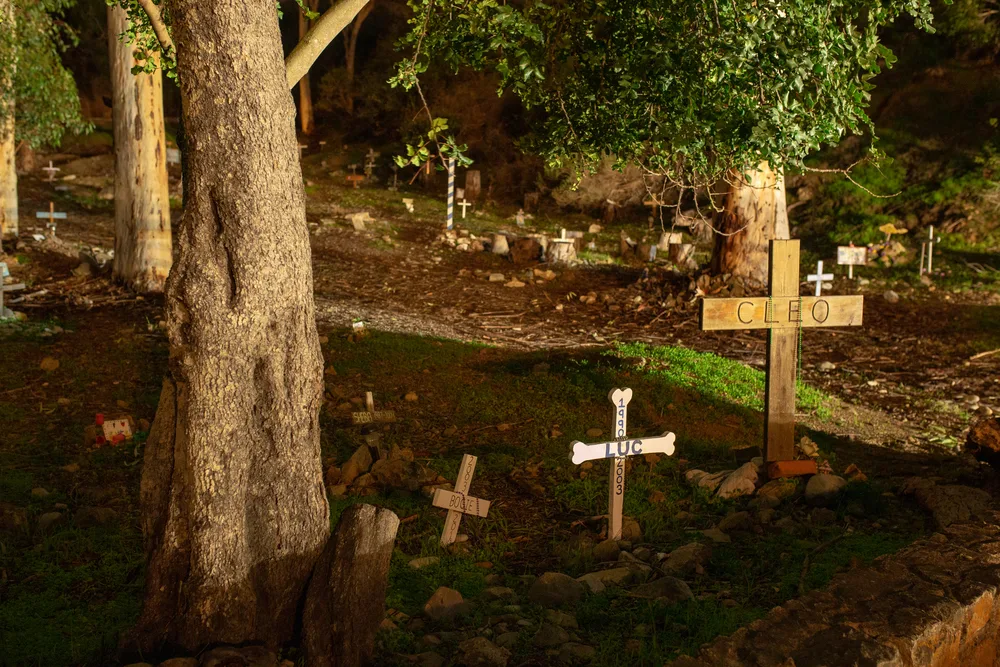 Pros and Cons of Burial
Consider the following pros and cons of burial as you make your decision:
Pros
Creating a custom gravestone offers a personalized way to honor your Chi's memory.
Some pet parents find having a location to visit their Chihuahua to be comforting.
Some pet parents who prefer not to have their Chi's remains in their home, but want to lay them to rest honorably, may prefer a pet cemetery.
Cons
There is a limited selection of pet cemeteries to choose from in most areas.
Depending upon your chosen cemetery, you may only be able to visit your Chihuahua's gravesite during certain visiting hours.
Depending on your budget and the pet cemetery available to you, burying your Chi may be expensive.
Should you relocate, you may not be able to transfer your Chi's remains to a cemetery closer to your new location, or if possible, it may be incredibly difficult to do.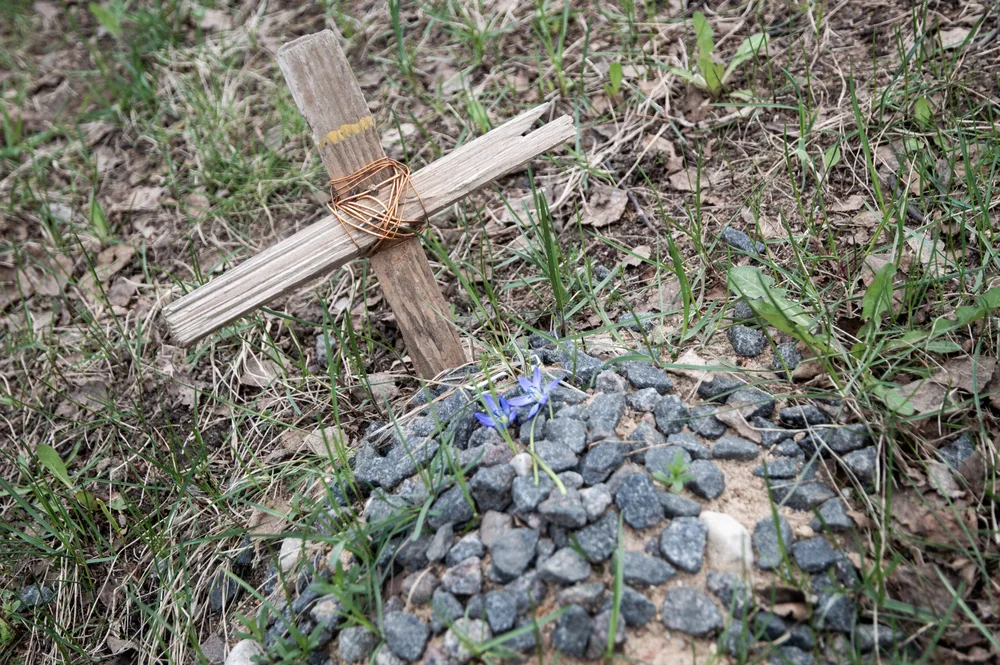 How To Make The Decision
Most pet parents lose their Chihuahuas unexpectedly and therefore must make the decision quickly.
However, others may have advance notice that their Chi's life is ending, for example, if they receive a cancer diagnosis. This extra time gives you the opportunity to cherish every day with your Chihuahua but also gives you extra time to consider the end-of-life decisions that will need to be made.
If you are unsure if you should bury or cremate your Chihuahua, a wise next move is to look at the decision from a practical standpoint:
Availability. Depending upon your location or the circumstances, you may not have a choice between cremation or cemetery burial. For example, some areas may only have a cemetery or crematorium, and some veterinary offices work exclusively with specific crematoriums or cemeteries.
Budget. Choose the option that is most budget-friendly based upon your finances and the costs of the choices available to you.
Personal beliefs. Your personal beliefs or family traditions may support cremation or burial.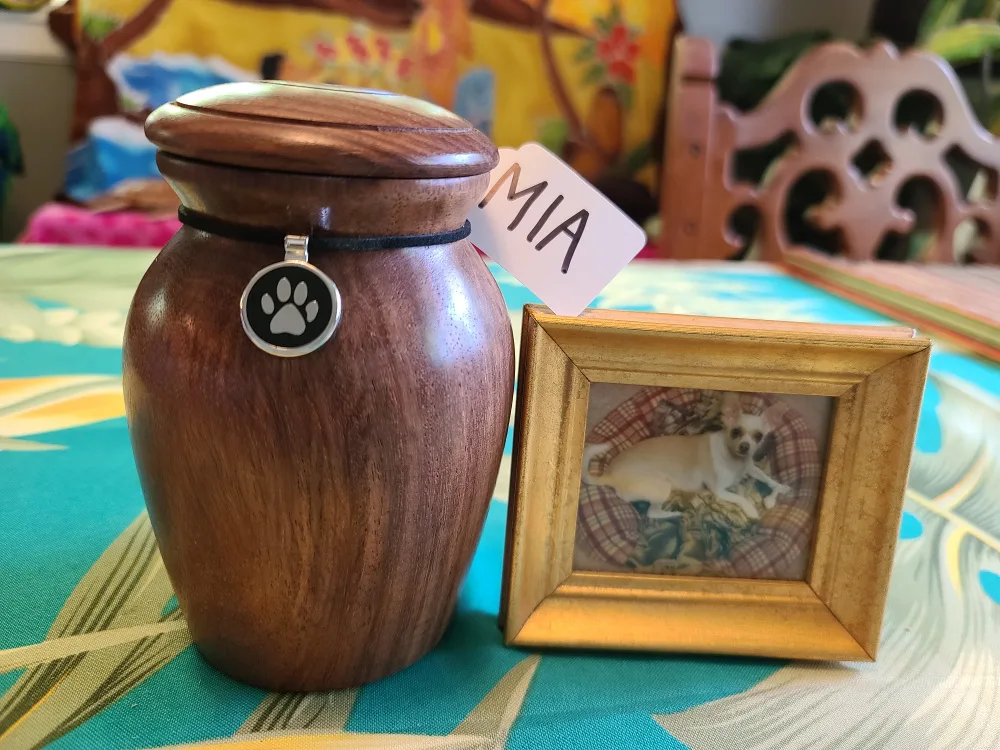 How Does Your Chihuahua Get Laid To Rest?
If your Chihuahua was euthanized at a veterinary office, the veterinarian should have a mortician contact who will pick up their body from the office to transport it to be cremated or buried.
Veterinary offices will store the bodies of deceased pets in a freezer until they are picked up by the mortician. Veterinarians who truly love animals have strict policies in place for treating the bodies of deceased pets with the utmost respect.
If your Chihuahua passed at home, search for cremation or burial services near you, or call your veterinarian's office for advice. Most pet cremation or burial services will offer a complimentary pick up from your home, or allow you to drop off during business hours.
Should you have sufficient property to bury your Chihuahua on, and should local laws allow you to bury your Chihuahua on your property, the burial should take place as soon as possible.
For cemetery burials, the mortician may contact you to coordinate a memorial service and/or burial service.
For group cremation, pets are cremated as soon as the minimum number of pets has been reached. Owners are usually not provided notice of when their pet was cremated.
For private cremation, owners may expect to have their pet's ashes returned in approximately a week to two weeks depending upon the crematorium's current client load.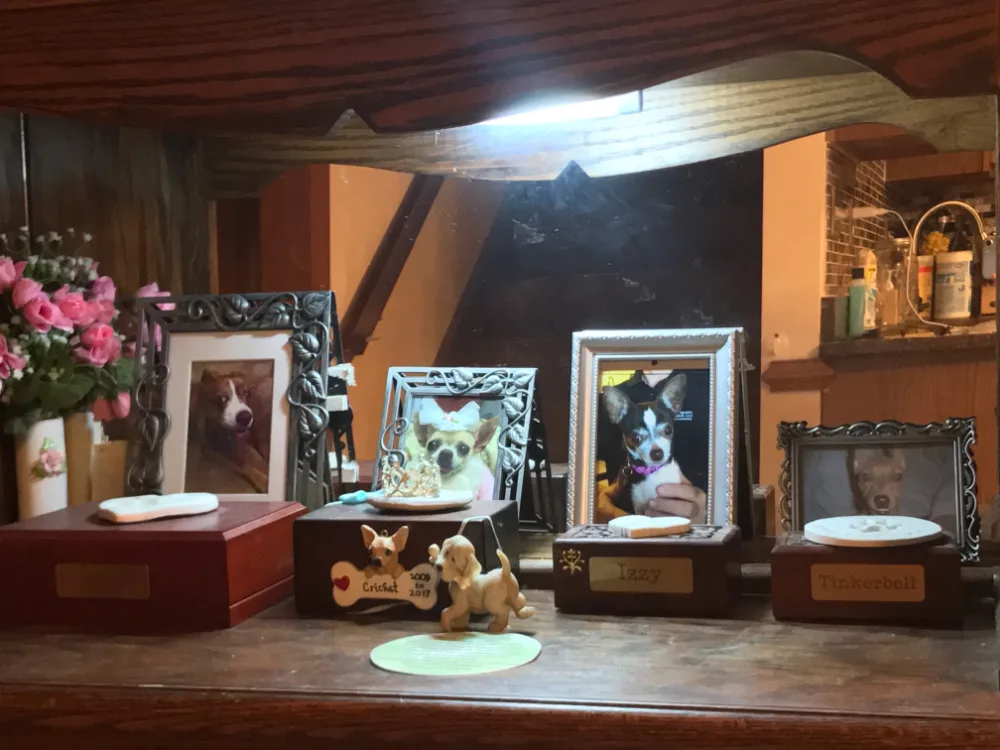 Conclusion
Cremation and burial both have advantages and disadvantages; ultimately, the best choice is what you feel most comfortable with.
Your Chihuahua knows that he or she was so very loved; it is simply not necessary to go into debt to honor them. There are ways to do so for every budget.
How did you lay your Chi to rest? Share in the comments below.
ALSO READ:
Grieving Over The Loss of a Pet
Painless Death But Heavy Heart: How I Grieved Over The Loss Of My Dog
How to Prepare for Your Dog's Passing
4 Ways to Cope with the Death of Your Chihuahua