This post contains affiliate links, and I will be compensated if you make a purchase after clicking on my links. As an Amazon Associate I earn from qualifying purchases. Learn More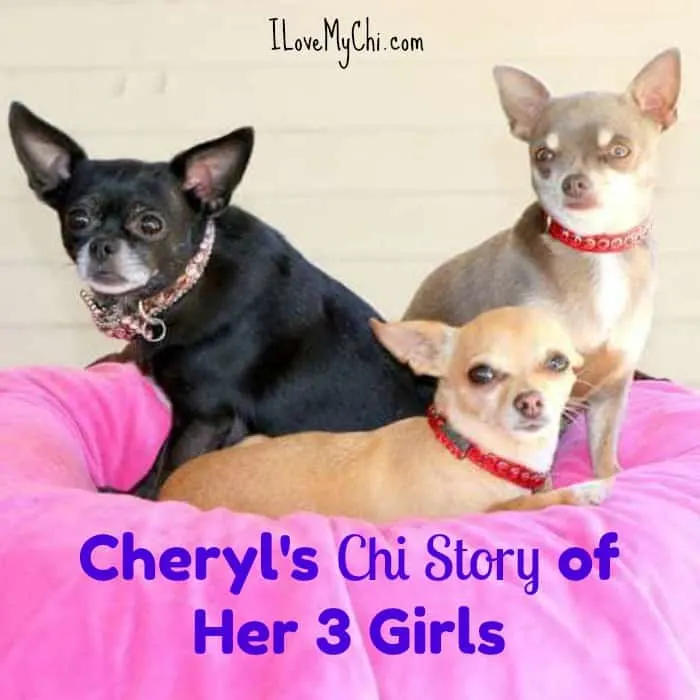 These are my 3 girls. Lil One, Sierra also known as Chinchi and Gigi.
Lil One is the fawn deer head and she was going to be euthanized as underage. They thought she was 6 weeks but she was actually 3 months and highly adoptable.
Sierra's mother is a Japanese Chin and was pregnant with 2 puppies scheduled to be euthanized. Puppies were born.
Mom and the her fluffy sister got adopted. I had Sierra for quite awhile and I ended up falling in love. I am so glad I did. She is my support dog.
And Gigi is the brindle apple-head. Well she was an owner surrender purebred.
She captured my heart when she did my 2 favorite things. The praying hands and throw a kibble and chase it down. She does that and usually another chi will eat it and she has no clue. She just gets another one and starts playing all over again.
She is definitely my Diva dog. I love them all and they have been with me for 5 years.
They are the ambassadors for my rescue and to dispel the stereotype that people have of chihuahuas.
Thank you for reading this and showing all your love for your chi's.
Cheryl Chavez‎