This post contains affiliate links, and I will be compensated if you make a purchase after clicking on my links. As an Amazon Associate I earn from qualifying purchases. Learn More
Tis the season for cold wet noses! Though your Chihuahua's heart is warm, his or her little body needs some help to be kept fashionably warm.
To help you keep your favorite family member toasty warm as you go on adventures like nighttime walks, here are my top picks for quality coats, and tips for choosing the right one.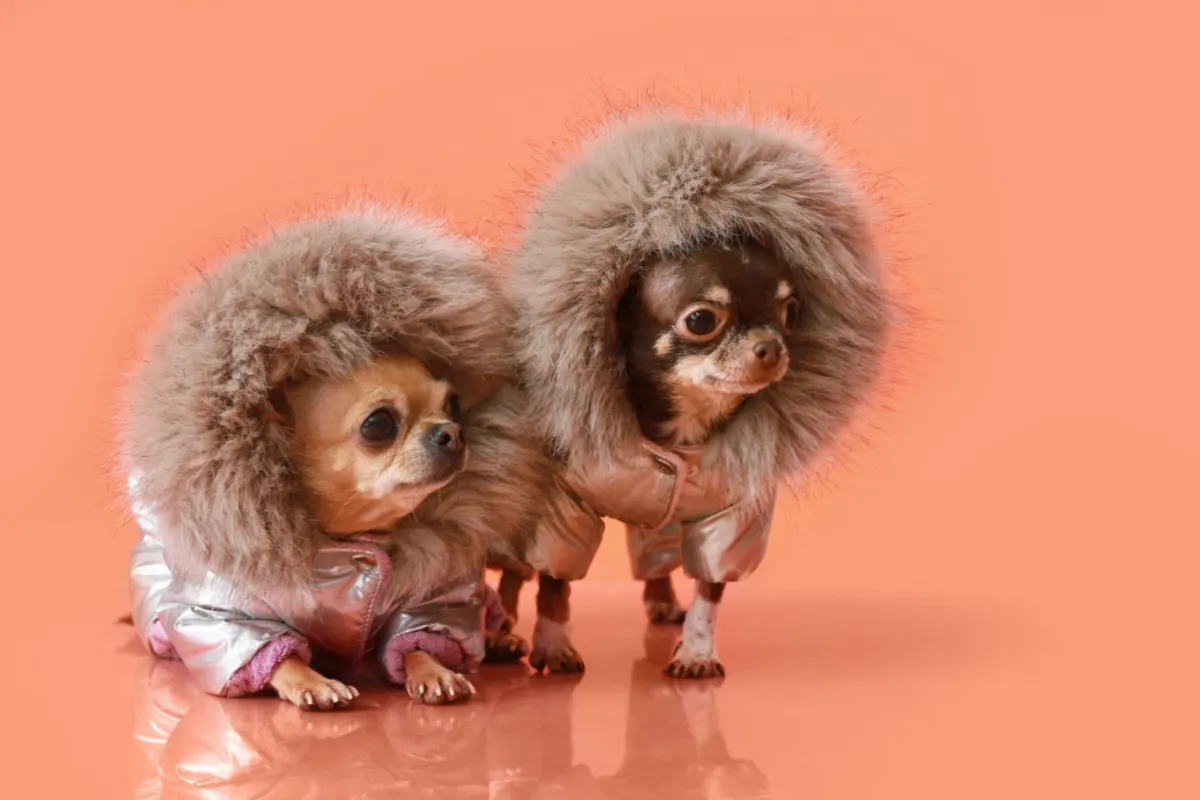 Does My Chihuahua Need A Coat?
Some people may make unkind comments when they see a Chihuahua dressed up, dismissing it as "unnecessary" or "extra". However, as Chihuahuas originated in Mexico, the breed is predisposed to a warmer climate. This means that if you live in a colder climate, dressing him or her warmly is a part of responsible pet parenting or pet ownership. Choosing your Chi's wardrobe just also happens to be fun!
How To Pick A Coat For Your Chihuahua
To find the right coat for your Chihuahua, you need to consider a few things:
Size and fit.
Carefully review the coat's size chart and read customer reviews to find the best fit. When your Chi is in-between sizes, sizing up is recommended. A coat that is too tight will be difficult for him or her to move in and for you to put on and take off.
Where will your Chihuahua wear the coat?
Will you be just needing to ward off chills on quick potty breaks or as you get into the car or into a store? Then a light coat will do.
Or will you spend more time outside on walks? Then you will need a heavier coat. If your Chihuahua will be walking in their coat, you may want to purchase several so that if it gets wet you have others in case they need to be walked before the other one is cleaned.
How will you put your Chihuahua's harness on?
Walking your Chihuahua on a leash is critical due to their size. So, when coat shopping, you must consider how your Chi's harness will fit with the coat. Is there a hole for the harness on the back? Maybe will you need to consider ordering a size up to make extra room for the harness underneath the coat. Or, will you need to make sure your harness has extra room to be extended to fit over the coat?
Alternatively, some coats have harnesses incorporated. Before solely relying on the incorporated harness, be sure it is secure.
Assess your Chihuahua's preferences.
Most Chihuahuas do not mind wearing clothes, but just as we find certain types of clothes more comfortable than others, your Chihuahua might also find a particular fabric or style more preferable. This means he or she will be more inclined to want to wear that coat.
Consider your preferences.
When you are shopping for coats, have a wish list of qualities in mind. You might value things like:
Easy care; machine washable and dryer safe.
Certain fasteners may be easier for you than others; you may prefer snaps, zippers, etc.
Some fabrics may appear to be more durable than others.
Color; you may want to match or coordinate your Chihuahua's coat with a coat of your own, or you may want a bright color or with reflective material if you will be walking your Chihuahua in low light conditions, etc.
My Top Picks For Small Dog Coats
Based upon my experience owning Chihuahuas and my shopping skills, here are my top coat picks for Chihuahuas and other small breeds separated by qualities:
Heavy Duty Coats
These heavy duty coats are made to protect your Chi against the cold during more extended periods of being outdoors.

Practical Coats
These practical coats are ideal for pet parents who value easy care, like washing machine-safe coats, and who like to always be prepared for whatever adventures are ahead for the day. These coats are usually easy to pack into a bag to have "on paw" if you are unsure if the weather will necessitate a coat.
Light Weight Coats

These lightweight coats are ideal for when the weather starts having a chill; they are perfect for late fall and early spring morning walks.
Fashionable Coats

These coats are more for fashion than function; they are most ideal for warding off the chill as you and your Chi dash from the car into a store. They are also great conversation pieces.
Read this if you are wondering if chihuahuas really need clothing.
Closing Considerations
When you consider where your Chihuahua will wear the coat, how his or her harness will fit, and their preferences, you can narrow down your search to the right coat.
What is your favorite coat in your Chihuahua's wardrobe? Share a photo in the comments below!