This post contains affiliate links, and I will be compensated if you make a purchase after clicking on my links. As an Amazon Associate I earn from qualifying purchases. Learn More
Chihuahuas are very personable and cute, sometimes in a cartoon or animated manner, making Disney movies a good place to look for inspiration when searching for names for your Chihuahua. But if Disney chihuahua names aren't for you, we have lots of other chihuahua names posts to find the perfect name for your chi!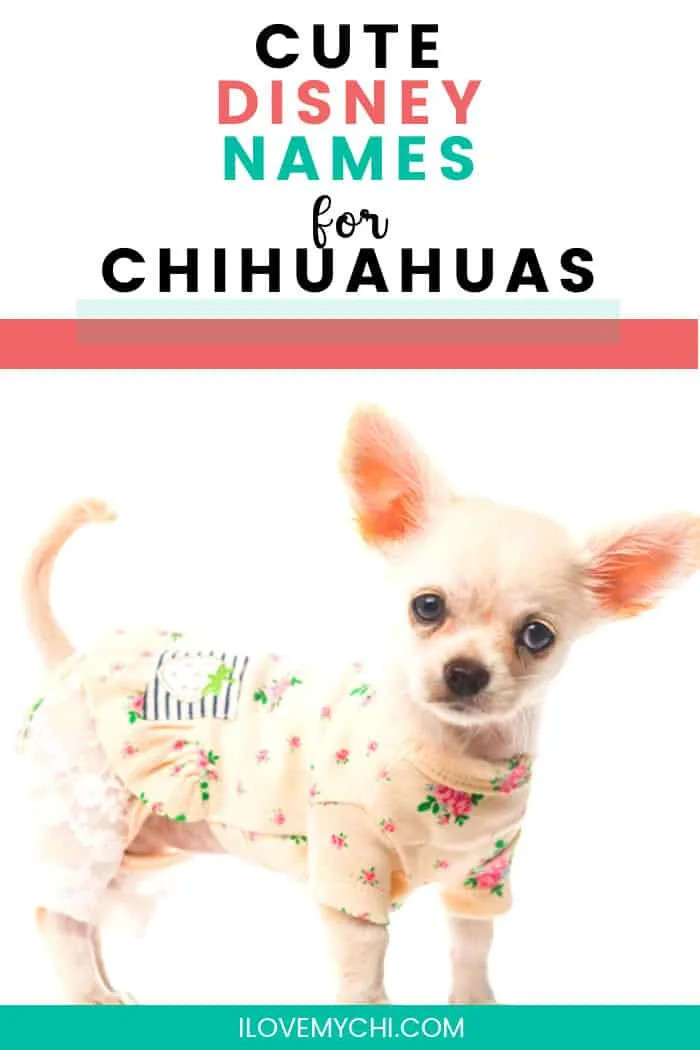 Here are some of the most popular Disney movies to offer you inspiration as you search for the perfect name for your Chihuahua:
Winnie the Pooh
The classic favorite of families around the world, these books and movies are comforting but also emotional, just as our relationships with our Chihuahuas can be.
Chris, Christopher or Robin after Christopher Robin.
Bear, Pooh or Winnie after Winnie the Pooh bear.
Piglet after the Piglet the pig.
Eeyore after Eeyore the sad donkey.
Tigger after the Tigger the tiger.
Classic Disney
You cannot go wrong with naming your Chihuahua after the most classic Disney characters, and any of these names would be so fitting for a Chihuahua:
Mickey after Mickey Mouse.
Minnie after Minnie Mouse.
Mouse if you do not like the names Mickey or Minnie.
Donald after Donald Duck.
Daisy after Daisy Duck.
Frozen
Frozen was an instant hit; no one would wonder where your furry friend's name came from if you chose one of these iconic characters for your inspiration:
Elsa, the star of the movie, Elsa is the Queen of Arendelle.
Olaf or Summer, after the magical snow man Olaf who loves summer. This name would be perfect for a white Chihuahua who loves napping in the sun.
Sven, Kristoff's best friend, a personable reindeer.
Anna, the sister of Elsa.
Kristoff, the love interest of Anna.
Hans, the deceitful prince.
Duke (short for Duke of Weselton), a courtier in the royal court.
Tangled
One of Disney's less popular movies, but some would argue better than Frozen, Tangled is a modern Disney twist on the story of Rapunzel. Here are the main character's names to consider:
Rapunzel, the star of the movie. This name is perfect for a long haired Chihuahua.
Flynn or Rider, after Flynn Rider, Rapunzel's love interest.
Pascal, the chameleon who is Rapunzel's constant companion.
Maximus, the big white horse with a bigger personality who helps Rapunzel on her adventure.
Alice in Wonderland
Do you have a curious Chihuahua? Then Alice in Wonderland is a good place to look for name inspiration:
Alice, the star of the movie who falls down a rabbit hole to a fantastical land.
Bunny or Rabbit, after the white rabbit Alice chases after through Wonderland.
Cheshire (short for Cheshire Cat), the disappearing cat who talks to Alice.
Hattie (short for Mad Hatter), the hat maker in the movie.
Queen (short for Queen of Hearts), the evil queen in the movie. This name is perfect for a Chihuahua who is always stealing people's hearts!
Pansy, after the flowers who sing in the movie.
Peter Pan
Since Chihuahuas tend to have the longest life span of most breeds of dogs, naming your furry friend after a character from Peter Pan may be appropriate as Peter never ages:
Peter, after the male star of the movie. This name is perfect for a Chihuahua who is always a puppy at heart.
Wendy, after the female star of the movie.
Captain (short for Captain Hook), after the feisty pirate in the movie.
Darling, not only a great name for a sweet Chihuahua, but also the last name of Wendy and her family.
Brave
One of Disney's less popular movies but by no fault of it's own, this movie is a great place to find inspiration for a Chihuahua's name. Merida is a strong female lead who wants to do things her own way, similarly to how many Chihuahuas want to rule their houses:
Merida, the warrior princess.
Angus, Merida's horse.
Mac (short for Lord MacGuffin), one of Merida's suitors.
Queen Elinor (or Queen or Elinor for short), after Merida's mother.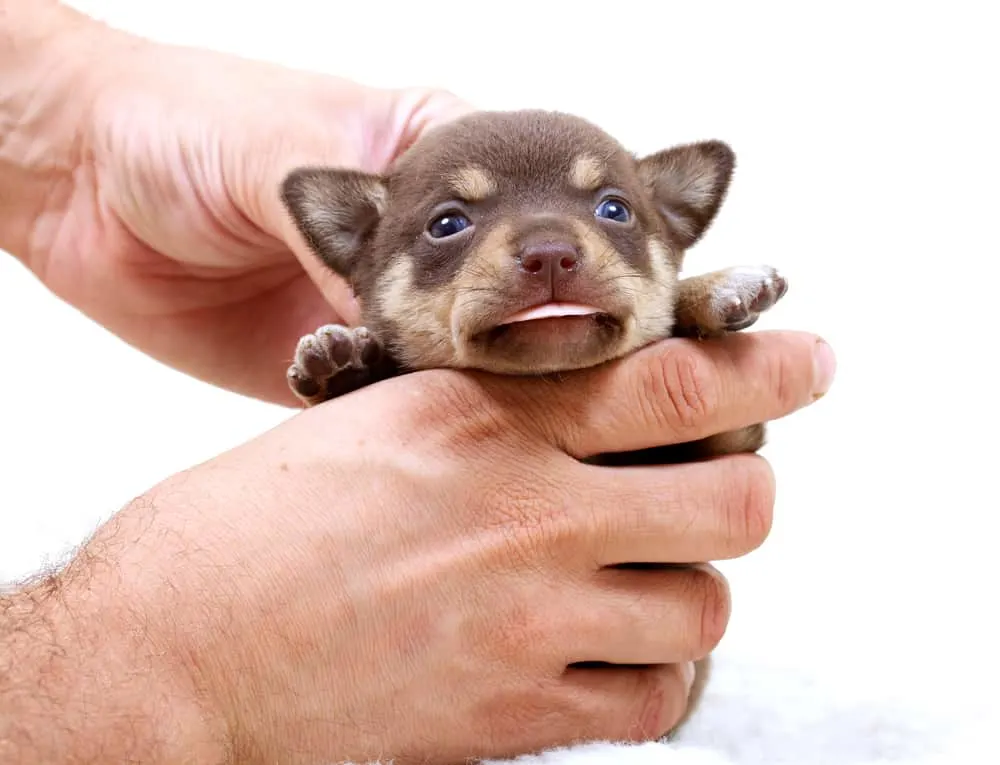 Beauty & The Beast
Another Disney classic, Chihuahuas are not often named any of these names, making them a good choice for a unique name:
Belle, the beautiful, independent and book smart female lead.
Beast, the love interest of Belle, makes for a funny Chihuahua name. Imagine calling out "Come here Beast!" and people's reaction with a five pound Chihuahua comes running!
Gaston, the unwanted suitor of Belle.
Lumiere, a charming servant who was turned into a candelabra.
Mrs. Potts, a kind mother servant who was turned into a tea pot.
Chip, Mrs. Potts' son who was turned into a tea cup. Naming a mother and son Mrs. Potts and Chip would be adorable!
Cinderella
Those who love fairytale happy endings should turn to Cinderella for inspiration. These names would be ideal for a Chihuahua who was rescued from a hard life and now lives the good life:
Cinderella, the female lead, a servant turned princess.
Prince Charming, Cinderella's love interest.
Drizella or Anastasia, Cinderella's wicked step sisters.
Jaq or Gus, mouse friends of Cinderella.
Snow White
Since Snow White was famous for being kind and gentle, this movie is a good place to look for inspiration when trying to name a loving Chihuahua:
Snow White, the female lead who loves animals and is kind to everyone.
Prince Charming, Snow White's love interest and rescuer.
Happy, one of the seven dwarves.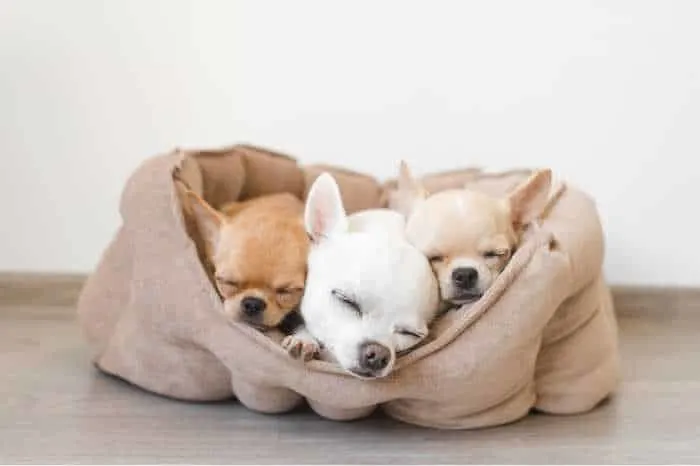 Sleeping Beauty
Many Chihuahuas love napping, making Sleeping Beauty a natural choice for name inspiration:
Princess Aurora (or Princess or Aurora), the sleeping princess.
Prince Phillip (or Prince or Phillip), the prince who saves Princess Aurora.
Queen Leah, Princess Aurora's mother.
King Hubert, Prince Phillip's father.
Flora, Fauna, or Merryweather, the three "good fairies" from the movie.
The Litte Mermaid
Since most Chihuahuas love napping in the sun, inspiration for a name being sought in a movie about the beach and ocean is appropriate since many people enjoy sunbathing on beaches:
Ariel, the star mermaid.
Eric, Ariel's love interest.
Sebastian, Ariel's crab friend.
Flounder, Ariel's fish friend.
Max, Eric's dog.
King Triton, Ariel's father.
Ursula, an evil half woman half octopus.
Aladdin
The movie that made the song "A Whole New World" famous is perfect for naming a rescued Chihuahua, because they are now living in a whole new world:
Aladdin, the mischievous male lead.
Princess Jasmine, the female lead.
Rajah, Jasmine's pet tiger.
Genie, the genie in a bottle from the movie.
Abu, Aladdin's monkey friend.
Sultan, Jasmine's father.
Jafar, a sinister advisor of the Sultan.
Iago, Jafar's side kick.
Pocahontas
Full of animal characters with big personalities, Pocahontas is an appropriate movie to look to when naming your Chihuahua:
Pocahontas, the female lead.
Captain John (or Captain or John), Pocahontas' love interest.
Mel or Gibson (after Mel Gibson) who voiced John Smith in the movie.
Flit, Pocohantas' hummingbird friend.
Meeko, Pocohantas' raccoon friend.
Percy, the pug who sailed over with John's ship and always knew where the snacks where.
Willow, after the grandmother willow tree.
Governor Ratcliffe (or Governor for short), the enemy of John and Pocahontas.
Lilo and Stitch
Lilo and Stitch is a great place to find your Chihuahua's name; Stitch and Chihuahuas both have large bat like ears and endearing personalities:
Lilo, the kind little girl who befriend Stitch.
Stitch, the entertaining alien who befriends Lilo.
Mertle, Lilo's enemy.
Bambi
This Disney classic offers some unique choices for naming Chihuahuas:
Bambi, the baby deer who stars in the movie.
Flower, the skunk.
Thumper, the rabbit.
Faline, Bambi's love interest.
Aunt Ena, Bambi's mother in law.
Prince or Forest (short for The Great Prince of the Forest), Bambi's father.
And last, but not least, the name Disney is a great name for your chi.
Conclusion
Disney names are great for Chihuahuas because so many of them are very cute just like these little dogs are. Is your Chihuahua named after a Disney character? Share a picture and the story of how you chose his or her name in the comments below!