This post contains affiliate links, and I will be compensated if you make a purchase after clicking on my links. As an Amazon Associate I earn from qualifying purchases. Learn More
Do Dogs feel the emotions that we do?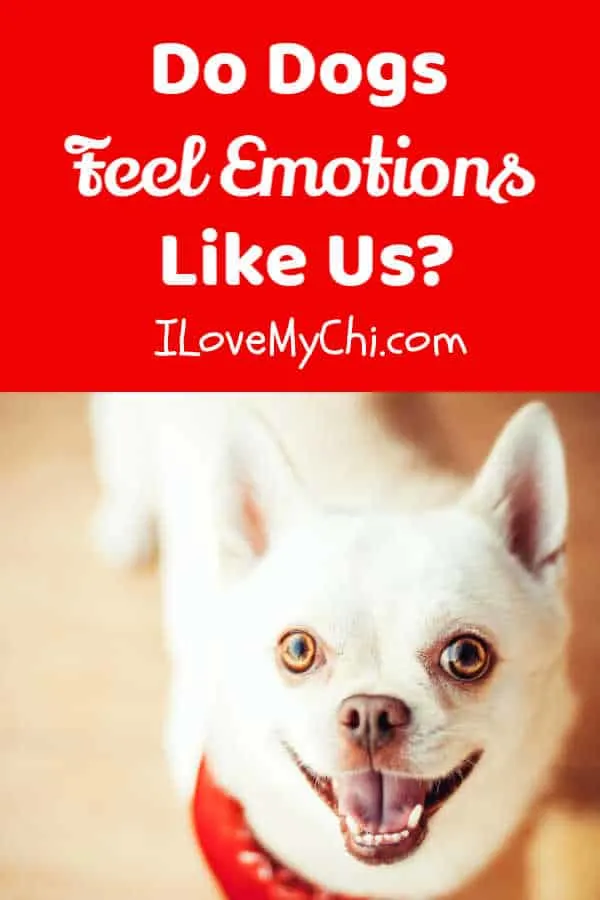 Anyone who has loved a dog knows that they must have souls; they clearly exhibit personalities and emotions.
Is this an example of humans anthropomorphizing animals because they love them, or is this actually true? The answer may surprise you!
What Emotions Are Dogs Capable of Experiencing, If Any?
Dedicated dog moms and dads, you will be happy to know that what you have always known has been validated.
According to Dr. Stanley Coren, dogs are capable of experiencing emotion and intelligence comparable to two year old humans. The emotions that our two year old friends experience are as follows:
Affection or Love
Excitement
Joy
Contentment
Distress
Disgust
Suspicion or Shyness
Fear
Anger
The aforementioned emotions are considered basic emotions.
Emotions such as shame, guilt, contempt, and pride, are considered complex emotions which are learned through older ages and life experiences.
Research has not proven that dogs or two year old humans are capable of experiencing these complex emotions.
Personally, I do have a little story that somewhat refutes this.
I always heard that dogs intellect and emotional maturity was on par with a human child from ages 2 to 5.
A dog like Lassie would be on the level of a 5 year old child. and a 5 year old child can feel guilt and dread and the other complex emotions we feel.
Years ago when I came home from work, my 3 dogs that I had at the time would excitedly greet me at the door when I came home as most dogs do.
Well one day I came home and not one of my dogs greeted me. As I walked further into the house, I saw that the kitchen trashcan had been knocked over and their was garbage all over the place.
Now I knew why my dogs hadn't greeted me. They knew they did something wrong.
I found 2 dogs upstairs hiding under a bed and my smallest dog was on the bed, hiding under the pillows. I could see his tail peeking out.
I couldn't help but start laughing and then my dogs came out of hiding and greeted me as usual when they realized they weren't in trouble.
That proved to me that at least one of those 3 was smart enough to feel guilt and remember it. The other 2 may have just picked up the cues and followed along. Who knows.
How Do We Know That Dogs Are Capable Of Experiencing These Emotions?
Dr. Gregory Berns, a neuroscientist at Emory University, performed tests on dogs who were trained to submit to MRI scans to read their brain waves.
Training dogs to participate in an MRI scan is no small project! After months of training dogs with MRI stimulators, and buying hot dogs in bulk, Dr. Berns and his team were able to perform MRI scans on multiple dogs. The subjects included dogs of many different breeds and backgrounds; shelter dogs, service dogs, family dogs, etc.
Dr. Berns' testing revealed interesting results, which may be viewed in detail by watching this video:
One of the findings in Dr. Berns' study included a similarity in the structure of brains of humans and dogs.
Both of us have a caudate nucleus, which contains dopamine receptors, which are associated with pleasure. This area of the brain becomes active when we are experiencing positive things or in a state of anticipation.
When Dr. Berns observed this area of the dog's brain, it reacted the same way ours does when they experienced something they valued or liked.
Dr. Stanley Coren states that dogs and humans also share the hormone oxytocin, which is associated with love or affection.
This gives us some common ground in how we experience life and basic emotions, validating what we have always known; dogs are our best friends.
Do Our Dogs Love Us?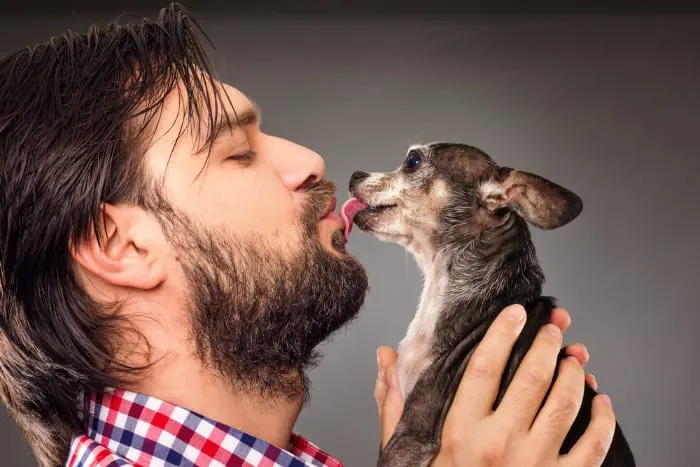 In one of Dr. Berns' experiments, he tested dogs to see their reactions to praise from their owners or food.
Of course, some of his subjects preferred food, however, some of them preferred praise from their owners.
Luckily for us, most of the subjects tested had equal responses to food and praise from their owners. Being on par with hot dogs is better than losing to them.
Dr. Berns also conducted an experiment with the scent of a dog's owner and scents of other individuals.
The caudate nucleus showed a activation in the MRI scans when the dogs smelled their owner's scent.
This means that they associate our smell with something positive and our scent is something that they value.
So when your dog looks up at you with sweet soulful eyes, know that you are not imagining that she loves you just as much as you love her.
Do Dogs Feel Guilty When They Are Bad?
Dr. Stanley Coren says that no, dogs cannot feel guilt. This is a complex emotion that two year old humans are not capable of experiencing.
Although, your dog is able to understand when you are upset and there may be consequences.
So when you discover a mess, your dog understands that you are upset and becomes fearful of the outcome, but not guilty about their actions.
Of course my experience that I describe above, refutes this as I was not upset when I walked in the door so they couldn't read my emotions.
Canine Brain Power


Even though our brains share some structure and processes, dogs' brains are smaller than ours, which means that they cannot have the same capabilities that ours do.
Humans have a 1:50 brain to body ratio, while dogs have a 1:125 ratio (across all breeds from giant to toy). Hence their ability to experience basic emotions but not complex emotions.
The brains of small dogs are comparable in size to a plum, and the brains of large breeds are comparable to a lemon. The majority of a dog's skull is muscle regardless of breed.
Anthropomorphizing Dogs
Most of us may anthropomorphize dogs, or treat them as furry humans. I know I do.
We must take the brain power and emotional experiences of dogs into consideration because while it is exciting that dogs can share some basic emotions with us and love us back, we have to remember that they are still dogs.
Saying that a dog is a dog does NOT diminish their place in your family or your love for them; it means that your respect that they have different needs than we do.
Your dog can still be your baby even if you actively recognize that he has different needs than a human baby would.
For example, while human babies love to be held, some dogs do not enjoy hugs, and dogs have different nutritional needs than we do.
What Does This Mean For Dog Owners?


Knowing that your dog is capable of experiencing basic emotions comparable to two year old humans is great news for dog owners!
This insight into their minds validates what we have known: dogs truly are our best friends. These insights can also help us be the best dog parents we can be.
Knowing that dogs are happy to be with us confirms that the feeling of love and affection is mutual. The belly rubs, cuddles, and play time mean just as much to them as it does to you.
In some of the research that has been conducted, scientists observed dogs anticipating their owner's arriving home. This means that we should be cognizant how much time we leave our dogs home alone.
By understanding that our scent brings our dogs happiness and is something they value, we can use that to ease the pain of separation.
By sleeping on a blanket, then putting it in your dog's bed or kennel, leaves your scent with her when you have to be gone, giving her a small comfort.
Animal Welfare
As a dog parent and animal lover, knowing that dogs experience emotions places a burden on your heart: the welfare of animals who are not as fortunate to have a loving home as our dogs are.
Sadly, the thought that animals were conscious and experience emotions was considered far fetched at best until recently.
Although recent research is over turning the myth that animals do not have feelings, the scientific community still continues to conduct tests on animals.
Animals have no voice and are not able to give consent to participate or to report if they are treated badly or abused.
Thankfully there are organizations like the Beagle Freedom Project who help the dogs who were subject to laboratory tests to find loving homes. By donating to their mission and advocating for animals with your local and federal government, you can make a difference.
Not only should animal testing be a concern, but animal abuse and homeless animals should also warrant concern.
Help animals in need by reporting animal abuse, and donating to or volunteering with animal rescues that you trust.
By understanding that dogs are comparable to two year old (or older) humans, the thought of dogs spending significant time, or even the majority of their lives, in shelter or kennel environments becomes more heart breaking. You can help the quality of life of shelter animals by visiting them weekly.
I'm curious. Have you ever had an experience with your dog that was similar to mine? What human age level do you think your dog is?