This post contains affiliate links, and I will be compensated if you make a purchase after clicking on my links. As an Amazon Associate I earn from qualifying purchases. Learn More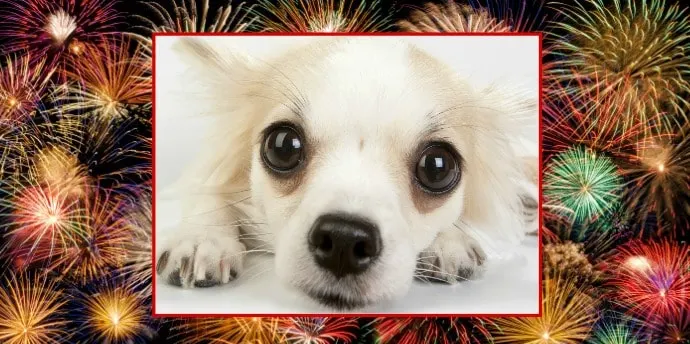 A few years ago, I found a dog running on our street the night of the July 4th holiday. She was terrified. Our SPCA was already closed so I kept her at my house overnight.
I called them the next morning and they said they were full. When I registered surprise, they said this was quite common and often happened after the July 4th holiday, New Year's Eve and after thunderstorms.
I didn't even think of calling the pound because I knew when they got full, they immediately started euthanizing.
I kept the dog and tracked down the owner later that day, who didn't even realize his dog was gone until he went out to feed her that morning and saw she wasn't there.
Now I know we usually can't prepare in advance when a thunderstorm pops up but we know when the firework laden holidays are coming and can plan in advance to make them as easy as possible for our fur kids.
Many of these things you can do as soon as you hear a thunderstorm coming too.
Here are my tips:
If you have any outside dogs, keep them inside during the festivities or storm.
If you are not going to be home and you do have a crate for them, now is the time to use it.
Keep them in an interior room if possible and keep windows and curtains closed.
Turn the TV or radio on.
Make sure they have ID collars, tags or are chipped just in case they do somehow get out of the house and run away.
Put a Thundershirt or Anxiety Wrap on them. You can get these from Amazon or your local pet store. These shirts use acupressure to help calm your dog. It doesn't work for every dog but it does work for many of them.
Whether you are home with them or not, distract them with a food puzzle toy such as a Kong.
If you are home, you can always just hold them and talk gently and calmly to them instead of crating them. Being with mommy or daddy is always comforting to a little one whether human or canine.
If your dog has serious anxiety issues about this, contact your vet and ask for a sedative to use. You may not like having to drug your dog, but it beats having them terrified.
One of our readers commented that she is having some luck with Quiet Moments Calming Aid. You can get it at the big box pet stores or here on Amazon.
One of my friends told me she has been using Vetriscience Compsure Calming Treats to calm one of her dogs and it's working great.
Another reader, Val McCready says that what has worked for her dogs is to turn on calming music for dogs on Spotify. I looked on there and I believe the one she uses is Relax My Dog: Calming Music for Dogs.
CBD oil for dogs is also an option. I have used King Kanine with good results and have gotten several of my pet-sitting clients to use it for their dogs too.
.
Have I forgot anything? Is there anything you do to help your dogs through this? If so, let us know in the comments.