This post contains affiliate links, and I will be compensated if you make a purchase after clicking on my links. As an Amazon Associate I earn from qualifying purchases. Learn More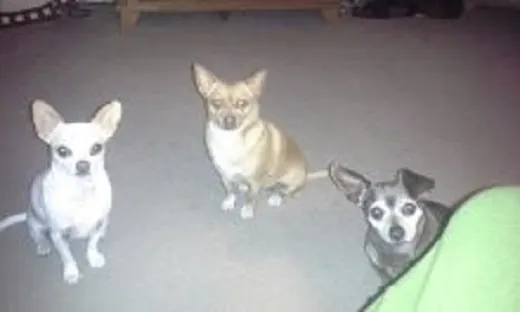 I have 3 Chihuahuas. My oldest, Lucky (12 years old) we got as a rescue dog. From what I was told and from the scarring on his body, he was used as a cage fighter dog. Really makes me sick thinking about that part of it. That's why his name is Lucky. We were lucky to find him and he, us.
He was afraid of a lot of things when we first got him and he is still a handful at times but he a very happy dog now. He doesn't cower anymore. He's very afraid of any type of gun, whether it be real or a squirt gun, fly swatter or loud noises, water bottles, brooms and many other things.
We have had him now for 7 years, so he has mellowed out a lot since then.
My other one is Bella and she is 2 years. She is a yellow/gold color with gold eyes. She is rather plump but very smart and spoiled.
The other one is Jax. He is 1 year old. He is trying hard to be the dominant male, but Lucky is still the "big" dog of the house (they have all been fixed).
Jax is my growler. When he and Bella play, it's all growling. Bella will growl when she plays and she taught Jax to do the same.
Sometimes I can't hear the TV because they are so loud. Precious dogs, all of them. They all 3 love each other and get along good.
I wish I could have more of them, but as it is, it's hard to pet all 3 at the same time. I do manage but there is a lot of jealousy there if I pet them one at a time.
Bella is my comedian pup. She loves Zumba and works out with me every day. She spends a lot of time on her back legs sitting up, almost like she would rather walk that way. She's pretty funny.
Lucky is Lucky and he and my husband are inseparable. They are so much a like. Ha!
Anyway, thanks for letting me post.
Ginny Wooley
NOTE FROM CATHY:
Thanks Ginny for sharing your story.
Remember if you have a story to share about your Chihuahua, email it to me at cathy@ilovemychi.com with one or more photos to go with it and put Chi Story in the subject line.