This post contains affiliate links, and I will be compensated if you make a purchase after clicking on my links. As an Amazon Associate I earn from qualifying purchases. Learn More
Homemade Treats for Older Dogs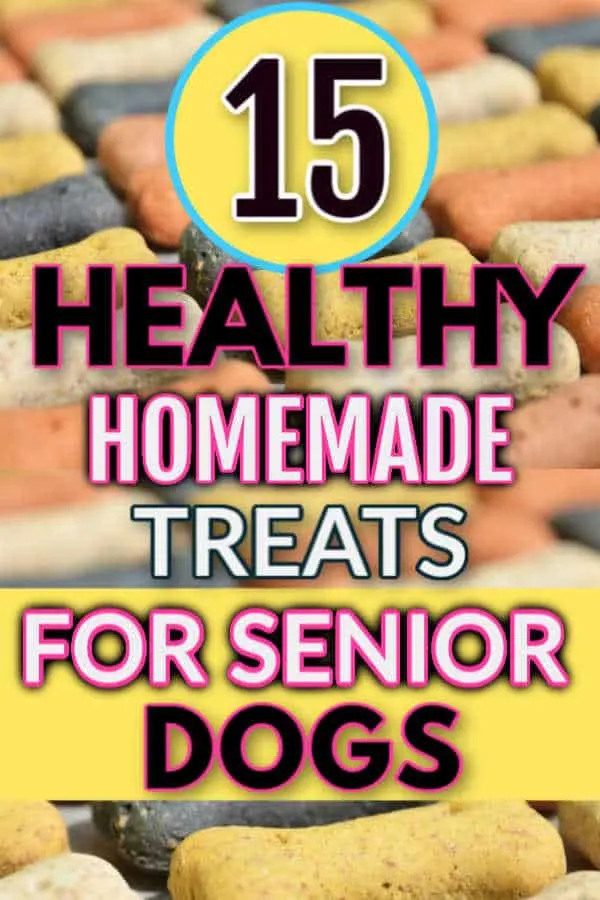 As one of the breeds with the most longevity, your Chihuahua's golden years give you extra time with her to spoil her!
As dogs become seniors, they commonly deal with aliments such as:
Arthritis
Dental Disease*
Digestive upset
Change in Appetite
*Dental disease is preventable when teeth are brushed at home and professionally cleaned regularly.
To entice your sweet senior to eat when she does not have an appetite, or encourage her to exercise, or bring her some joy, you need to have a collection of delicious home made treat recipes up your sleeve for when she could use some extra love in the form of treats baked specially for her.
Senior dogs need a few characteristics in their treats:
They need soft treats that are easier to chew. This is also beneficial to you because if a treat is soft, you can hide medication inside of it.
Senior dogs need odoriferous treats to get their attention and motivate them to eat.
Seniors also need healthy treats, because if they are being selective eaters, the little they are willing to eat needs to be healthy.
They also need limited ingredient treats that will not upset their stomachs. A senior dog suffering from vomiting and/or diarrhea for a few days suffers more than a younger dog.
Now that we have discussed what characteristics are in the best home made treat recipes for senior dogs, let's discuss recipes so you can get busy baking!
I separated the treats into two categories so you may browse according to your Chihuahua's palate preference; sweet treats and meat treats.

Sweet Treats
Carrot and Apple Chewies by Epicuricloud
These simple treats are easy to chew and yummy too! Ingredients include: shredded carrots, apple sauce, whole wheat flour, oatmeal, baking powder, egg, and milk.
Grain Free Coconut Flour Soft Chews by Radiant Life Catalog Blog
These treats are very odoriferous, making them tempting to tiny noses that have been turned up to dinner for days.
You will need these ingredients: sweet potato, eggs, applesauce, coconut oil, coconut flour, salt, and honey.
Soft Peanut Butter Pumpkin Treats by My Real Life Kitchen
These treats are ideal for hiding pills.
You might already have the ingredients in your kitchen: peanut butter, pumpkin puree, cinnamon, whole wheat flour.
Soft Baked Peanut Butter Pumpkin Treats by The Crumby Kitchen
Peanut butter and pumpkin are sure to capture the attention of pick eaters.
Gather these ingredients: pumpkin, peanut butter, chicken broth, egg, whole wheat flour, baking powder, and rolled oats.
Frosty Pumpkin Treats for Itchy Skin by Health Starts in the Kitchen
Some dogs experience allergies or skin sensitivities, which may worsen with age.
These treats contain yogurt, salmon oil, pumpkin, and brewer's yeast, ingredients that may help soothe your Chihuahua's skin. Since they are blended then frozen, these could easily be thawed to eat if necessary for your Chihuahua to be able to enjoy them.
Cranberry and Herb Gummies by Dalmatian DIY
Cranberries may be associated with urinary tract health, and parsley may be associated with fresh breath.
You will need the following ingredients to whip up these easy to chew sweet treats: water, gelatin, pureed cranberries, and parsley.
Frozen Strawberry Banana Treats by Miss Molly Says
Yogurt, sweet strawberries and yummy bananas are loved by most dogs, making these a fun treat for Chihuahuas with a sweet tooth.
These treats may be left out a few minutes to thaw before serving to make eating them a little easier.
Banana Bread by Proud Dog Mom
Bananas are often loved by dogs of all breeds; if a banana peel is cracked in the kitchen the pitter-patter of paws usually follows promptly.
Make a special treat for your favorite furry banana eater with these ingredients: coconut flour, ground flaxseed, pumpkin puree, banana, eggs, and coconut oil.

Meaty Treats
Mini Turkey Meatloaf Muffins by Proud Dog Mom
These mini meat loaf muffins contain just a few simple yet healthy ingredients: turkey, egg, pumpkin, peas, carrots, coconut oil, and almond flour. They are easy to chew and nutritious.
Bonus, the recipe was designed by a Chihuahua mom, so the portions are already perfect for your tiny but mighty canine companion. Although they sound like a healthy dinner option, be sure to check with your vet before feeding these as meal replacements.
Bacon and Egg Dog Muffin by Pet Guide
Soft muffins are easy to chew, and with bacon bits on top, the smell will be irresistible too! Encourage your selective eater to finish her bowl with these muffins.
Ingredients include: whole wheat flour, bacon, eggs, peanut butter, apple sauce, water, vegetable oil, and baking powder.
Salmon and Sweet Potato Brownies for Dogs by Kol's Notes
The strong scent of salmon not only gets the attention of picky eaters, but is also great for skin and coat health.
You will need these ingredients: canned salmon, sweet potato, eggs, flour, and coconut oil.
No Bake Chicken Broth Treats by Sunny Day Family
These treats are great for administering medication or for Chihuahuas who have had teeth removed.
Ingredients needed are: quick oats, peanut butter, and chicken broth. The recipe states that you could use water or chicken broth, but the smell of chicken broth will be more enticing, it will make the treat taste better, and it will hide the smell of medication better.
Bone Broth Gummies by Wiggle Worthy
Help your little carnivore enjoy meaty flavor in an easier to chew way with this gummy treat recipe. Gather these ingredients: bone broth, powdered gelatin, turmeric, and pepper.
Lastly, the Sun Beam Gourmet Dog Treat Maker comes with several delicious recipes which include both sweet treats and meat treats. This treat maker makes soft treats comparable to waffles, which are very easy to chew. The recipes make quite a few treats; it would be great to use to raise money for dog rescue.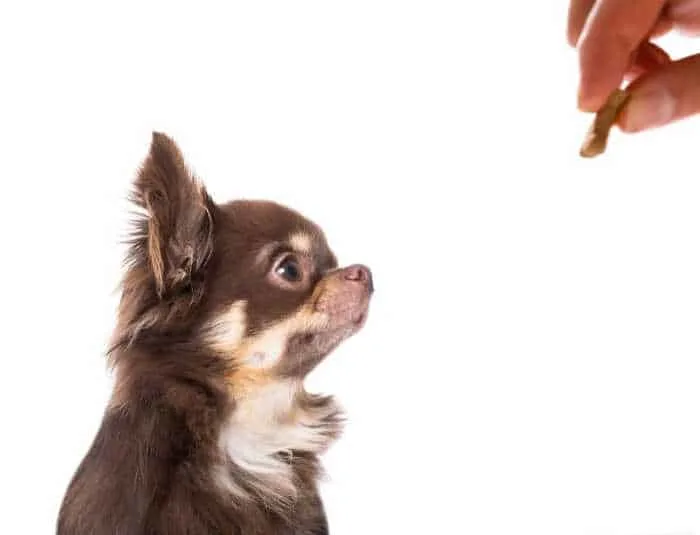 Closing Considerations
Baking for your Chihuahua is a great way to show him or her how much you love them. These recipes are also a great way to save money, because many of the ingredients called for may already be in your kitchen.
Keep in mind that many of these recipes have very few ingredients, and while that is great, that also means they will not last as long as treats that contain preservatives.
Be sure to refrigerate treats or follow any storage instructions provided on the links as necessary to keep them from going bad. Always inspect the treats for mold before serving them to your Chihuahua.
If you make more treats than your Chihuahua can eat, consider donating some to your local animal shelter, or give them out to neighbors and friends.
Many of these recipes call for peanut butter. Be sure to carefully read the label of any peanut butter you use and search for "xylitol", as this sweetener is extremely toxic to our canine counterparts.
When cooking for your Chihuahua, if you are unsure if any ingredient is healthy for him or her to eat, be sure to check with your veterinarian before serving that ingredient to your favorite furry friend.
Did your sweet senior enjoy any of these recipes? Comment what their favorite recipe was below!