This post contains affiliate links, and I will be compensated if you make a purchase after clicking on my links. As an Amazon Associate I earn from qualifying purchases. Learn More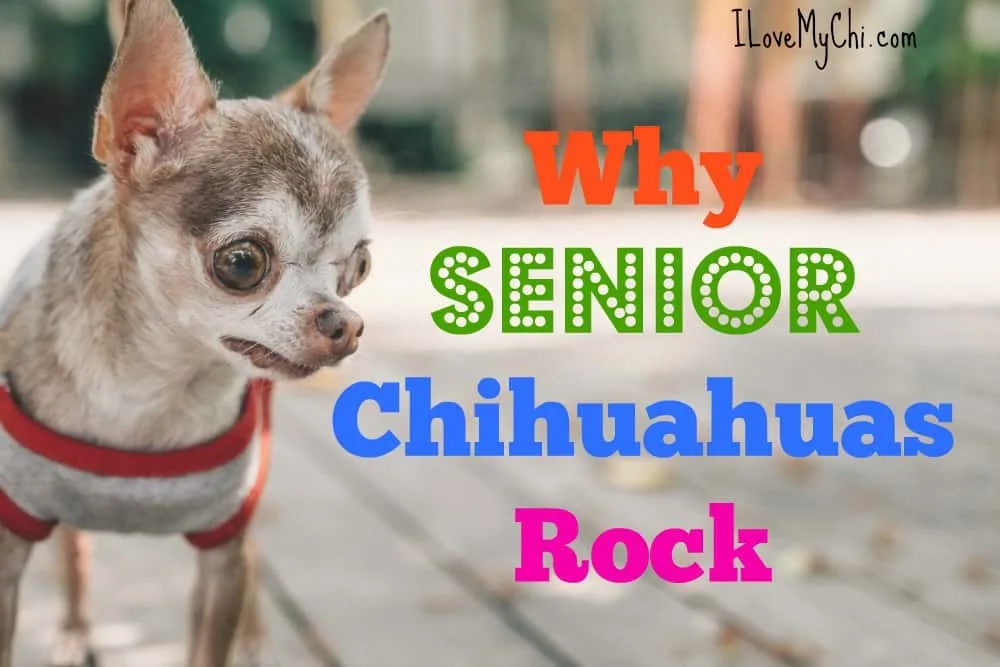 Older dogs are often overlooked in shelters and that's a darn shame. They have so much love to give us. Even if they may be a little grey around the edges and aren't as cute as a wriggling puppy, senior chihuahuas have so much to offer us.
They Know the Rules of Dog Life
Senior Chihuahuas have been around for a while. You've trained them to perfection, socialized them (hopefully) beautifully, and confirmed your lifestyle to suit your aging buddy to a 'T'.
With years of experience behind them, these adorable fellows have seen quite a bit in their day. No longer having the curiosity and wild energy of a puppy, your senior chihuahua doesn't need the obedience courses or visits to the trainer that he or she once did. Your little 'fur-oldie' no longer leaps around with reckless abandon when company visits.
Yup, your little senior Chihuahua is a true pro at the dog life, having seen it all!
Already socialized
Familiar with children and other animals
Calm; lower energy requirements
Senior Chihuahuas Need Little Training
Because your senior has seen it all, that awkward 'puppy phase' is long behind. No need to deal with extensive house training (it can take around 4 months (or longer) to fully house train a puppy!); that was done long ago. No more stains on the carpet or smelly messes in the house.
Speaking of which, your senior has a fully developed, mature adult brain. Unlike a puppy, your dog's personality has been shaped and molded perfectly by life's experiences.
Already Potty Trained
Doesn't run with abandon
Knows the rules of the house
They Love to Snuggle
Your little fella isn't a puppy anymore. They are more than content to snuggle up on the couch while you catch a movie marathon. Lower maintenance than years ago, your little chihuahua is a breeze to care for!
Your relatives all know your chihuahua. They've bonded long ago; life apart is unimaginable. You love that warm ball of fur cuddled up next to you to pieces! Yup, your senior chi has firmly established him/herself as part of the family long ago!
Chihuahuas have one of the longest lifespans of any dog breed; spanning an avg. of 10-18 years! Some even make it to their 20's. This means your 'senior' Chihuahua might not be very senior at all.
Chihuahuas are considered light to moderate shedders; cleaning up constant dog hair isn't a problem!
Are you a calm, mellow, relaxed type of person? If that is the case, an older 'Chi' is definitely for you!
Why Adopt a Chihuahua?
If the incredible, loving bond they offer or the constant source of company and self-esteem boosting attention doesn't get you, consider the fact that you are literally saving a life.
The pet industry is a very money driven industry that large scale dog breeders are more than willing to take advantage of. Unfortunately, there is no where near the space or funds available within our country to support the immense number of animals produced; a great many of them wind up in shelters or 'euthanized'.
Because the many shelters across the United States can't afford to care for all of the stray animals that are taken in, over a million dogs are destroyed annually.
As of 2014, a Chihuahua was recognized by the Guinness Book of World Records as being the smallest dog in the world!
Right now, all 3 of my dogs are seniors, all over 10. And I love this stage of their lives.
Do you have a senior chihuahua? Will you consider adopting a senior chi the next time you are looking to add a dog to your family?