This post contains affiliate links, and I will be compensated if you make a purchase after clicking on my links. As an Amazon Associate I earn from qualifying purchases. Learn More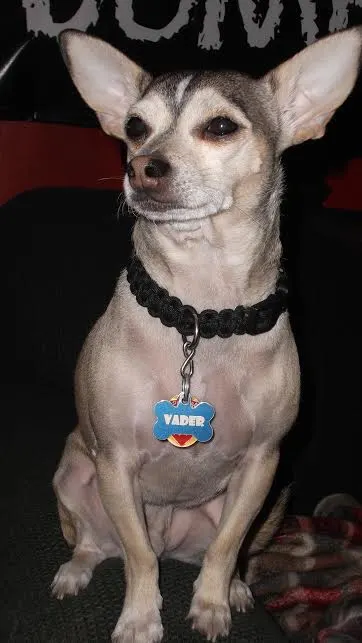 My name is James Morris. This is the story of Vader, my bestest friend in the whole universe (besides my wife).
I was coming home from being out with my family when I got the call. My sister for months had been trying to help me find a Chi so I would quit making up excuses to babysit hers.
On the other end of the phone she was very distraught. "Well you have a choice, either you get a puppy or you get a very abused rescue." With no hesitation I blurted out "RESCUE!!!"
About an hour later my sister showed up to my home and honked for me in the driveway.
I was very scared in meeting him for the first time. When I opened the car door there he was sitting on my sisters lap wrapped in blankets.
I got a little anxious and tried to touch him, he didn't like it so he snapped at me. He didn't like males at all. Well, my sister brought him to my porch and set him down. I sat about 3 feet from him so I didn't startle him again.
After about 2 hours of inching closer to him and presenting him with treats and a new collar, he finally came to me and kissed my face.
I will admit I am not a dog person but, he needed me as much as I wanted him. The people we got Vader from told us some horror stories. The previous owners were cruel and relentless.
He at one point had all of his legs broken and now walks with a limp because one of his legs didn't heal correct. They kept him locked up and quite frequently starved him, he didn't even have a name until I got him.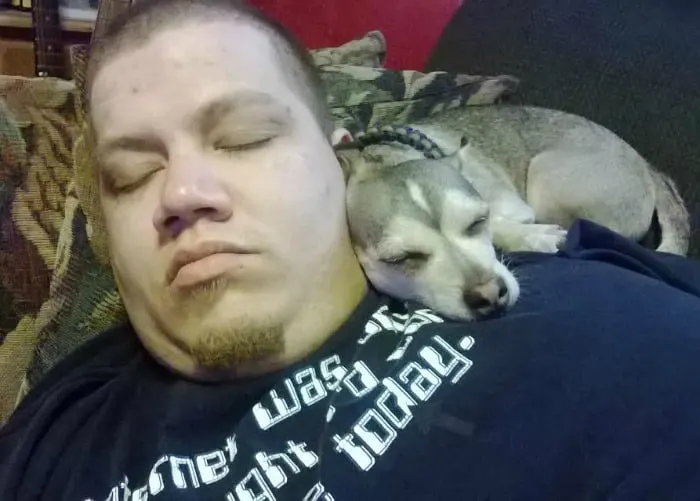 I have had him just over a year and now he is the sweetest thing you could ever meet. He loves to play with his stuffed Darth Vader (his namesake), taking naps with dad, getting new shirts or sweaters from grandma, sitting on dads lap while he is on his computer, loves his chicken strips treats and absolutely will lose his mind if he doesn't go on a car ride to get our daughter from school.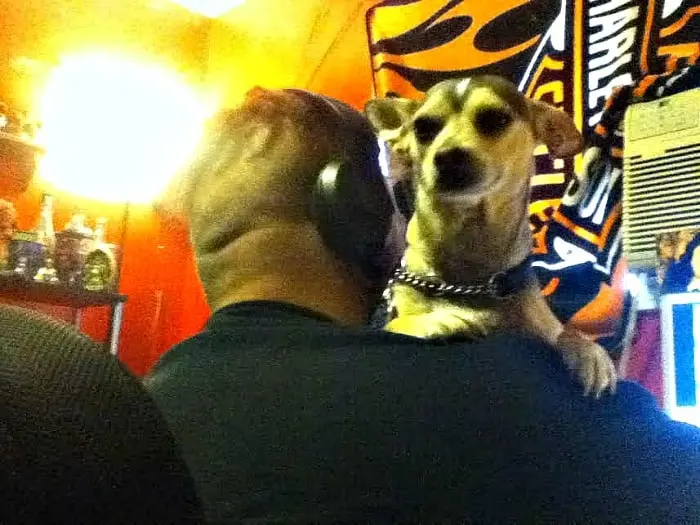 I am glad that ornery little boy we got a year ago is happy and healthy.
EDITOR'S NOTE: We are glad too that you and Vader found each other James. I wish more people would take the time with these poor abused dogs to help them have the life they deserve!