This post contains affiliate links, and I will be compensated if you make a purchase after clicking on my links. As an Amazon Associate I earn from qualifying purchases. Learn More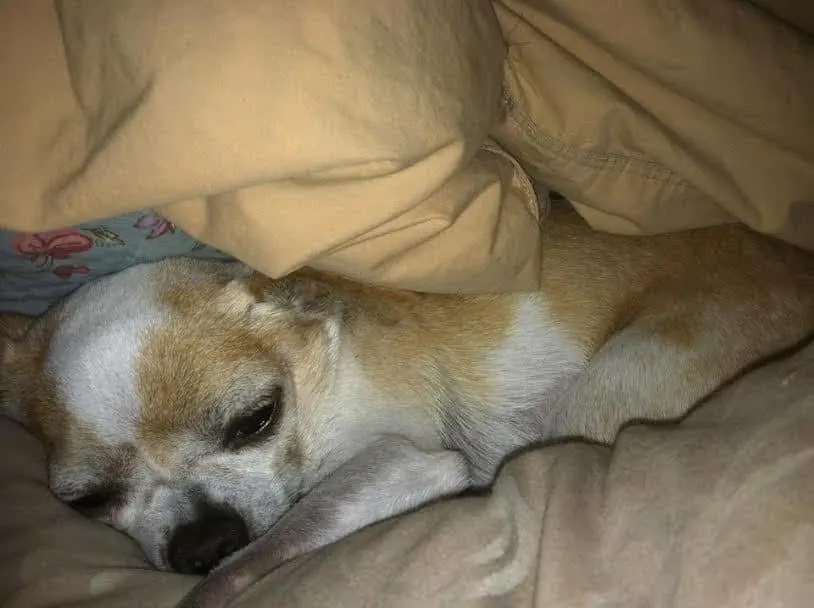 My name is Maranda Zaydel and I am the mommy to three beautiful chi fur babies! I'd like to share with you the story of how I came to have my Carlos, my second "born."
My sweet little guy was very much a mama's boy! Where I went, he went. You see, he went to heaven just three short weeks ago…I'll never forget the first time I saw him…my husband brought him home as a surprise.
My husband is a pretty big guy, and here he comes walking up with this one pound little pup in the palm of his hand. My heart melted right then and there! I was in love!
He was so tiny there were no clothes to fit him, so we put him in one of those teeny tiny teddy bear sweaters. He hated it! He wouldn't even move! He looked like a doggie statue! We laughed so hard!
That never changed! He would never let me dress him! He had been the runt of his litter and was a bit "special." (He was special to me, too!)
Carlos started to have health problems when he was three years old. We almost lost him Christmas Eve 2010, but God gave me another four years with him and for that I will be forever grateful!
He fought a long fight that ended December 29, 2014. He would have been nine on January 16, 2015. He brought so much joy to my life. I never knew how much I could love a "pet." He was/is so much more than that. He was and forever will be my baby boy. I can't wait until the day we are reunited!