This post contains affiliate links, and I will be compensated if you make a purchase after clicking on my links. As an Amazon Associate I earn from qualifying purchases. Learn More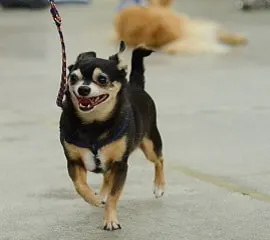 Charlie is a 8.5 year old black and tan Chihuahua living in Minnesota. He doesn't participate in winter sports so he keeps busy entertaining his sister Missy (from the same litter) a couple of days a week. He also volunteers with his human Mom at Helping Paws, Inc. where he is the Distractor General for Service Dogs in Training.
He is also a part time emotional support buddy for his human friend Kris and is an unofficial seizure response dog when sister Missy has an episode. He makes sure she won't fall off the bed or whatever she is on by body blocking her, a skill that is innate, not learned.
Charlie is a page editor for the Facebook Community Page, For the Love of Service Dogs and has his own personal Facebook page for friends.
Despite all his activities there is always time for snuggling and blankets – in true Chi fashion!
Charlie is in a photo contest and if he wins, Pat and Charlie will donate the prize to Helping Paws. To vote, click on the little thumb's up and a box will pop up with an ad in it. Wait a few seconds and the ad will disappear and you can vote. Here's the link if you'd like to vote for Charlie:
Remember, to email me at cathy@ilovemychi.com if you have a Chihuahua story you would like to share. Include at least one clear photo.