This post contains affiliate links, and I will be compensated if you make a purchase after clicking on my links. As an Amazon Associate I earn from qualifying purchases. Learn More
If you've been thinking of trying out RV camping, you're not alone.
Since 2001, there's been a 16 percent increase in household ownership of RVs in the US, largely due to how much millennials have embraced camping.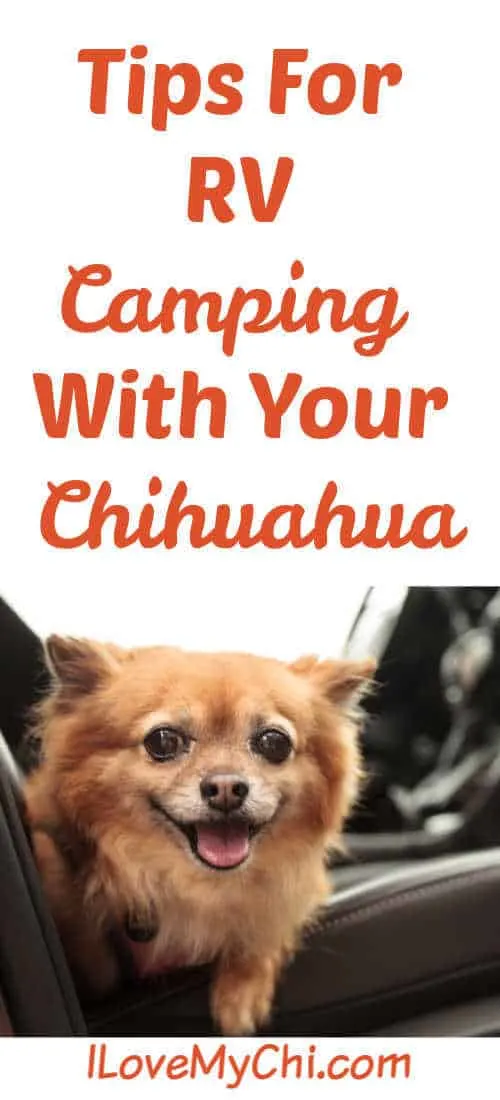 RVing is a cost-effective, exciting way to go on vacation, and the best part is, you can easily bring your dog with you!
Here's what you can do to keep your chihuahua safe and happy while RVing.
Plan Extensively
Part of the beauty of RVing is how it allows for spontaneity. But when you're bringing a furbaby, you'll need quite a bit of preparation.
Besides packing all the pet essentials, you should do your research and look for dog-friendly campgrounds.
Some national parks don't allow pets, while others require pets to remain on a leash, so it's crucial that you read up on a park's pet policies.
You should also look up local vets, even if your pup is up-to-date on her shots. If something should happen, you should have a good idea of where to go.
Then there's the weather. Though Chihuahuas, love heat, they can become overrheated just like other dogs. Watch out for signs of overheating, such as heavy panting, lots of drooling, and excessive thirst.
If you're RVing in the middle of summer, make sure that you're well-equipped to keep your dog cool.
Because your RV's built-in cooling system may not be able to cut it on especially hot days, invest in an RV air conditioner. When the heat is particularly high, you can use the AC to help your pup cool off.
If you're traveling in cooler weather, bring a dog sweater and a heating pad, as chihuahuas struggle to stay warm.
Be wary of thunderstorms, as many dogs get easily spooked by the sound of thunder.
It's important that you stay with them in the camper to calm them down. You can comfort your dog with toys and blankets, or even by playing some calming music.
Prioritize Safety
Never leave your pup unattended, especially outdoors. While some campers leave their pets in their RVs with the air conditioner running, sometimes ACs malfunction, which could lead to tragedy.
If you do have to leave your pet in the RV, consider investing in a monitoring system that will let you check on the RV's temperature.
And of course, make sure that your dog has plenty of water.
While on the move, it's important that you keep your dog safe with a harness or dog crate.
Secure your dog in the same vehicle you're traveling in, not in a pulled camper. You don't want your dog roaming around the RV while you're driving because, in case of even a very small accident, they could easily get injured.
RVing with your chihuahua can be plenty of fun for both you and your pup.
To help your dog get accustomed to life on the road, go into it slowly. Start with just a weekend away to let your dog get her bearings, then work your way up to longer trips.
By carefully considering your dog's needs, you're sure to have a great adventure ahead of you.