This post contains affiliate links, and I will be compensated if you make a purchase after clicking on my links. As an Amazon Associate I earn from qualifying purchases. Learn More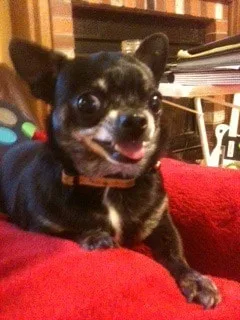 When I first decided to start this site over 2 years ago now, I really struggled with what to name it. I knew I wanted it to be about Chihuahuas as I had recently rescued my Chi Kilo and had fallen in love with the breed.
Try as I might, I just couldn't think of a good, catchy name. So just so I wasn't wasting any more time trying to make a decision, I just called it I Love My Chihuahua . Of course that domain was taken, so I settled for ILoveMyChi.com. I wasn't thrilled with the name, but it did describe pretty well what the site was about.
About a year after that, the name just hit me one day. it was Just Chis. I love it! It's short, to the point and best of all, not every other Chihuahua site and Facebook page is named it.
Even after I came up with the name and bought the domain name, I didn't do anything about switching over. Why? Because it will be such a hassle and frankly, I'm too lazy busy to deal with it.
Besides, it would be a major re-brand. Would all the wonderful people who follow this site and the Facebook page hate the fact that it has a different name? Or would they be confused and think they came to the wrong site or page?
So I kept the JustChis.com domain name but did nothing with it.
Lately though, I have again been thinking again about switching to the Just Chis name. Why? I'm glad you asked. Because lately, I am seeing so many other places with I Love My Chihuahua as their name. I counted no less 68 other Facebook fan pages and groups with that name. Only two others had the word Club at the end of that. I actually got tired of counting when I reached 68 and just gave up but I know there were more.
It's hard to distinguish us from all the other I Love My Chihuahuas out there when we all have the same name. I have even been yelled at and cussed out because we were confused with one of the others and they had apparently done something to upset someone.
Sooooo, my question to you all is how would you feel about changing our name to Just Chis? Would it bother you? Do you like the idea? Do you not care one way or the other? Please leave a comment and let me know what you think about this.