The Yapping Chihuahua: Helping the Excessive Barker

Small breed dogs, especially Chihuahuas are well known for their habits of barking more than their larger brethren.
Barking at sounds, people, other dogs, the door bell and even when left home alone can become embarrassing, annoying and uncomfortable for the humans in the household. Neighbors may become upset when your Chihuahua barks throughout the day and guests can feel startled as your Chihuahua rushes at them in a mad, barking fit.
You can help your little dog resolve his barking problems, but first you must understand the reasons why he barks. Reactive barking is one possibility as your Chihuahua barks at things he fears. Barking can even be a release behavior for a bored or anxious dog when left home alone. Resource guarding is another cause for unnecessary barking. You can help your Chihuahua through them all!
The Cause of Barking
Dogs don't bark to talk the way humans do. Each bark does not translate into a word like noises from human vocal chords. Instead, you have to read his behavior including body language during the event of barking. This way you can learn if he is being fearful, such as exhibiting fear aggressive body posture or if something else is going on. He may be barking out of excitement or boredom, too. To get the full picture you also need to read the context in which he is barking.
The context is his environment and what is going on around him. If your Chihuahua barks when someone knocks on the door, then he could be barking at a scary noise or at the anticipation of guests. If it is the noise, then he has a reactive behavior that can be corrected with counter conditioning.
If he is barking out of excitement to greet guests then he can be trained to remain calm and relax in a designated place until allowed to greet everyone. Even barking that seems aggressive is usually coming from fear, and counter conditioning can really help your Chihuahua feel more comfortable and confident during his trigger.
If you cannot pinpoint your Chihuahua's trigger then don't try and train him out of barking on your own. Get help from a professional trainer to take out the guesswork on your part and help solve your dog's behavioral problem.
Sometimes a trigger may be difficult to pin point if your dog seems to bark at everything. He may have many triggers that steam from improper or no socialization as a young puppy.
Socialization can be a very tricky thing to get the hang of for new owners and owners that have not learned the right way to do it to benefit their pet. Socialization means more than just meeting people and dogs. In fact, if you make an attempt to let strangers pat your dog's head and other dogs sniff his rear when he does not want it, you can cause your dog to become a problem barker quickly!
Socialization is not the one and only reason that dogs bark in a reactive way, but it is a high probability when we're talking about adult Chihuahuas.
End Problem Barking
You can stop your dog's needless barking using positive reinforcement during brief training sessions.
Always start any new training session in a quiet and familiar place if possible. For example, if your Chihuahua's barking is directed at a door knock, then start sitting some distance away from your door in a distraction-free time of day.
Knock once on the wall or on your floor, and immediately give your dog a bite of a high value treat, like real meat or cheese. Provide the reward before they get the chance to start barking. This is one reason for doing only one knock instead of repeated knocks in the beginning.
Do this for about 5 minutes. You want your dog to begin to expect a treat after every knock they hear. The knock should be a precursor to receiving a reward. Counter conditioning such as this is a method of changing your dog's emotion about his trigger. If knocking scares him, then starting out in short, calm training sessions with high value treats will help him to begin feeling positive about his trigger. However, his behavior will not change over night. In fact, it can takes weeks to months before he is totally comfortable.
Keep in mind that his reactive barking has become a self reinforcing behavior. He does it because he is unsure about what is happening when he hears the knock.
Continuing to build your dog's confidence during knocking, in your following sessions begging to knock a little louder and maybe 2 to 4 knocks at a time. Build this criteria slowly and at your dog's pace, not your own! If he begins to bark during your sessions, you know that you have moved too fast.
In time you will be able to knock on your door like a guest would and reward your dog for not barking! In the meantime, keep your dog in a quiet and safe room away from noise when you are expecting company.
If it is a doorbell instead of a knock that sets off your dog's yapping, try to obtain a recording of sort of the sound that you can play on your phone, tablet or CD player with full control. Start with the sound very low and gradually make it louder until you can ring the doorbell for real!
Eliminating reactive barking at other dogs and strangers requires you and your dog to take a walk or go someplace you normally would in which he would bark. However, be sure to have the highest value treat available on hand. Let him know you have it! Stay at a safe distance from his trigger, but allow him to see it. Every time he sees it, give him the treat. Hopefully he will be rewarded before the barking starts, but even if he does throw off a round of barks and growls try to treat him anyways. Remember, the trigger should always be a precursor to a reward!
I like this video on how to stop barking:

and this one too: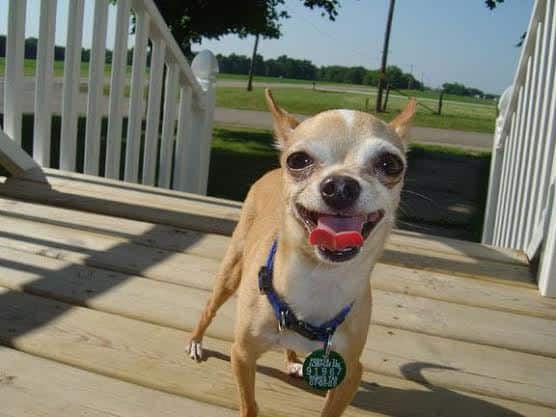 Give It Time
Changing a dog's behavior from problem barking to being a calm and happy dog takes time, commitment and consistency from you. Give yourself and your dog a break from the nerve wracking barking, start training him today!