This post contains affiliate links, and I will be compensated if you make a purchase after clicking on my links. As an Amazon Associate I earn from qualifying purchases. Learn More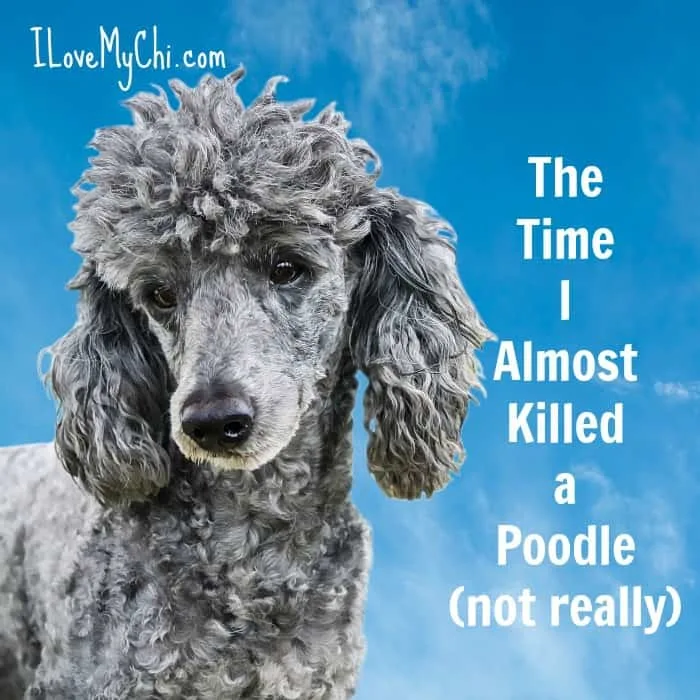 I can remember it like it was yesterday. I was in my early twenties and had recently graduated from pet grooming school. I worked in a small grooming salon down on the ocean front in Virginia Beach.
It was a 3 person shop, the owner who was rarely there and another girl and myself. This day I was working the shop alone. The girl I worked with called in sick and the owner planned to come in later to help me.
I was a overwhelmed. We had 7 dogs that day to work on plus a cat and there I was all alone to deal with it all.
I decided to do it all assembly-line style. I'd do the rough-outs first, then bathe them all and then hopefully after that, the owner would be there to help me with the finishings.
I decided to work on Pedro, a very sweet elderly poodle first so as to get him out of shop first. He did well with the rough cut but didn't like the bath (most dogs don't). I towel dried him and put him back in the cage to go to the next dog.
After I finished washing the second dog and went to put him in his cage, I noticed Pedro was sleeping. "Poor old guy", I thought. "This is just too much excitement for him."
I thought maybe I better go ahead and finish him up and call his owner to come get him. He was just too old to handle all the excitement of a busy grooming salon.
When I went to get him out of the cage, I saw that he was not sleeping, but dead! I had a moment of panic!
Had I killed this sweet old dog? What would I tell his owners, a little elderly couple? What would I tell the shop owner? Would she get sued? Would I?? I thought at the very least I would be fired.
Yes, I was being self centered. I couldn't help it. All these thoughts flew through my head in a matter of seconds.
Then my training kicked in and I started CPR and mouth-to-mouth resuscitation on Pedro (yes, I did mouth to mouth on a dog and would do it again if it meant saving a dog).
Guess what? He came back! I rushed him to the vet's office who was located in the same strip mall that our salon was. The vet said he had a heart condition and should have never been brought to the salon in the first place. But he would be okay.
I was so relieved. But I'd still have to tell my boss and the owners. I was dreading that.
When I called the owners, they said, "Oh yeah, we forgot to tell you that he has a heart condition. That's happened before." WHAT? That information would have been nice to know.
My boss was understanding, specially after I told her what the owners said. She called them later and politely told them that we would not be able to groom him anymore.
So what's the point of me telling you all of this? I'm not totally sure. It's just a dog related story from my past. And I guess I would encourage you to learn about CPR for animals.
I had to take a class in it as part of my getting my grooming certificate but you can take a course in it if you are interested. You can check this page to see if there are any available classes in your area.
At the very least, watch this video on how to do it:

Have you ever had to use CPR and/or Mouth to Mouth on your dog? I'd love to know your experience.