This post contains affiliate links, and I will be compensated if you make a purchase after clicking on my links. As an Amazon Associate I earn from qualifying purchases. Learn More
My mother called me one day almost 3 years ago and told me she'd gotten a new dog. When she said it was a Chihuahua, my response was "not a Chihuahua, they are nothing but a "yippy" dog" ( I didn't even consider them a dog, they we're barking rats I called them).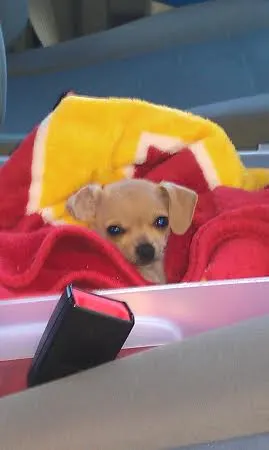 I went to my mother's a few days later and when I walked in and saw "Bella"; it was love at first sight. She was so tiny she couldn't even get down from the blow up mattress I was sleeping on.
The two days I was there we were inseparable. When it came time to leave, it felt like I was leaving a piece of my heart behind.
In the car with my husband, I didn't want him to see the tears that were falling, but couldn't keep them from him. He turns to me and says, "Don't worry honey we'll come to see your mom again soon." My response to him was "It's not my mom, its Bella."
Now don't get me wrong. I love my mom dearly, but that little girl had stolen my heart. New Year's day, my mother calls wishing me a happy New Year and then tells me she had to get rid of Bella. I broke down in sobbing, bawling tears. I drive for a living and had to pull off the road. I was a mess.
I told my mother she needed to get my dog back because after I got off of work, I was coming to get her and that I would find her. At the time I was living in an apartment that didn't take dogs. My mother says, "honey you can't have her there where you live". I told her I would move.
If she'd known how serious and how much I truly love this dog she would've given her to me from the beginning. Luckily she'd given her to a friend of hers who was very understanding and gave Bella back. A few day's later she was in my arm's forever.
Had to find a new place to live, but I didn't care. I would have become homeless if that is what it took to have her. I love coming home to her sweet love and kisses.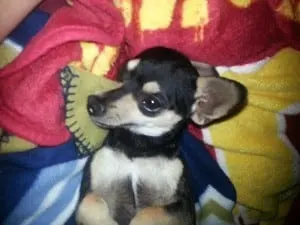 We have since gotten a brother from the next litter down. (He's a total daddy's boy) but we love them the same. So that's my Chihuahua story, I hope you've enjoyed reading it. I'm sending pictures the tan is "Bella" (towards the top of this post) and the dark one is "Cheech"
Wendy Priest